The New York Jets shocked the Atlanta Falcons 30-28 in the Georgia Dome on Monday Night on a last-second field goal by Nick Folk.
Check below for grades and analysis for each of New York's positional units in the huge win.
Final
New York: 30
Atlanta: 28
New York Jets' Game Grades

| | | | | |
| --- | --- | --- | --- | --- |
| Positional Unit | First-Half Grade | Final Grade | | |
| Pass Offense | A+ | A+ | | |
| Run Offense | B+ | B+ | | |
| Pass Defense | B+ | C+ | | |
| Run Defense | A+ | B+ | | |
| Special Teams | A+ | A+ | | |
| Coaching | A- | A- | | |
vs. Falcons Week 5
Final Analysis for the New York Jets
Pass Offense: Geno Smith continued his spectacular play in the second half, as he led the Jets to two huge scoring drives in the fourth quarter. Smith orchestrated an outstanding last-minute drive to give the Jets the win, and he finished the game 16-of-20 for 199 yards, three touchdowns and no turnovers. The Jets offensive line struggled in the second half, but Smith managed to be successful nonetheless.
Run Offense: New York's run offense took a back seat throughout the game, as Smith and the aerial attack were moving the ball well. However, New York still managed to have 5.4 yards a carry in the contest. Chris Ivory and Bilal Powell both had long runs, and Bilal Powell's final run put Nick Folk in great position to win the game.
Pass Defense: The Jets pass defense was the team's weakest unit in the game, especially in the second half. Matt Ryan completed 36 of 45 passes for 319 yards and two touchdowns, and New York's secondary could not slow down the Falcons on Atlanta's final drive of the game. Penalties also plagued the unit. If not for Smith's game-winning drive, the secondary would most likely be the goat in this one.
Run Defense: The Jets run defense was mostly solid, but it allowed two huge touchdown runs to Jacquizz Rodgers in the second half. New York limited the Falcons to just 64 yards on 22 carries (for a 2.9 average), but the front seven has to tighten up near the goal line.
Special Teams: Special teams won the game for the Jets. Clyde Gates and Jeremy Kerley set up New York in great field position on two returns, and the Jets converted the tremendous field position into 14 points. Ryan Quigley was also solid as a punter, and Nick Folk once again proved he is one of the most clutch kickers in the league with a game-winning 44-yard field goal in the final seconds.
Coaching: Marty Mornhinweg called a great game, swapping between the pass and run adequately. His calls on the team's final drive were also superb, as he gave Smith nice, easy throws that kept moving the chains. Rex Ryan also called a nice game against a dynamic Falcons offense, although the defense did struggle in the second half.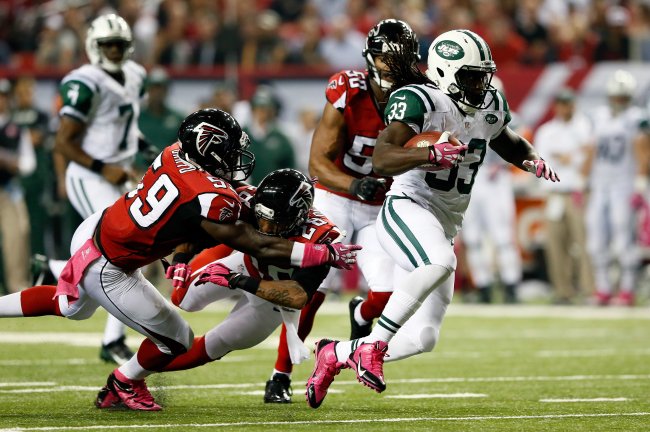 Kevin C. Cox/Getty Images
First-Half Analysis for the New York Jets
Pass Offense: Even with a banged up receiving corps, Geno Smith was phenomenal in the first half. The rookie quarterback was efficient as it gets, as he completed eight of nine passes for 134 yards and two touchdowns. Perhaps most importantly, Smith did not turn the ball over. Smith's terrific performance has netted a perfect passer rating thus far.
Also, Jeff Cumberland consistently got open over the middle, and New York's offensive line only allowed one sack.
Run Offense: In his first game back from a four-game suspension, Mike Goodson has been terrific. He carried the ball three times for 32 yards, including a long run of 26 yards. New York averaged 5.2 yards per carry on nine carries in all through 30 minutes.
Pass Defense: Matt Ryan was efficient, completing 16 of 19 passes for 127 yards and a touchdown. However, New York did not allow a single play of over 20 yards in the first half. The Jets' tackling was terrific, as they continually wrapped up Atlanta receivers for short gains. New York did an outstanding job on Julio Jones in particular. The Pro Bowl wideout only averaged seven yards a catch.
Run Defense: The Jets run defense remained the team's most reliable and dominant unit in the first half. Atlanta's pair of runners, Jacquizz Rodgers and Jason Snelling, recorded a measly 25 yards on 14 carries. New York's stout front seven continually got push on a subpar Falcons offensive line, and the unit shut down Rodgers on the 1-yard line at the end of the half to maintain the double-digit lead.
Special Teams: Antonio Allen blocked a punt, Nick Folk remained perfect on the season with a chip shot field goal, and Clyde Gates had a 36-yard return to put New York in solid field position on a drive that led to a touchdown. The Jets' special teams unit was spectacular all-around in the first half and is a big reason why Gang Green is leading at the intermission.
Coaching: Head coach Rex Ryan has done a terrific job of not allowing Atlanta's dangerous receiving corps to get into open space by dropping back several linebackers and defensive backs on most plays. Offensive coordinator Marty Mornhinweg has also done a great job calling plays, as he has continually taken advantage of the Falcons' lack of a pass rush for big plays downfield.