Jose Mourinho's Handling of Juan Mata Proves He's Still the Special One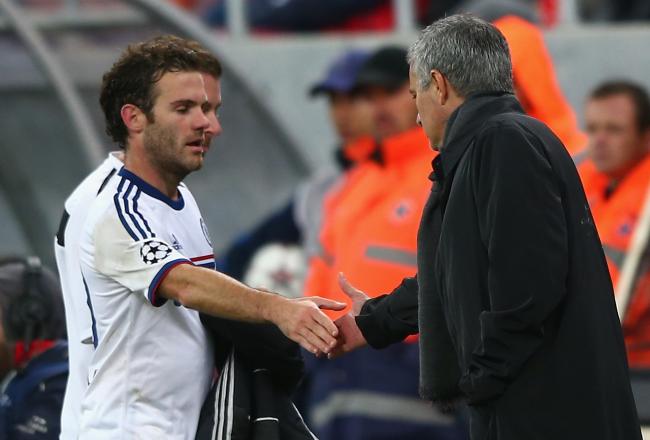 Michael Steele/Getty Images
Forget about tactics, statistics and even silverware for a moment. There's more to Jose Mourinho than just that.
The Portuguese coach has long carried the "Special One" moniker—in the British media at least—and as ever, he is showing at Chelsea that, while the game has changed significantly since he first waltzed into Stamford Bridge in July 2004, there's nothing about him to suggest his special touch has disappeared.
OK, so the "Special One" tag was very much of his own doing, but time and again, Mourinho has proved he has what it takes to live up to his high opinion of himself, let alone that of the outside world.
His treatment of Juan Mata this season is a fine case in point.
Player of the Season for two years running at Stamford Bridge, Mata had been one of the first names on the team sheet for any Chelsea manager since he signed from Valencia in 2011.
In that time he scored 31 goals alongside an impressive 48 assists for his teammates.
Most managers would look at that contribution alone and ask the Spaniard to continue doing the same for them. Not Mourinho—he demands even more.
Mata happy to adapt for Mourinho: Juan Mata has insisted he is happy at Chelsea and never doubted his ability,... http://t.co/4VfVb9ZKC5

— Barclays PL News (@BarclaysLeague) October 2, 2013
The coach sees things from a different perspective, and while he evidently values a talent such as Mata, he knows the attributes he brings can often come to the detriment of the team elsewhere.
Yet, while tactics played a big part in Mourinho's decision to leave Mata out of his starting XI earlier in the campaign, the statement he was making to his players was all the more important. At Chelsea, when Mourinho's around, nobody remains safe.
It's a point former Chelsea player and assistant manager Ray Wilkins explained to Sky Sports recently.
Mata is an exceptional player and I don't see anything he's doing now that's different to what he was doing before.

Jose has just stirred him up a touch [...] Jose is always asking questions of his players and that's the only way to be.

Michael Steele/Getty Images

If you're trying to improve yourself as a coach then you want your players to do the same. It's evident that Jose has wound them up and they all want to be there. The squad is so big and tasty it's difficult to get a game.
Unlike his opposite number at Sunderland, however, Mourinho's treatment of his players appears far more calculated and is delivered with an air of wisdom.
Paolo Di Canio's public criticism of his Sunderland squad was not only counter-productive, it wound up with him becoming the first Premier League manager to be fired in 2013-14.
In contrast, Mourinho's approach has Mata speaking of what a great influence he has been and will be to his career.
Discussing his situation at Chelsea earlier this term with The Sun newspaper (via Sky Sports), Mata said:
I will play wherever he [Mourinho] demands. I am young and can still improve. I want to do the same as I did in the last two seasons.

[...] I have to improve defensively, too. Every single player has to. To be the perfect player is very difficult but I have tried throughout my career to improve a lot.

I think Jose can help me. Every manager can try to improve their players. It's his job to bring the best out of his players.

Last season was the best in my career, but I could still have done better.

Clive Rose/Getty Images

Jose's a manager who analyses everything, not just in our team. He's a manager who likes intensity, who likes pressure.
Whether he is such a person in private or not, we don't know, but in public, Mourinho is a figure of support for his players. While questions were being asked of Mata, the criticisms were not forthcoming. Advice, yes, but a public flogging akin to that of Di Canio? Not a chance.
"The way I'm reading the situation and the reasons why, in this moment, he's not playing so much are things I can speak about with him, but not publicly," Mourinho said previously (reported by The Irish Times).
It's an approach that breeds an affinity with his players. They are already under enough scrutiny with every kick of the ball they make—or match they do not start, in Mata's case. Mourinho isn't going to add to that.
With Mata as a peripheral figure throughout August and September, Mourinho could have made it very much about him, too. He could have stressed the point that he is Jose Mourinho—a European champion twice over, let alone a manger who has won league titles in four separate European leagues.
Carrying a significant ego has long been a criticism of Mourinho, but it hasn't reared its head here with his No. 10.
Much like how his discussions with Mata have remained behind closed doors, so too has his work with the Spaniard.
Robbed of a preseason with Mata due to the Confederations Cup, Mourinho has worked tirelessly on the training ground since the season started, endeavoring to get him playing the way he desires.
This BBC documentary gives an insight into the genius of Jose Mourinho.
There has been work on systems, formations, attacking break downs. The transformation hasn't taken place in front of 40,000 fans every week.
True to his word, now that Mata's ready, Mata is playing. Just as Mourinho had always maintained.
The season is young, too young for any trophies to be won or lost. Mourinho won a significant battle already, however, and with Mata singing his tune, it could lead to something a whole lot bigger.
That alone shows there is still something special about Chelsea's manager.
*Stats via ESPNFC.com
Garry Hayes is Bleacher Report's lead Chelsea correspondent and will be following the club from a London base throughout the 2013-14 season. Follow him on Twitter here: @garryhayes
This article is
What is the duplicate article?
Why is this article offensive?
Where is this article plagiarized from?
Why is this article poorly edited?

Chelsea: Like this team?