Odds for New York Rangers' 2013-14 MVP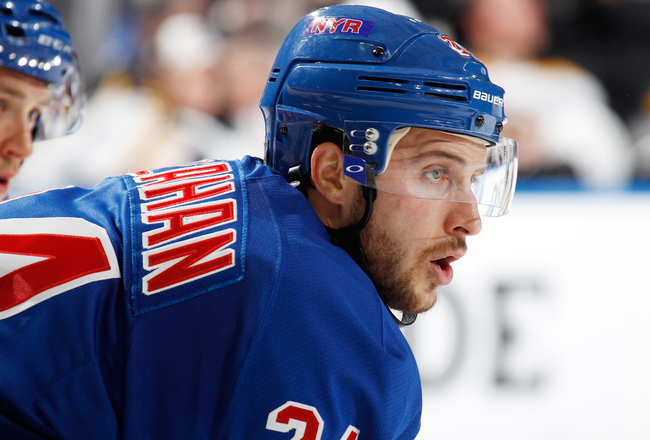 Scott Levy/Getty Images
The New York Rangers have a number of talented players on their roster, but which one will be the club's most valuable player this season? Will it be Henrik Lundqvist for the umpteenth season in a row, or will Derek Stepan or Rick Nash rise to the forefront?
There are a number of worthy players capable of being the Blueshirts' 2013-14 MVP, and here are the top five candidates.
Derick Brassard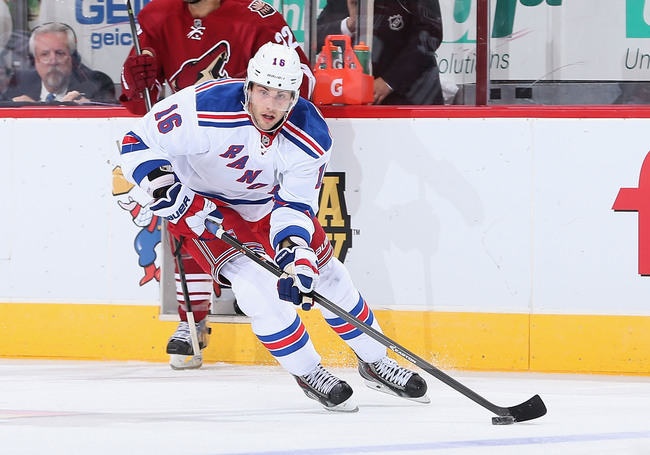 Brassard is a budding center with upside.
Christian Petersen/Getty Images
Chance of Becoming MVP: 5 percent
Derick Brassard was acquired by the Rangers at last year's deadline, and he could be a sleeper pick to be the most valuable player for the Blueshirts this season. Brassard is a talented center with upside, and he could put up points as a member of the top six this season.
While it is unlikely that Brassard will out produce top center Derek Stepan, there is a chance he could catch lightning in a bottle with Mats Zuccarello and Benoit Pouliot.
Marc Staal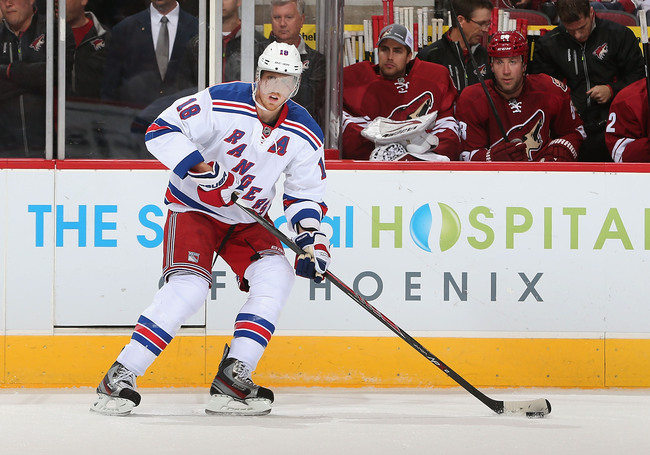 Staal is a quality blueliner.
Christian Petersen/Getty Images
Chance of Becoming MVP: 10 percent
Marc Staal has a great chance to reclaim his status as the Rangers' No. 1 blueliner this season. The Thunder Bay native was previously sidelined because of a concussion and an injury sustained when a deflected puck hit him in the eye.
During the Rangers' season opener, Staal scored a goal, and he appeared to be completely comfortable while on the ice. If Staal remains a rock defensively and he increases his offensive game, he could be the team MVP this season.
Derek Stepan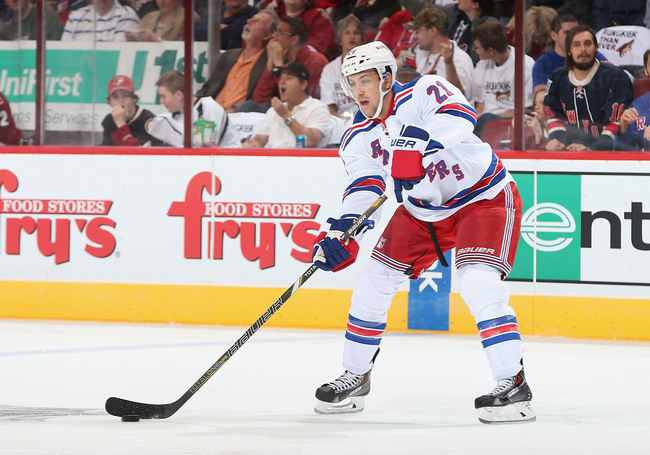 Stepan has progressed greatly since making his NHL debut.
Christian Petersen/Getty Images
Chance of Becoming MVP: 20 percent
Derek Stepan is one of the Rangers' most complete players. He is an amazing offensive player, a sold two-way defensive center and he was the team's top forward last season. This year Stepan is the permanent No. 1 center, and Rick Nash and Brad Richards flank him on the top line.
This trio of forwards will likely lead the team in scoring, and Stepan will be at the center of the action, facilitating offense. When you factor in Stepan's intangibles and all-around game, it is hard to see why he won't be in contention for team MVP at the season's end.
Rick Nash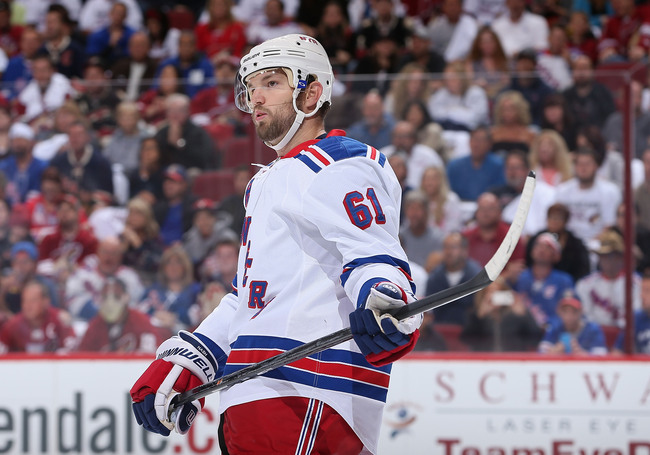 Eyes are on Rick Nash this season.
Christian Petersen/Getty Images
Chance of Becoming MVP: 25 percent
Under Alain Vigneault, Rick Nash has the potential to have a monster season. Vigneault's use of zone starts greatly benefited the Sedin twins, and that strategy could give Nash the opportunity to score 40 goals this season.
Now that Marian Gaborik is gone, Nash will be looked at to lead the team offensively, and if he does that this season, the Rangers could be a tough team to play against. Fans are expecting big things out of Nash this year, and if Vigneault uses him correctly, he could have a career year worthy of being named team MVP.
Henrik Lundqvist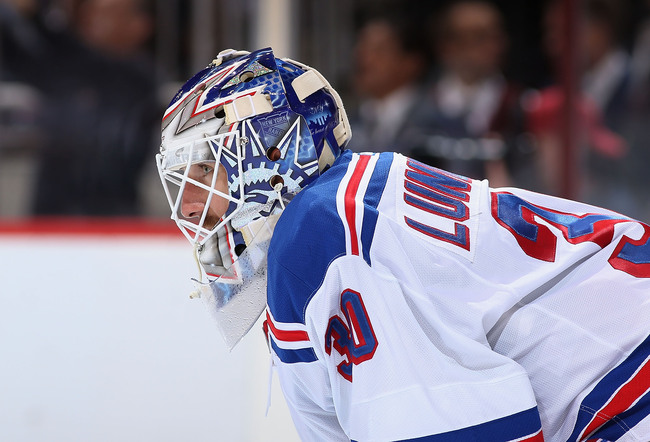 Lundqvist is the favorite to be team MVP for an eighth consecutive season.
Christian Petersen/Getty Images
Chance of Becoming MVP: 40 percent
This is an absolute no-brainer. Henrik Lundqvist is the rock of the New York Rangers, and he is their best player. He has been the team MVP for seven consecutive seasons, so it is pretty safe to name him as the odds-on favorite to capture the award again this season.
Without Lundqvist in net, things would be drastically different for the Blueshirts, and it would be interesting to see how the team would perform without him.
To be successful this year the Rangers have to score goals, but taking a more offensive approach will result in Lundqvist facing more shots. As one of the best netminders in the NHL, this shouldn't faze Lundqvist, but it will only increase his value to the Rangers.
Keep Reading

New York Rangers: Like this team?