The Los Angeles Dodgers don't want to go back to Atlanta for Game 5 in their NLDS series against the Atlanta Braves. If things go to plan, they won't have to.
Up 2-1 already, the Dodgers have decided to go for broke on Monday night, starting Clayton Kershaw on short rest to face Freddy Garcia. From David O'Brien of the Atlanta Journal-Constitution:
#Braves will face Kershaw tonight, not Nolasco. Late change by the Dodgers. He'll go on short rest for 1st time, and after 124 pitches.

— David O'Brien (@ajcbraves) October 7, 2013
As you might expect, this decision has become the main topic of conversation surrounding the game. Jonah Keri of Grantland thinks it's the right call, when you consider the alternative is Ricky Nolasco:
Basically do you want Kershaw on short rest or Nolasco on full rest. Perfectly defensible to prefer Kershaw.

— Jonah Keri (@jonahkeri) October 7, 2013
As Jon Morosi of Fox Sports, this also sets up the team very nicely for the next series if they win at home tonight:
If Dodgers win tonight, they go Greinke (extra rest) and Kershaw (regular rest) to start NLCS. One more reason this is the right call.

— Jon Morosi (@jonmorosi) October 7, 2013
Joe Lemire of Sports Illustrated adds to that line of thought:
If Dodgers advance, Kershaw could now pitch Games 2+6 on full rest. Doesn't matter if it's 1+5 or 2+6 because he wouldn't have tried 1-4-7.

— Joe Lemire (@SI_JoeLemire) October 7, 2013
Ken Rosenthal of Fox Sports thinks the move will probably work, but notes the danger of pitching an ace on three-days rest in the postseason:
#Dodgers' move to Kershaw probably will work - he's facing #Braves' Garcia - but history of post-season starters on short rest is NOT good.

— Ken Rosenthal (@Ken_Rosenthal) October 7, 2013
And Morosi tweets that Kershaw was prepared for the possibility:
I asked Clayton Kershaw about short rest before series. "I haven't done it ... but I've got some ideas of how to get prepared for that."

— Jon Morosi (@jonmorosi) October 7, 2013
It's a risky move by the Dodgers for sure, but the benefits seem to outweigh the negatives of the decision. Remember, in Game 1 he went seven innings, striking out seven and giving up a single run. Yes, it's hard to imagine him repeating the feat on short rest, but you can bet the Braves would rather face Nolasco.
Of course, there are more reasons to like the Dodgers in this game. The team has already mashed 22 runs in this series, and now face the 37-year-old Garcia. To be fair to Garcia, he was 1-2 in September but did manage a 1.65 ERA for the month.
In his three starts in the month, he went 19.2 innings, allowing just four runs while striking out 16 batters. Yes, anyone would rather have Kershaw in this game, but Garcia comes into this game having pitched quite well in September.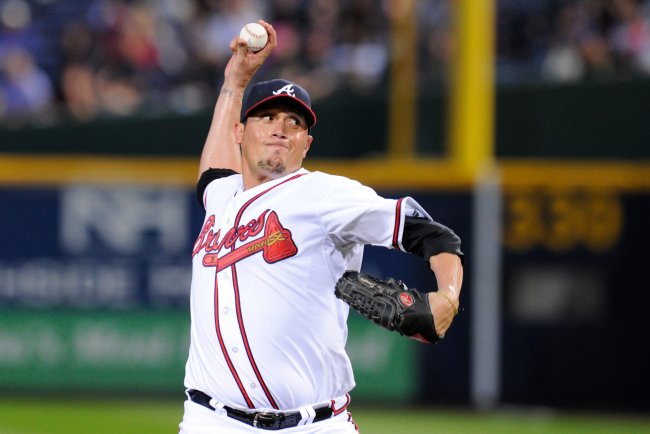 Dale Zanine-USA TODAY Sports
But quieting a Dodgers' offense that has been quite hot in this series, in Los Angeles, is a tall task.
So is generating runs for a team that lived and died by the homer in the regular season—Atlanta led the National League with 181 dingers this year—but has hit just one in three NLDS games. Kershaw gave up just 11 home runs in 33 regular-season starts, the fewest in baseball among pitchers who threw at least 200 innings.
It's hard to see Atlanta winning on the road, against the National League's best pitcher, with a 37-year-old starter facing a torrid Dodgers' lineup. Don't expect this series to return to Atlanta for a fifth game.