There are three undefeated teams in the NFL heading into Week 6, and two of those teams reside in the AFC West.
The Denver Broncos, Kansas City Chiefs and New Orleans Saints are the only three NFL teams with the distinction of having a perfect record this season; Seattle and New England removed their names from that list with losses in Week 5.
Looking ahead, a number of intriguing games await. Games aren't played on paper, but this weekend's Cleveland vs. Detroit, Seattle vs. Tennessee and Kansas City vs. Oakland matchups have the potential to turn some heads.
Here's a look at all 15 contests on the Week 6 schedule and some predictions.
NFL Week 6 Picks
NFL Week 6 Picks

| | | |
| --- | --- | --- |
| Date | Matchup | Prediction |
| Thursday, Oct. 10 | New York Giants vs. Chicago Bears | CHI 28, NYG 13 |
| Sunday, Oct. 13 | Cincinnati Bengals vs. Buffalo Bills | CIN 24, BUF 10 |
| Sunday, Oct. 13 | Green Bay Packers vs. Baltimore Ravens | GB 23, BAL 17 |
| Sunday, Oct. 13 | Detroit Lions vs. Cleveland Browns | DET 31, CLE 28 |
| Sunday, Oct. 13 | Carolina Panthers vs. Minnesota Vikings | MIN 17, CAR 12 |
| Sunday, Oct. 13 | St. Louis Rams vs. Houston Texans | HOU 35, STL 21 |
| Sunday, Oct. 13 | Oakland Raiders vs. Kansas City Chiefs | KC 27, OAK 26 |
| Sunday, Oct. 13 | Pittsburgh Steelers vs. New York Jets | PIT 21, NYJ 10 |
| Sunday, Oct. 13 | Philadelphia Eagles vs. Tampa Bay Buccaneers | PHI 31, TB 19 |
| Sunday, Oct. 13 | Jacksonville Jaguars vs. Denver Broncos | DEN 45, JAC 13 |
| Sunday, Oct. 13 | Tennessee Titans vs. Seattle Seahawks | SEA 21, TEN 20 |
| Sunday, Oct. 13 | New Orleans Saints vs. New England Patriots | NO 34, NE 17 |
| Sunday, Oct. 13 | Arizona Cardinals vs. San Francisco 49ers | SF 23, ARI 13 |
| Sunday, Oct. 13 | Washington Redskins vs. Dallas Cowboys | DAL 41, WSH 31 |
| Monday, Oct. 14 | Indianapolis Colts vs. San Diego Chargers | SD 28, IND 24 |
*Schedule via NFL.com.
Prediction Highlights
New Orleans Stays Undefeated
It's not often teams go into Foxborough and hand the Patriots a loss, but that's exactly what the Saints are in position to do on Sunday.
While this is virtually the same group that struggled in 2012, the return of Sean Payton has invigorated New Orleans' spirit. As noted by ESPN's SportsCenter Twitter account, it's clear that having a good coach can make the difference in the NFL:
Starts last season: Saints: 1-4 Chiefs: 1-4 Both teams begin 5-0. Well done, Sean Payton and Andy Reid. Evidently, coaching MATTERS.

— SportsCenter (@SportsCenter) October 6, 2013
Bill Belichick is no slouch, and he'll have his group ready to play after a tough loss to Cincinnati in Week 5. That said, it's looking more and more like the Pats just don't have the guns on offense this year. The young players have struggled, and the fierce rain against the Bengals certainly didn't help.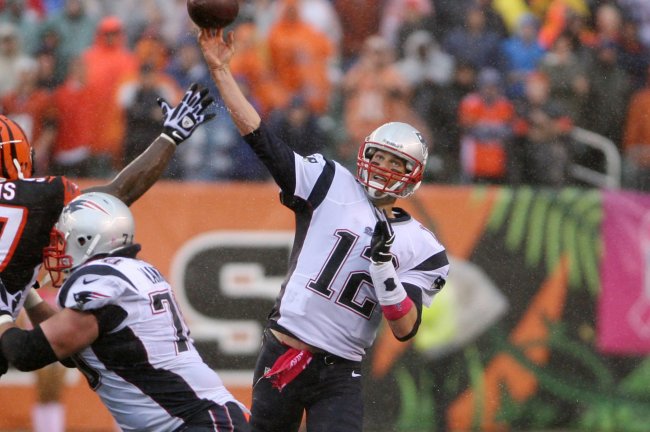 Mark Zerof-USA TODAY Sports
New Orleans, on the other hand, has all the confidence in the world after going to Soldier Field and knocking off the Chicago Bears. Though winning two road games in two weeks is no easy task, the Saints have been up for every previous challenge this season.
Tom Brady and—the potential return of—Rob Gronkowski will be the talk of the town in New England, but I see Drew Brees and Jimmy Graham carving up the Pats' defense en route to a big win.
Steelers Get First Win of '13
It's been a frustrating season—to say the least—for Steelers fans. After a loss to Minnesota in London, the bye week couldn't come soon enough for Mike Tomlin's team.
Expect some of the two-week frustration the Steelers have been feeling to be unleashed against the Jets.
As noted by NFL.com's Ian Rapoport, Pittsburgh is not giving up on the season. The AFC North is still wide open, and the trade for Levi Brown proves that the Steelers are doing everything they can to make the postseason:
If you wondered if #Steelers would shift into rebuilding mode after starting 0-4… nope. Acquiring Levi Brown indicates wanting to win now

— Ian Rapoport (@RapSheet) October 2, 2013
A win over the Jets would be a massive step toward that conclusion.
It's far too early to start talking playoffs in Pittsburgh, but the Jets will be on a short week following their Monday night game with Atlanta and will have to contend with a team that had two weeks of preparation time.
All signs point to the Steelers breaking off from the group of winless NFL teams by the time Week 7 begins.
Raiders-Chiefs is Best Game of the Weekend
Brian Bahr/Getty Images
The Oakland Raiders removed themselves from that aforementioned list in the wee hours of the morning on Monday, holding off a fourth-quarter charge to beat the San Diego Chargers.
Kansas City is still undefeated after scoring 13 unanswered points in the fourth quarter against Tennessee. As noted by this Twitter post from the Denver Broncos, the Chiefs are far and away a better team than they were in 2012:
The #Broncos' 230 points this year are 19 more than the Chiefs scored in all of 2012.

— Denver Broncos (@DenverBroncos) October 7, 2013
Andy Reid is a big reason why, and he knows how important rivalry games are to fan bases and players alike. This Twitter post from ESPN's Adam Teicher says it all:
Reid today was in spirit of Chiefs-Raiders: "I'm all about rivalries. I've got it. Black and silver, if anybody's wearing it,be careful.''

— Adam Teicher (@adamteicher) October 7, 2013
While the Chiefs have a great chance to start the year 6-0, the Raiders showed promise on both sides of the ball against the Chargers and quarterback Terrelle Pryor was an efficient 18-of-23 through the air.
Kansas City's defense will provide a stiffer test than San Diego, but I have a feeling the Chiefs will underestimate what Oakland can do and Pryor will make them pay. I still like the Chiefs to win the game, but the Raiders are trending in the right direction.
Follow B/R's Ethan Grant on Twitter.