The Oakland Athletics are now one win away from clinching the 2013 American League Division Series after defeating the Detroit Tigers, 6-3, in Game 3. They now hold a 2-1 lead in the best-of-five series.
After the previous game in this matchup, a great pitchers' duel, resulted in a 1-0 final, the offenses came alive in this one. Coco Crisp led the way with three hits, and Oakland showcased its balance as six different players scored runs in the victory.
Starting pitcher Jarrod Parker did enough on the mound to earn the win with five innings of three-run ball, although he was helped tremendously by a bullpen that held the Tigers to only two hits and no runs in four innings.
The A's got off to a strong start offensively and pounded opposing starting pitcher Anibal Sanchez, scoring six runs against him in less than five innings. A two-out error by Miguel Cabrera allowed the first run to score in the third, and Oakland added two more to that total in the fourth thanks in part to a Josh Reddick home run:
Watch @joshreddick16 add to the #Athletics lead with this #HR to RF on @MLBNetwork. It's 3-0 OAK in the 4th inning: http://t.co/Hi3U7LDfun

— MLB Network (@MLBNetwork) October 7, 2013
However, the 3-0 lead did not last long. Detroit's offense finally awoke when Victor Martinez hit an RBI double, snapping an awful streak for the Tigers:
Victor Martinez' run in 4th inning snapped the Tigers' 20-inning scoreless drought. It matched their drought in last year's World Series.

— ESPN Stats & Info (@ESPNStatsInfo) October 7, 2013
A two-run single by Jhonny Peralta tied the game at 3-3 through four innings.
Unfortunately for the Tigers, Sanchez once again struggled to keep his opponent off the scoreboard in the fifth inning:
Oakland ANSWERS! A's get homers from Brandon Moss and Seth Smith to take 6-3 lead over Tigers in 5th.

— SportsCenter (@SportsCenter) October 7, 2013
He was taken out of the game, but the damage was already done as the Athletics went up by three runs.
After that, the bullpens took over with some impressive performances on each side. Jose Alvarez kept the Tigers in the game with three scoreless innings in relief, although Dan Otero helped prevent a comeback with two scoreless innings for the Athletics.
As Casey Pratt of Comcast SportsNet pointed out, the road team also stepped up the defense down the stretch:
After taking a three-run lead, the #Athletics have put the strangle hold on with their defense. 6-3 A's over #Tigers heading to the ninth.

— Casey Pratt (@CaseyPrattCSN) October 7, 2013
Grant Balfour entered in the ninth to close the game, although the final inning was certainly eventful. In the middle of an at-bat against Martinez, the pitcher and hitter started screaming profanities at each other.
As James Schmehl of MLive Media Group recapped, things escalated quickly:
Balfour appeared to say some words after he got V-Mart to chase a fastball. Martinez obviously took exception to what he had to say.

— James Schmehl (@jamesschmehl) October 7, 2013
Benches have cleared. Victor Martinez is furious. The bullpens emptied, too.

— James Schmehl (@jamesschmehl) October 7, 2013
The MLB Twitter account also provided an image of the benches cleared in the ninth inning:
Benches clear in Detroit after A's closer Grant Balfour and Tigers DH Victor Martinez exchange words in 9th. pic.twitter.com/NvmqOr95Bb

— MLB (@MLB) October 7, 2013
The San Francisco Chronicle's Susan Slusser offered some details:
Martinez clearly said "F- you b-" after Balfour said something to him, then walked toward mound. Balfour swears all the time, it's true.

— Susan Slusser (@susanslusser) October 7, 2013
After the game, Martinez talked about what exactly was said, via Matthew Mowery of The Oakland Press:
VMart: "He said, 'What the (bleep) are you looking at?' I don't take that (bleep). I'm not a rookie." #Tigers

— Matthew B. Mowery (@matthewbmowery) October 7, 2013
USA Today Baseball on Twitter quoted Balfour after the game:
Grant Balfour: "He stared me down. Whatevah. If you wanna come out, come out."

— USATODAYbaseball (@USATODAYmlb) October 7, 2013
And MLB.com's Jane Lee had more from Balfour:
Balfour: "He gave me the death stare. I said, if you have a problem, come on out. And he came out."

— Jane Lee (@JaneMLB) October 7, 2013
Cooler heads prevailed and Balfour ended up finishing the game with a scoreless inning, but the teams have certainly set the stage for plenty of drama during the rest of the series.
Grades
Anibal Sanchez, SP, Tigers: D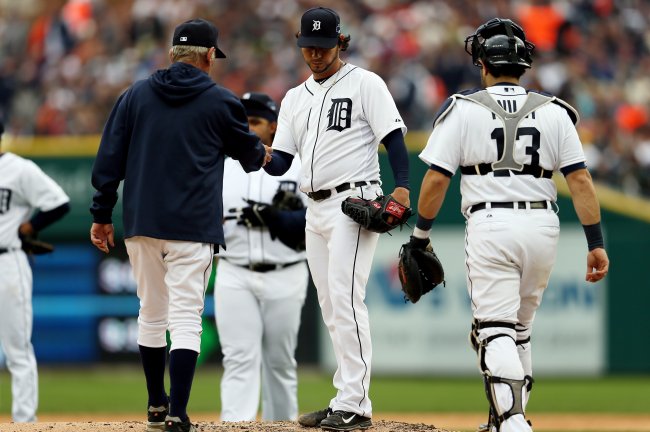 Rob Carr/Getty Images
Many fans would be surprised to learn that Sanchez led the AL with a 2.57 ERA this season. This seems even more appalling after his awful performance in this playoff game.
While he was able to escape the first few innings without allowing much damage, he was still in trouble early. Bleacher Report's Matt King noted that the pitcher struggled right away in each inning:
Somebody should let Anabal Sanchez know he's allowed to get the first batter of the inning out. Actually, nevermind.

— Matt King (@TheRealMattKing) October 7, 2013
However, the problems worsened with the long ball, as Sanchez allowed three home runs in his short start. The final one came when he seemed to be preoccupied with the runner on first, according to Jason Beck of MLB.com:
Sanchez threw to 1st base 8 times that AB. His 5th pitch to Seth Smith got up into wind and out to LF. 6-3 A's as Sanchez exits for Alvarez.

— Jason Beck (@beckjason) October 7, 2013
In the end, Sanchez allowed six runs (five earned) in only 4.1 innings and did not help his team when it needed him.
Miguel Cabrera, 3B, Tigers: C
How will this series end?
It is almost impossible for a baseball player to be great every game, but that is what is expected out of Miguel Cabrera these days. While the reigning AL MVP put together a fantastic year, he did not provide much help in Game 3.
Besides a first-inning single with no one on, Cabrera did nothing at the plate to help the Tigers. In his biggest moment, with a runner on first in the eighth inning, he popped out on the first pitch.
Additionally, his fielding error led to the first run of the game for the Athletics.
If Detroit is going to make a run this postseason, it will need Cabrera to do a better job of coming through in clutch situations.
Jarrod Parker, SP, Athletics: B-
Leon Halip/Getty Images
It might not have been the best day on the mound for Parker, but he did enough to keep his team in the game.
The starting pitcher lasted five innings while allowing three runs on five hits. Interestingly, he probably could have gone deeper if needed, as Bob Nightengale of USA Today noted:
The #Athletics pull Parker, and go to Dan Otero. Parker threw just 73 pitches.

— Bob Nightengale (@BNightengale) October 7, 2013
As it turns out, Bob Melvin had more confidence in the bullpen than the starter, which was certainly the right decision. Considering Parker's inconsistency this season, he was as good as the squad could have hoped.
Seth Smith, DH, Athletics: A
Nobody on Oakland came into the game with more familiarity with Sanchez than Seth Smith. The former Colorado Rockies player had 17 at-bats against the pitcher, totaling six hits with two home runs and two walks.
The success continued in this game. Smith notched an early single and followed that up with one of the bigger hits of the game, a two-run home run in the fifth inning.
All year long, the scary part for the Athletics is that anyone in the lineup can hurt you at any time. Smith proved that on Monday with a great offensive effort.
What's Next?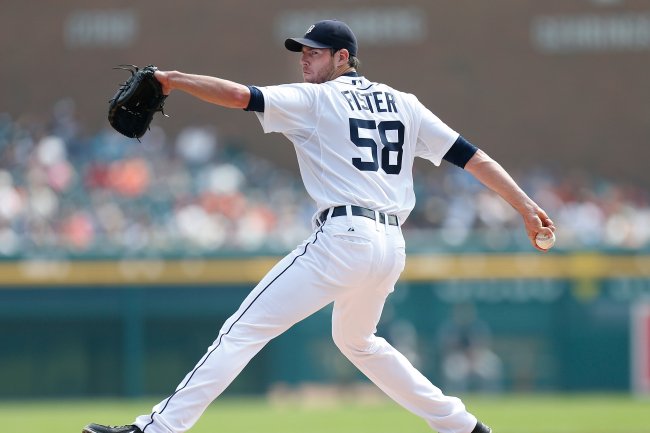 Gregory Shamus/Getty Images
These two teams play again Tuesday, Oct. 8, in what could be the final game of the series. The Athletics will send 24-year-old Dan Straily to the mound against the Tigers' Doug Fister.
The first pitch is set for 5:07 p.m. ET on TBS.
Follow Rob Goldberg on Twitter for the latest breaking news and analysis.