Pittsburgh Pirates vs. St. Louis Cardinals Game 4: Live Score, NLDS Highlights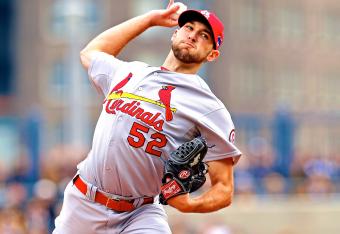 With the Pirates looking to punch their ticket to the NLCS today at PNC Park, the Cardinals responded and they were able to force a Game 5.
Starting pitcher Michael Wacha was absolutely dominant today, relying on his fastball and changeup throughout the game. Wacha pitched 7.1 innings of one-hit, one-run baseball and had nine strikeouts. He had a no-hitter going eighth until Pedro Alvarez launched a home run to end Wacha's bid at history.
After giving up a walk to Russell Martin, Wacha appeared rattled by the situation and by the wild PNC Park crowd. Cardinals manager Mike Matheny decided to take his rookie out looking to hold their one run lead.
Matheny went from one 22 year-old to another when he brought in reliever Carlos Martinez. After a caught-stealing, Martinez retired Jose Tabata to end the inning.
Trevor Rosenthal closed the door on the Pirates by getting Andrew McCutchen, who was the winning run at the plate, to pop-up to second.
The pivotal Game 5 of the series will be on Wednesday at St. Louis at 5:07 on TBS. We should be in for a treat.
Scoring Plays
Top of the 6th Inning: Matt Holliday hits a home run to center against Charlie Morton and the Cardinals grab a 2-0 lead.
Bottom of the 8th Inning: Pedro Alvarez hits a deep home run to right center for the Pirates' first hit and run of the game. Cardinals are up 2-1.
Erick Fernandez is the creator No Layups
Follow Erick on Twitter
McCutchen swings on the Rosenthal offering and pops up to 2nd base to end the game. Cardinals win in an exciting one 2-1 and force a Game 5.
Rosenthal walks Walker on four-pitches and now MVP Candidate and the face of the Pirates franchise Andrew McCutchen looking to tie it or possibly end it with one swing of the bat.
Also via @EliasSports - Michael Wacha's no-hit bid was longest by a rookie in postseason history. Previous long: Jeff Tesreau, 1912 (5 1/3)

— ESPN Stats & Info (@ESPNStatsInfo) October 7, 2013
Rookie postseason no-hit bids.
Marte grounds to short for the second out of the inning. Pirates hopes on the shoulders of Neil Walker
Jordy Mercer strikes out on the Rosenthal fastball. One out in the bottom of the 9th.
Trevor Rosenthal is in to try and close this one out for the Cardinals. Jordy Mercer, Starling Marte and Neil Walker will face him this inning.
If anyone near you suggests that saying "no hitter" caused Wacha to lose one, please, club them. You'll be doing them, and us, a favor.

— T.J. Quinn (@TJQuinnESPN) October 7, 2013
*Starts looking for clubbing object*
Pedro Alvarez makes a beautiful barehand play to end the top of the 9th inning. Last chance for the Pirates here in the bottom of the inning.
Running on Molina in the 8th of a one-run game with one out. Just...maybe don't?

— Bill Parker (@Bill_TPA) October 7, 2013
Maybe Josh Harrison should have thought about who he was trying to run on.
After Yadier Molina throws out Josh Harrison at 2nd, Martinez retires Jose Tabata to end the bottom of the 8th inning.
Carlos Martinez replaces Michael Wacha as pitcher -- Cardinals go from a 22-year-old rookie to … a 22-year-old rookie.

— SB Nation (@sbnation) October 7, 2013
22.
Mike Matheny has seen enough. After giving up a home run and a walk, Wacha is gone from this game.
Pedro Alvarez said "this is what I think of your stinkin' no-hitter." Knocks a home run to deep right-center field. No-hitter gone. Shutout gone. Wacha needs to focus to try and maintain the lead.
Marlon Byrd strikes out to start the bottom of the 8th inning. FIVE OUTS away from a no-hitter.
Pirates remaining hitters vs. Wacha: Byrd (0-6 career), Alvarez (0-5), Martin (0-1), Mercer (1-4), Marte (0-3) & PH. John Buck is 1-4.

— Phil Rogers (@philgrogers) October 7, 2013
The next six hitters do not have great numbers against Wacha.
Adams strikes out to end the top of the eighth inning. Marlon Byrd, Pedro Alvarez and Russell Martin are due up for the Pirates and they are looking to end Wacha's attempt at history in the bottom of the inning.
ANOTHER 1-2-3 inning for Wacha and he has thrown 7 no-hit innings. What a performance so far.
Justin Wilson throws a 1-2-3 inning in the top of the 7th. The Pirates looking to get something going against Wacha. "Something going" usually starts with getting a hit.
This is a game-break. Video of the Tigers and Athletics confrontation with both Grant Balfour and Victor Martinez using some colorful language (NSFW language). If that isn't close to the action then I don't know what is.
Despite giving up the walk, Wacha retires the next three. He is currently throwing a no-hitter through six innings. #WachaWachaWacha
Wacha allows his first base runner of the game in the top of the 6th inning. Throws a four-pitch walk to Russell Martin. Perfect game is kaput.
After throwing his second four-pitch walk of the inning Charlie Morton is taken out of the game by manager Clint Hurdle and his day is done. Those two runs might be huge consider how dominant Wacha has looked through the first five innings.
Matt Holliday using those trunks for forearms to muscle the Charlie Morton offering to straightaway center. Both he and Beltran score and the Cardinals grab a 2-0 nothing lead in the top of the sixth.
"Oh yeah, cheeeeeeeeese."
15 up, 15 down. Michael Wacha is perfect through five and still throwing cheese.
This article is
What is the duplicate article?
Why is this article offensive?
Where is this article plagiarized from?
Why is this article poorly edited?