Oklahoma City Thunder vs. Philadelphia 76ers: Grading OKC'S Performance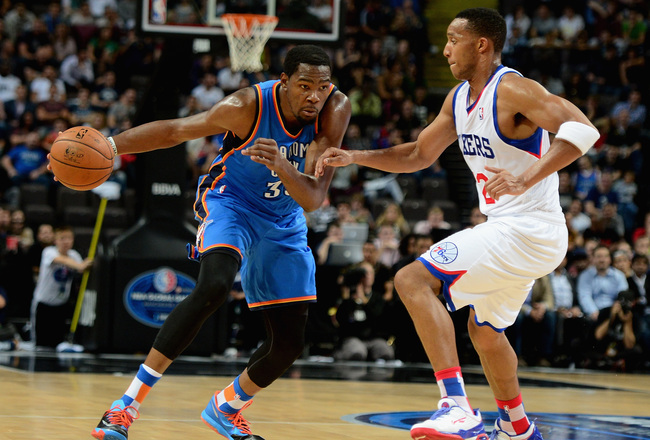 Kevin Durant was unsurprisingly impressive in this preseason outing.
Jamie McDonald/Getty Images
The NBA train made its way to Manchester, England, where Kevin Durant and the Oklahoma City Thunder battled the Philadelphia 76ers.
The Thunder gutted out a 103-99 victory, using some clutch free throws from Reggie Jackson to solidify the win.
After a fairly sluggish first half (trailed 51-48 at halftime), Oklahoma City dominated the third quarter by scoring 35 points. They took a nine-point lead into the final frame and held off a late surge from the 76ers.
The Thunder compiled 30 total assists on 40 made buckets. They shared the ball exceptionally well, particularly Durant and Jackson who combined for 20 assists.
They also beat Philly on the boards with a 51-42 advantage. Ibaka (11) and Durant (eight) were instrumental in this realm.
Negatively, the Thunder once again lacked efficiency from long range. After going 2-for-14 from distance in their first preseason appearance, they went 6-for-27 in this one.
Their focus on distributing the ball and outstanding performances from Durant, Jackson and Ibaka helped them overcome this, but the Thunder will need more efficiency from distance once the season hits.
They'll also need more production from their complementary players. There is much uncertainty on this roster outside of their main weapons.
Point Guard: Reggie Jackson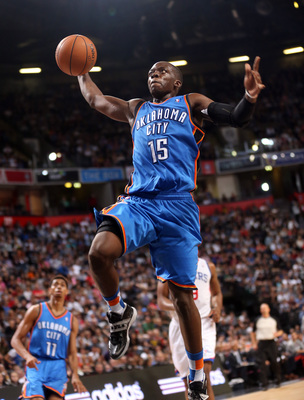 Layne Murdoch/Getty Images
Reggie Jackson tallied nine points and four assists before the halftime buzzer.
Specifically, he showcased a couple strong penetrations to the rim. They weren't Russell Westbrook-like, but Jackson has some pop in his step and a savvy floater in the lane.
The downside to his first half was his 1-for-5 mark from distance. Furthermore, he also botched a fast-break chance when he threw a poor pass to Durant. It didn't lead to a turnover, but it prevented a relatively easy transition scoring opportunity.
Jackson wisely opened the second half by using a couple pump fakes from behind the three-point line. Each time it resulted in his defender biting. This allowed him to take a dribble and splash two mid-range looks, helping his shot build confidence.
He added 10 more points in the third quarter. Then, with the game on the line in the fourth quarter, he generated another 10 points, nailing some critical free throws down the stretch.
Jackson finished with an eye-popping 29 points (20 in the second half), eight assists, six rebounds and just one turnover in 36 minutes.
Overall, the Thunder are a completely different team when Westbrook is in action, but Jackson is a more than serviceable replacement. This was apparent through this performance.
Grade: A
Shooting Guard: Jeremy Lamb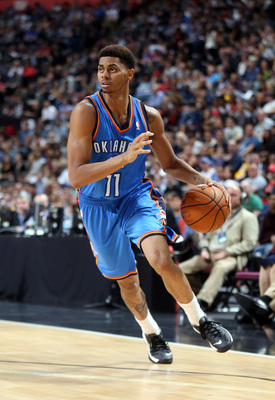 Layne Murdoch/Getty Images
Jeremy Lamb netted an early jumper coming off a screen, but he didn't produce any first-half offense besides that. He was 0-for-5 from distance (including an air ball) and accumulated three turnovers.
Things didn't get much better in the second half. He scored a transition bucket, but he still struggled to find his shot (missed three more threes, including another air ball) and coughed up a couple more turnovers.
Positively, his on-the-ball defense looked stellar against Philadelphia's wings. This was evident throughout the contest.
Unfortunately, the Thunder will need Lamb's offense to be consistent, and this performance raises concerns if it will be. His stat line (seven points (2-for-12 FG), four rebounds, two assists and five turnovers) is not even close to being acceptable.
Even after Westbrook returns, Oklahoma City still must have another offensive threat on the perimeter. The loss of Kevin Martin creates this void.
It's uncertain if Lamb can fill this hole. His output against Philly surely did not convince anyone that he's the ideal wing complement to Durant.
Grade: D
Small Forward: Kevin Durant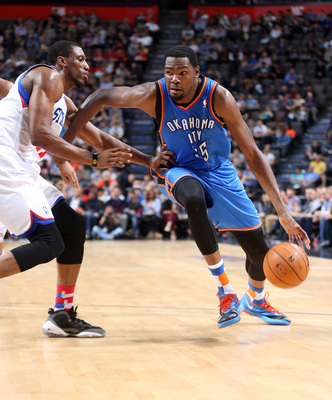 Layne Murdoch/Getty Images
Durant looked superb from start to finish, as he avoided signs of "hero" ball and involved his teammates. In the opening half, he paced the Thunder with seven points, seven assists and five rebounds.
He even played point guard to start the second quarter, foreshadowing how the Thunder may utilize him while Westbrook remains sidelined.
Durant then turned things up a notch in the second half, showing an edge offensively by pouring in 14 points (6-of-8 from the field) and five assists during the third quarter.
This is what sparked Oklahoma City to a 35-point third quarter and a nine-point lead heading into the final frame.
Durant was remarkably timely in his approach. He showed patience at the beginning while teammates attempted to establish rhythm, but he knew when to really take matters into his own hands.
Even then, he still involved his teammates, evidenced by his eye-opening assist tally. He finished with 21 points (9-for-18 FG), 12 assists and eight rebounds in 33 minutes.
There was nothing to complain about in Durant, and he certainly looks fit to challenge LeBron James for the league MVP.
Grade: A
Power Forward: Serge Ibaka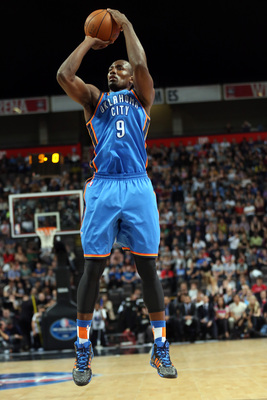 Layne Murdoch/Getty Images
Serge Ibaka aggressively launched his shot in the game's opening minutes. Come halftime, he had eight points on 4-of-10 shooting from the field.
While his early output featured a smooth-looking turnaround fadeaway, Ibaka appeared too content to settle for the mid-range look.
This changed as soon as the second half began, when Ibaka attacked his defender in the post and finished with a right-handed hook.
Ibaka then poured in some more jumpers, but they were more high-percentage ones than some of his first-half attempts. He was closer to 15 feet.
He went 5-6 in the second half, ending the game with this stat line: 18 points, 11 rebounds and three blocks. He especially looked extra hungry for the ball in the fourth quarter, when he was their primary option with Durant on the bench.
It was a customary outing for Ibaka. He was active defensively and assertive on the offensive end.
They'll need this effectiveness from him throughout 2013-14, and he'll be all the more lethal if he consistently finds his groove closer to the basket, like he displayed in the second half.
Grade: A-
Center: Steven Adams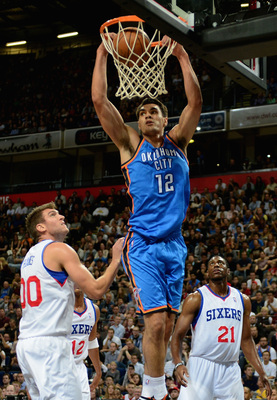 Jamie McDonald/Getty Images
The Thunder implemented a "center by committee" approach against the 76ers. Steven Adams started the game, but after playing the initial seven minutes, he didn't appear again until the second half.
His early contributions were by no means disappointing. He notched four points and two boards in the opening quarter.
The second half began with him snagging an impressive offensive rebound and finishing with a putback reverse layup.
Defensively, he showed potential on the ball, where he limited his opponent and even blocked two shots. However, his rotations were a bit slow as a help defender, but we won't beat up the rookie too hard for this.
His final line featured six points, four rebounds and two blocks in just 17 minutes. This was a solid showing from the beastly young center, igniting initial promise about his future.
Grade: B
Sixth Man: Nick Collison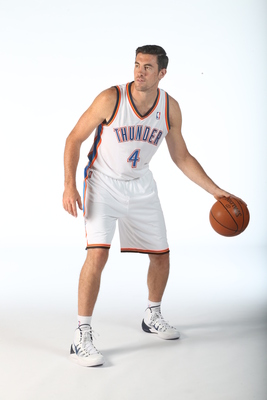 Layne Murdoch/Getty Images
Veteran Nick Collison exhibited his typical quality effort.
He played eight of the first 24 minutes, compiling four points and four rebounds. He even showed some range, cashing a 21-footer.
He also revealed some dishing abilities by a slicing a pass to Perry Jones for a thunderous slam.
Collison didn't log any playing time in the second half, but this was presumably because coach Scott Brooks was giving his younger players experience.
At this point in Collison's career, we know what to expect. He was the first man off the bench and supplied firm screens, strong effort on the boards and intellect on offense.
He figures to once again be an integral piece to Oklahoma City's bench, even if he's not functioning as a "sixth man" come the season.
Grade: B
Bench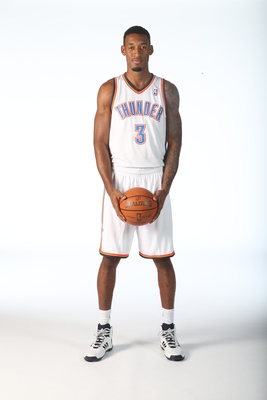 Layne Murdoch/Getty Images
The Thunder appeared to be tinkering with their rotation players, placing individuals in different situations and discerning their response.
Center Daniel Orton played closed to 20 minutes and fouled out. At least he nabbed six points and four rebounds.
Thabo Sefolosha, moved to a reserve role, wasn't very active. Coach Brooks likely limited his time while analyzing their younger players.
Diante Garrett and Perry Jones both looked good in spurts, primarily in the second quarter. Jones tallied seven first-half points, including a three-pointer (he didn't make a three in his entire rookie campaign).
Overall, the Thunder have some members who need to find their identity amidst the second unit. Nobody really jumped to the forefront and raised eyebrows against Philly.
Grade: D
Keep Reading

Oklahoma City Thunder: Like this team?