NFL Power Rankings 2013: How All 32 Teams Stack Up After Wild Week 5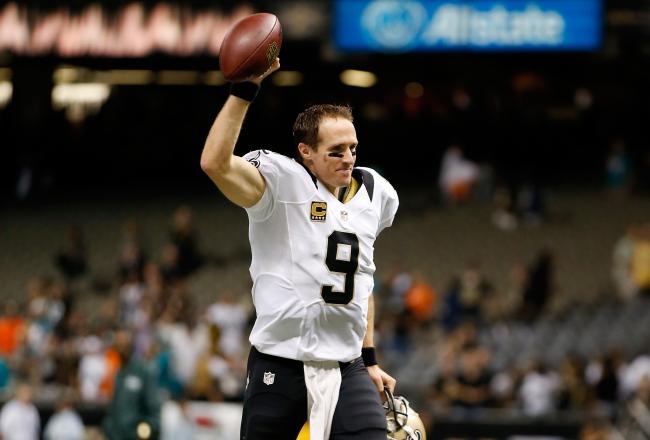 Chris Graythen/Getty Images
From the Cleveland Browns kicking off the week on Thursday by winning their third straight to the Bay Area teams authoring convincing wins on Sunday night, Week 5 has turned the power rankings its ear. That's just the way I like it.
The NFL is at its best when it's unpredictable and wild.
Still, with every team at least a quarter of the way through the season, there is definitely enough information to piece together an accurate ranking. Although, there is still plenty of room for disagreement.
Let me know where my power rankings are off in the comments below.
Langford's Week 5 NFL Power Rankings
1. Denver Broncos (5-0)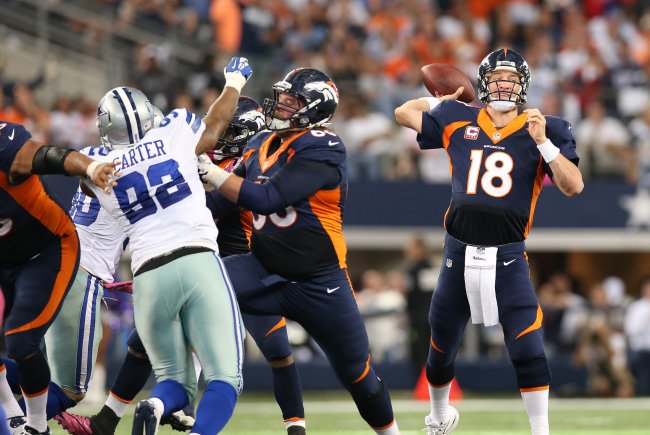 Matthew Emmons-USA TODAY Sports
The performance of the Broncos' pass defense was alarming in Week 5. The Dallas Cowboys moved up and down the field with ease.
Still, this was the first weakness displayed by this team all season, and it should be pointed out the Broncos have scored 103 combined points in their last two games.
2. New Orleans Saints (5-0)
The Saints authored a nice win in Chicago and further cemented their Super Bowl legitimacy. If New Orleans' defense is going to continue to hold offenses as talented as the Bears to only 18 points, the Saints might not lose a game.
3. Seattle Seahawks (4-1)
The Seahawks finally exhausted their road miracles and came up short against the Indianapolis Colts. As talented as this team is, there is no doubt that Seattle is far more vulnerable on the road than at home.
The NFC looks to me like it is coming down to whether the Saints or Seahawks get home-field advantage. Those two will play in Week 13...in Seattle.
4. Kansas City Chiefs (5-0)
The Chiefs aren't spectacular. They aren't lighting up scoreboards or turning in huge fantasy numbers. They are just sound in all phases of the game. And with their great pass rush and good secondary, it is not a foregone conclusion that the Broncos will win the AFC West.
5. Indianapolis Colts (4-1)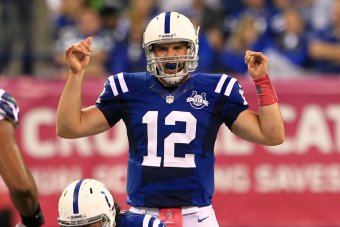 Pat Lovell-USA TODAY Sports
Andrew Luck is getting better by the week. His numbers weren't eye-catching this past week, but he went 16-of-29 for 229 yards, two touchdowns and no interceptions against a Seahawks secondary that many feel is the best in the league.
Meanwhile, the Colts defense continues to demonstrate that it is vastly improved from last season.
6. San Francisco 49ers (3-2)
The 49ers manhandled the Houston Texans, 34-3. It was the kind of dominant and complete performance that many envisioned while picking this team as a Super Bowl favorite to start the season. This team should still be viewed as a Super Bowl contender.
7. Cincinnati Bengals (3-2)
The Bengals defense proved how dominant it can be by dismantling the Patriots offense in Week 5. However, Andy Dalton also continues to show me he is not a quarterback who can lead this team on a deep postseason run.
8. New England Patriots (4-1)
The Bengals were able to get pressure on Tom Brady with their defensive line. This allowed them to blanket his young receivers and take away the passing game.
This will prove to be a good learning experience for the Patriots' young pass-catchers, and not many teams have the talent in the trenches to execute that kind of game plan against New England's offense. However, it is clear this offense has a long ways to go.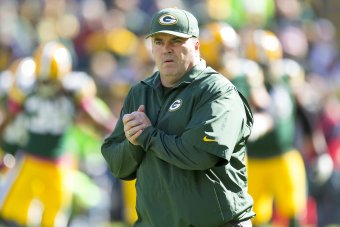 Jeff Hanisch-USA TODAY Sports
9. Green Bay Packers (2-2)
The Packers defense finally showed some signs of competency this past weekend, and Green Bay's suspect offensive line held up against the fierce defensive line of the Lions.
If that kind of play continues in Green Bay, the Packers will start flying up the power rankings.
10. Detroit Lions (3-2)
Just when I was starting to buy into the Detroit Lions they go and muster just nine points against the Packers' highly suspect defense.
Is it going to be another one of those kinds of seasons in Detroit?
11. Miami Dolphins (3-2)
The Dolphins have come crashing down after their 3-0 start. Two straight losses and weak efforts from the defense have pointed out the flaws of this team.
I expect Miami to play the rest of the season while hovering around .500. That is not a bad place for this young team to be.
12. Chicago Bears (3-2)
A season that started out so promising for the Bears could quickly spin out of control. Chicago has lost two straight, and the opportunistic secondary is getting shredded. Meanwhile, Jay Cutler is doing little to lead his team to victory.
13. Baltimore Ravens (3-2)
After an ugly loss to the Buffalo Bills, the Ravens bounced back with a solid win over the Dolphins. There are still plenty of question marks surrounding this team, but they are keeping themselves right in the thick of the playoff picture while working on answering those questions.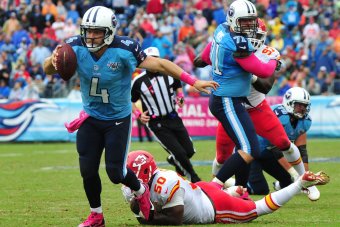 Don McPeak-USA TODAY Sports
14. Tennessee Titans (3-2)
The Titans turned in an admirable effort against the Chiefs with quarterback Ryan Fitzpatrick making his first start for the team.
This team is playing solid football, and I expect it to stay in the playoff race all season.
15. Houston Texans (2-3)
Matt Schaub can't seem to stop making terrible decisions. It's like he's always playing as if his team is trailing and time is running out. Either that, or he's completely forgotten how to read a defense.
Either way, as talented as this team is, the Texans are going nowhere with the quarterbacks on this roster.
16. Atlanta Falcons (1-3)
If the Falcons don't come out and author a beatdown of the New York Jets on Monday night, it really will be time to panic in Atlanta.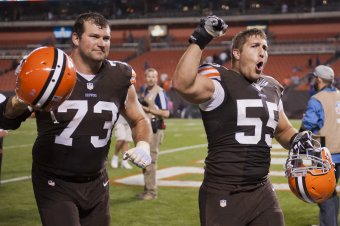 Jason Miller/Getty Images
17. Cleveland Browns (3-2)
And we all thought the Browns were waiving the white flag when they traded Trent Richardson! Having won three straight, all of a sudden this long-suffering franchise is ready to make a push for the postseason.
18. Dallas Cowboys (2-3)
It was too predictable. Tony Romo was having an historically good day against the Broncos, and he found a way to still make himself the goat by chucking a late interception.
Sure, the offensive explosion was impressive, but what does it matter? This team is going to come up short at the most inopportune times.
19. Arizona Cardinals (3-2)
The Cardinals put together a nice win over the Panthers, but let's not get carried away. Arizona still has an awful offensive line and a mistake-prone quarterback.
This team will not finish the season with a record over .500.
20. Buffalo Bills (2-3)
Bills fans have to be rejoicing that rookie quarterback EJ Manuel's knee injury is not more serious. That will have a far greater impact on the team than the fact that the Bills fell to the Browns on Thursday.
Thearon W. Henderson/Getty Images
21. Oakland Raiders (2-3)
Terrelle Pryor continues to impress in Oakland. He even threw a couple of decent long balls in the Raiders' Week 5 victory over the Chargers.
Up to this point, it always seemed like he was throwing into a stiff wind when going deep. The improvement he's shown throwing the ball has been rapid and remarkable. Raiders fans should be excited.
22. San Diego Chargers (2-3)
The Chargers offense looks better than it has in years. Philip Rivers is putting up huge numbers and finding targets all over the field.
However, this defense is woeful. It will be an exciting yet uneven season in San Diego.
23. Philadelphia Eagles (2-3)
The Eagles received a badly needed win this past weekend, but it was against the inept Giants. Philadelphia will now face the equally inept Buccaneers this week.
Maybe a little win streak will spark this team to new heights?
24. New York Jets (2-2)
I expect the Jets to get waxed by the Falcons on Monday night. Then again, I've expected the Jets to get throttled every week.
It is a testament to Rex Ryan that this rag-tag group is .500.
25. Washington Redskins (1-3)
The Redskins will return from a bye and travel to Dallas for a huge Week 6 game against the Cowboys. If Washington can pull that one out, a season that started out at 0-3 will be right on track.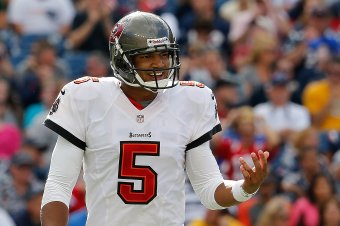 Jim Rogash/Getty Images
26. Minnesota Vikings (1-3)
It looks like the Vikings will have a new quarterback as they come off their bye. Minnesota, as Tom Pelissero of USA Today reports, has signed former Buccaneers signal-caller Josh Freeman.
While Freeman will face a steep learning curve, it's not like handing the ball off to Adrian Peterson is going to take a lot of practice time.
Unless Freeman improves upon the form he showed this season with the Bucs, he isn't likely to unseat Christian Ponder. However, his addition is definitely a source of hope in Minnesota.
27. St. Louis Rams (2-3)
The Rams beat the Jaguars by 14 points in Week 5 but were still underwhelming. That is how bad things are in Jacksonville. Still, this once promising St. Louis defense allowed 20 points to the Jaguars.
That is not a good sign for the Rams chances of turning this season around.
28. Carolina Panthers (1-3)
The Panthers are easily my most disappointing team this week. I thought their improved defensive line would overwhelm the Cardinals' weak offensive front and pave the way to a big victory in Week 5. Instead, the Panthers were whooped, 22-6.
It's going to be a long season in Carolina.
29. Tampa Bay Buccaneers (0-4)
The Buccaneers have been competitive while failing to win a game. That doesn't mean this team is going to figure out how to win. It is still going to be a long season in Tampa, but at least the Buccaneers can console themselves with the fact they've been in games.
30. Pittsburgh Steelers (0-4)
For most NFL teams, a bye can be a much-needed week off. The Steelers, on the other hand, didn't need the bye. There is no amount of rest that will keep this trench-depleted group from sucking. However, the fans of Pittsburgh needed the bye so that they could enjoy Pirates playoff baseball without worrying about their dismal football team.
31. New York Giants (0-5)
The Giants seem intent on giving the Jaguars a run for their money at the bottom of the power rankings.
New York has yet to hold an opponent under 31 points this season. Things are going to get uglier in New York before they get better.
32. Jacksonville Jaguars (0-5)
As Chad Millman of ESPN points out, the Broncos are 28-point favorites over the Jags this week. That ties a record for largest spread in NFL history.
I actually consider the Broncos to be a lock at that spread. That is how hopeless things are in Jacksonville.
This article is
What is the duplicate article?
Why is this article offensive?
Where is this article plagiarized from?
Why is this article poorly edited?