When a starting quarterback goes down, it affects everyone else on the team. This will certainly be the case with the Philadelphia Eagles in the coming week.
According to Adam Schefter of ESPN, quarterback Michael Vick will miss Week 6's game with an injury:
Eagles QB Michael Vick is expected to miss Sunday's start vs. Tampa Bay due to his hamstring injury. Nick Foles time.

— Adam Schefter (@AdamSchefter) October 7, 2013
However, head coach Chip Kelly was less certain, according to the team's Twitter account:
#Eagles Coach Chip Kelly: I don't know if Vick will play Sunday. Right now he's day to day.

— Philadelphia Eagles (@Eagles) October 7, 2013
If the quarterback is unable to play, Nick Foles will take over the starting job, as he did last season and in the second half of the Eagles' Week 5 win over the New York Giants.
From a fantasy perspective, this would immediately make Foles relevant as someone who can throw the ball down the field and take advantage of the weapons around him. However, he will only be a decent start against weaker defenses.
Who is affected more by Foles starting at QB?
Still, the bigger question is about the effect on already established fantasy options like LeSean McCoy and DeSean Jackson.
Much of what helped McCoy this season has been Chip Kelly's new offense, which partly utilized a read option. The threat of Vick leaving the pocket and running loose forced defenses to follow him, freeing up more space for the dynamic running back.
Unfortunately, Foles does not have that running ability. This will allow defenses to now focus more on McCoy and limit his potential for big runs.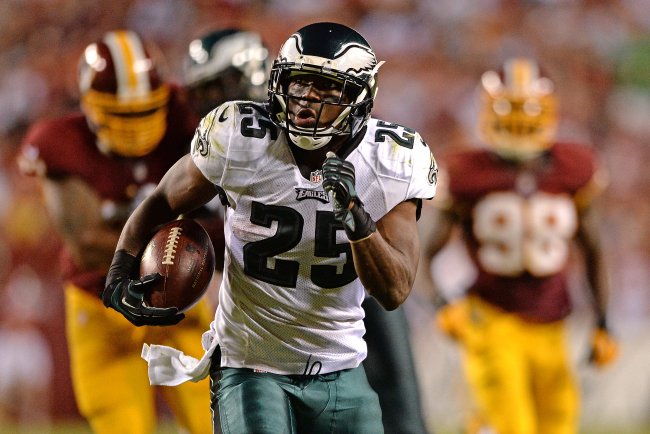 Patrick Smith/Getty Images
The running back would still likely get 20-25 touches per game and should remain in all fantasy lineups. Unfortunately, it seems unlikely he will keep up his 5.2 yards per carry.
As far as Jackson is concerned, there should not be any drop in production with Foles under center. The two showcased a good chemistry against the Giants, with Jackson grabbing five passes for 70 yards and a touchdown after Vick went down.
While the Tampa Bay Buccaneers feature a tough secondary, fantasy owners should treat the matchup the same way they would if Vick was still playing.
Follow Rob Goldberg on Twitter for the latest breaking news and analysis.