Dominic Raiola Accused of Verbally Assaulting Wisconsin Band at Lions Game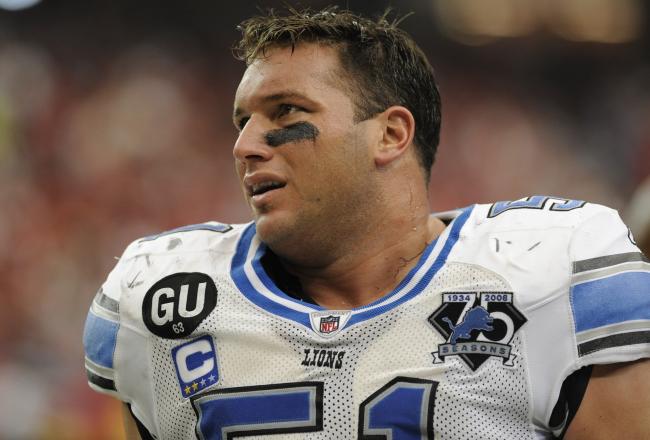 Al Messerschmidt/Getty Images
The Green Bay Packers extended their 21-game home winning streak against the Detroit Lions in Week 5 by virtue of a 22-9 victory, but the alleged actions of Lions center Dominic Raiola have taken center stage in the game's aftermath.
Tom Melton of TomMeltonScouting.com was told by numerous members of the University of Wisconsin marching band that Raiola verbally assaulted them prior to the game and following their halftime performance, ridiculing them for their weight.
Raiola has since apologized for the comments.
UPDATE: Wednesday, Oct. 9
From Dave Birkett of the Detroit Free Press:
Dominic Raiola said he did not use a gay slur when he was jawing with the Wisconsin band

— Dave Birkett (@davebirkett) October 9, 2013
UPDATE: Tuesday, Oct. 8
From Tim Twentyman of DetroitLions.com:
Dominic Raiola apologized for remarks made to Wisconsin Band and makes "significant" monetary contribution to the Marching Band Fund

— Tim Twentyman (@ttwentyman) October 8, 2013
Raiola: "My interaction with the Wisconsin Marching Band was inappropriate." (cont)

— Tim Twentyman (@ttwentyman) October 8, 2013
"I apologize to those I offended along with all of the members of Wisconsin's Marching Band." (cont)

— Tim Twentyman (@ttwentyman) October 8, 2013
"I also apologize to the Lions' organization and my teammates" (cont)

— Tim Twentyman (@ttwentyman) October 8, 2013
"I understand the standards to which we should conduct ourselves, and my actions Sunday fell dramatically short of those standards."

— Tim Twentyman (@ttwentyman) October 8, 2013
Team president Tom Lewand: "Due to Dominic's sincere and appropriate response, there will be no additional disciplinary action by the team."

— Tim Twentyman (@ttwentyman) October 8, 2013
Lewand: "We are also pleased that he is supporting his apology with a significant donation to the Wisconsin Marching Band Fund."

— Tim Twentyman (@ttwentyman) October 8, 2013
Original Text
The former Nebraska Husker standout made a number of unsavory comments in that regard, according to Melton:
As the band was preparing to play the National Anthem another band member told me Raiola was yelling at him, saying such things such as "Hey fat guy, you want a hot dog?" When this band member did not acknowledge him, he continued to yell at other band members within earshot of him until the band began to play. A third band member told me Raiola was calling a band member near him a "fat fu**" prior to their pregame performance as well.
The 34-year-old, 13th-year veteran was reportedly unprovoked.
In addition to Melton's findings, a Wisconsin band member named Zach York posted a message on Facebook about Raiola's actions. Raiola questioned his sexuality and made remarks regarding his sister and recently deceased mother, according to York:
Dominic Raiola is literally the worst person I have ever had the fortune to encounter. After marching down the field awaiting the national anthem, He went off on a verbal tirade, among other things, questioning my sexuality (as a band member) and then continued on to bring my sister and my recently deceased mother into the conversation. After I refused to give him the satisfaction of turning to look at him, he switched targets to a trombone ranting at him calling him overweight and saying he can't play a real sport. After our halftime show, the same fine gentleman called a female member of the band the "c" word.
Melton also reports that Lions safety Louis Delmas apologized to the band members and told them that he spoke with Raiola about the matter.
Follow @MikeChiari on Twitter
UPDATE: Tuesday, Oct. 8
Dave Birkett of the Detroit Free Press confirms Lions president Tom Lewand personally apologized to Wisconsin band member Mike Leckrone for Dominic Raiola's actions:
"He just called to tell me that he was sorry for the actions of one of his players and hoped that we didn't consider it reflected badly on the entire organization, and asked me to convey that onto the band, which I will do (today)," Leckrone said. "I think he felt genuine concern for the people's reaction. It was short, but we had a very nice conversation."

[...]

Leckrone said he did not hear Raiola's comments personally, but several band members relayed what was said and "were quite shaken by it."

[...]

"As far as I've been able to ascertain is our band was in the end zone preparing to finish our pregame show with the Star Spangled Banner and several of them were verbally abused, assaulted, however you'd like to put it, by a player from the Detroit Lions," Lekrone said. "To their credit, I was really pleased with the way the band handled the situation. If I'm a 115-pound clarinet player I don't think I would do anything different. But they handed themselves very well and did what they were supposed to do, focused on their part of the performance."
---Original Text---
The Lions released a statement on the incident, courtesy of Chris McCosky of The Detroit News:
Lions statement on Raiola: "Those reports are extremely inconsistent with the standard of behavior we expect from our players."

— Chris McCosky (@cmccosky) October 7, 2013
More from Lions: "We currently are gathering more information and will respond further when appropriate."

— Chris McCosky (@cmccosky) October 7, 2013
Dave Birkett of the Detroit Free Press followed with a statement from Lions head coach Jim Schwartz:
Schwartz on allegations of Raiola insults: "I'd be surprised if that happened in those circumstances but we're going to look into it."

— Dave Birkett (@davebirkett) October 7, 2013
Schwartz said he stands near midfield and didn't hear any of the comments. The band member I talked to said Raiola was near the 50.

— Dave Birkett (@davebirkett) October 7, 2013
Schwartz on if he plans to discipline Raiola if allegations are true: "We'll certainly address it, for sure."

— Dave Birkett (@davebirkett) October 7, 2013
What Raiola has been accused of would be unacceptable for even the least experienced and most immature player in the league, but it's particularly shocking considering the fact that Raiola has been an NFL player since 2001.
He may have offended the band members with his comments, but the Packers (2-2) ultimately got the last laugh by dropping Detroit to 3-2 and tightening up the race in the NFC North.
This article is
What is the duplicate article?
Why is this article offensive?
Where is this article plagiarized from?
Why is this article poorly edited?