NFL Week 6 Picks: Underdogs That Will Cover the Spread This Weekend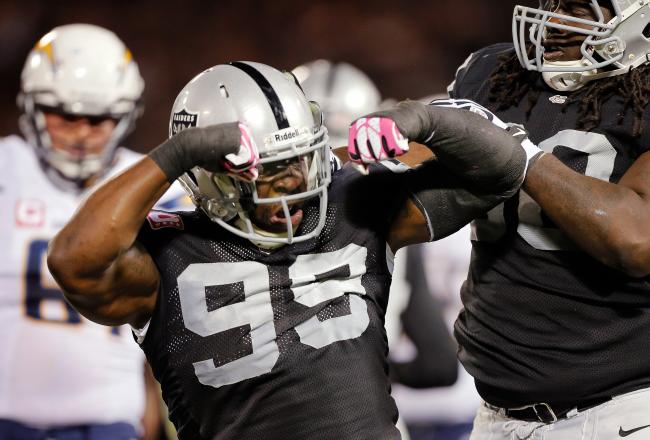 The Raiders have a chance to shock the world this week against the Chiefs.
Brian Bahr/Getty Images
The temperature is dropping, Halloween decorations and candy are popping up everywhere and teams are starting to separate themselves in the NFL.
That can only mean one thing; it's early October and Week 6 of the NFL season.
As teams across the league prepare for their Week 6 matchups, there are quite a few underdogs with a legit shot at making bettors happy this weekend. Using the point spreads from ESPN.com, here are a few underdogs that will cover the spread in Week 6.
Jonathan Daniel/Getty Images
New York Giants vs. Chicago Bears
Line: Chicago by 10
I know, I know: The Giants are atrocious.
With an 0-5 record and allowing at least 31 points in each game so far, the Giants obviously are not very good. So the Bears by 10 seems pretty likely, right? I mean, the Giants have only been within 10 points once this season, and that was back in Week 1 against the Cowboys, way before their spirit was broken.
While it might seem impossible for the Giants to finish this one within 10 of the Bears, let's not get ahead of ourselves. While the Bears are 3-2, they fit the bill of a team from the NFC North this season. That is, they make every game close.
The Bears have scored 145 points this season, but have allowed 140. Their last two games—both losses—were decided by eight points apiece, and their first three games—all wins—were decided by a total of 11 points.
The Giants actually match up pretty well with Chicago. The Bears' usually stellar defense is nowhere near its expected status, allowing over 278 yards through the air per contest so far. While the Giants are awful, they have somehow managed to field the 10th-best passing attack in the NFL, averaging over 280 yards per game.
Will the Bears win in Week 6? Probably, but will they win by at least 10? I'm not convinced.
PICK: Chicago 23, New York 20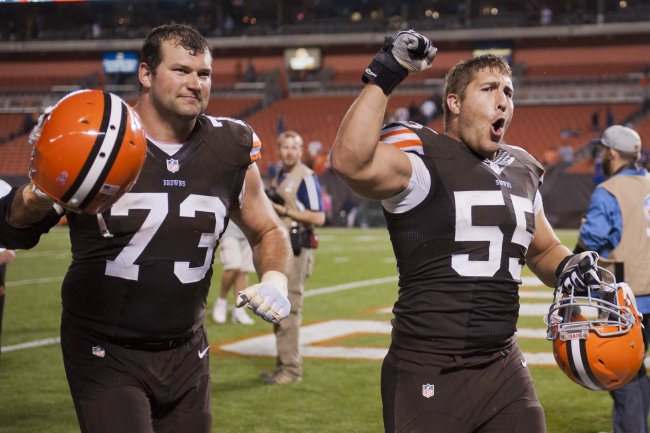 Jason Miller/Getty Images
Cleveland Browns vs. Detroit Lions
Line: Detroit by 3
We may as well keep it in the NFC North.
The Lions, like the Bears, have played a lot of close games. In Detroit's case, all of their games have been within 10 points, except for their Week 5 loss to the Packers. A tough loss to their division rival and injuries to their talented receiving corps certainly isn't what the doctor ordered for Detroit.
On the other side, we have Cleveland. The Browns were playing terrible and things just got worse once they traded away Trent Richardson to the Colts.
Wait. Things didn't get worse? They got better?
Indeed they did.
The Browns are on a three-game winning streak and are sitting atop the AFC North. Jordan Cameron and Josh Gordon have both become household names and Willis McGahee has stepped up to lend a hand to a Cleveland franchise that was essentially giving up on the next few seasons.
The Browns are rolling, their defense is ranked among the top 10 against both the run and the pass, and they have something that few teams in the NFL have right now: momentum.
PICK: Cleveland 31, Detroit 24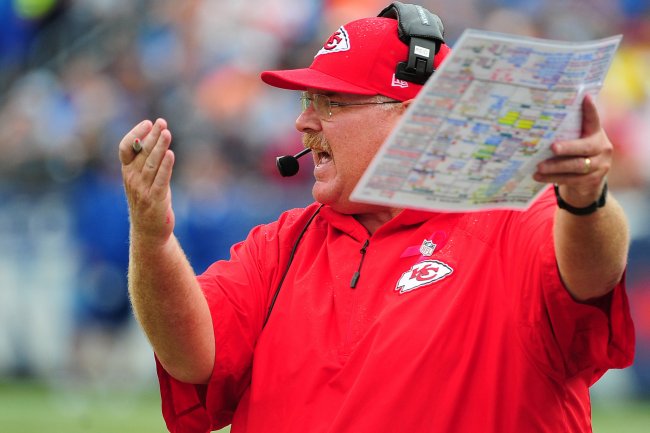 Scott Cunningham/Getty Images
Oakland Raiders vs. Kansas City Chiefs
Line: Kansas City by 10
Who would've guessed that the Kansas City Chiefs and Andy Reid would be 5-0? Heck, who would've guessed that the Oakland Raiders would be 2-3? The Chiefs, one of the last unbeatens in the NFL, are 10-point favorites in Week 6 against the Raiders, which, at first glance, seems like a lock.
But let's take a second glance.
The Chiefs defense has stymied opposing offenses for five weeks, allowing under 200 yards per game through the air and making fantasy owners smile with big plays and frequent scores. However, they aren't great against the run, allowing over 115 yards on the ground to rank 21st in the NFL.
That's where Oakland has a chance.
The Raiders rushing attack racked up 104 yards in their last game without their stud Darren McFadden, who sat out with a hamstring injury. If the Raiders can continue to produce on the ground without McFadden, it'll open things up for quarterback Terrelle Pryor and his speedster wide receivers Rod Streater and Denarius Moore, who have the speed and ability to compete with elite defenses if given the chance.
The Chiefs are playing well, but Oakland has finally got some positive things going and, eventually, something has got to give for Reid and his squad. Oakland will get a few big plays and shock the world against KC.
PICK: Oakland 21, Kansas City 10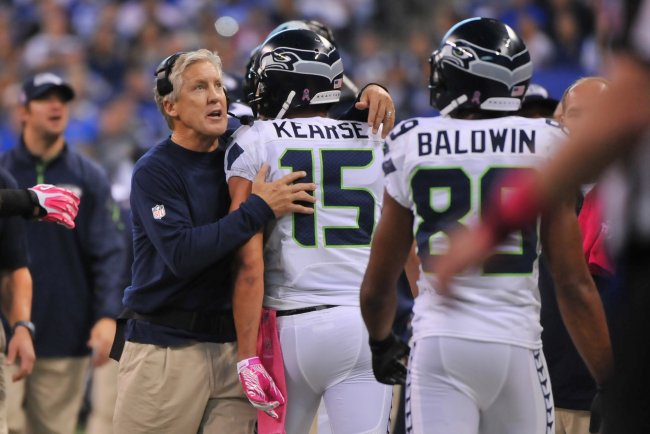 Jonathan Moore/Getty Images
Tennessee Titans vs. Seattle Seahawks
Line: Seattle by 15
The Seahawks had looked pretty unstoppable before their Week 5 loss to Andrew Luck and the Indianapolis Colts. Their offense is running over opposing defenses while their defense has been shutting down enemy passing games, allowing just over 190 yards per contest.
Enter the Tennessee Titans. The Titans are 3-2 and coming off a tough loss to the undefeated Chiefs as they prepare for a matchup against the 4-1 Seahawks IN Seattle. But Tennessee losing by 15 or more? Unlikely.
The Titans defense has made a habit of coming up with big plays, racking up six interceptions, five fumble recoveries and two touchdowns through the first five games. Their rigid defense will have to keep them in the game if they want to cover against Russell Wilson and the high-powered running attack of the Seahawks.
PICK: Seattle 30, Tennessee 21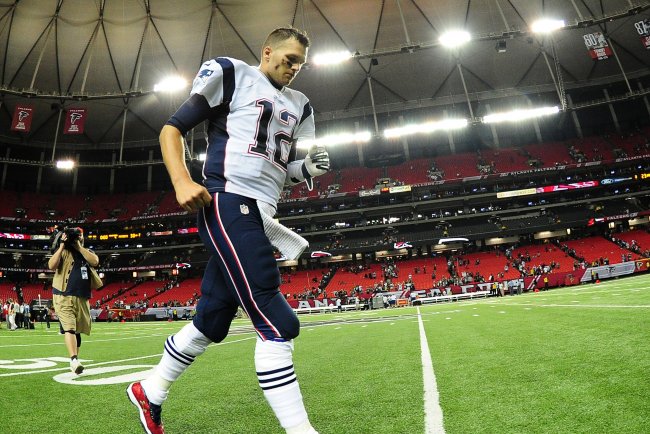 Scott Cunningham/Getty Images
New England Patriots vs. New Orleans Saints
Line: NE by 3
The Saints may be 5-0, but the Patriots are three-point favorites as the two teams prepare for their Week 6 showdown in Foxboro. The Saints come in as the second-best passing attack in the NFL, putting up over 320 yards per game to complement their defense, which ranks in the top 15 against the pass.
While the Saints have returned to business as usual after a disappointing 2012 campaign, the Patriots are anything but their ordinary selves. Tom Brady only has seven touchdown passes and is averaging just over 227 yards passing per game. Meanwhile, the Pats' once-intimidating run defense is letting backs walk all over them. But the bottom line is that the Pats are still 4-1 and favored against the Saints.
It'll be a close game, but not as close as three points. Drew Brees and the Saints offense are too good for a struggling Pats defense that has gained a few more injuries. Brady will most likely be without Rob Gronkowski and has a sub-100 percent Danny Amendola. When it comes down to a shootout, which this one will be, Brees and the Saints have the edge.
PICK: New Orleans 45, New England 31
This article is
What is the duplicate article?
Why is this article offensive?
Where is this article plagiarized from?
Why is this article poorly edited?