Week 6 Fantasy Football Projections: Superstars That Will Disappoint Owners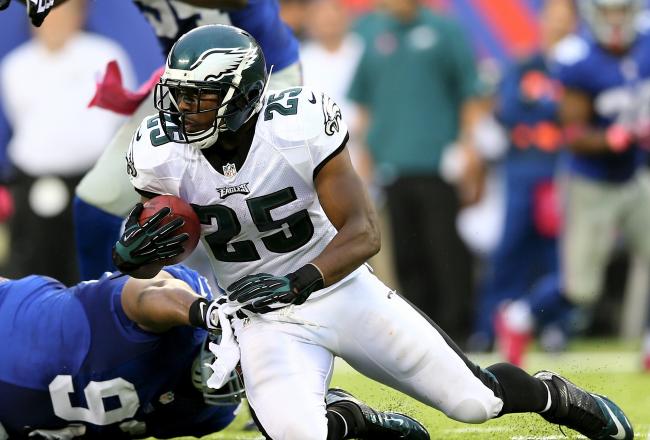 LeSean McCoy has been a huge benefactor of Chip Kelly's offense, but could struggle in Week 6.
Elsa/Getty Images
Fantasy football is a game of head-shaking and disbelief, especially when a sure-thing, fantasy stud comes out and destroys his fantasy owner's chance at picking up the ever-elusive fantasy football victory by putting up a big 'ol goose egg—or something close to it.
As NFL players and fantasy owners prepare for Week 6, here are some sure-things at each position that deserve a second thought, and possibly even a trip to the bench.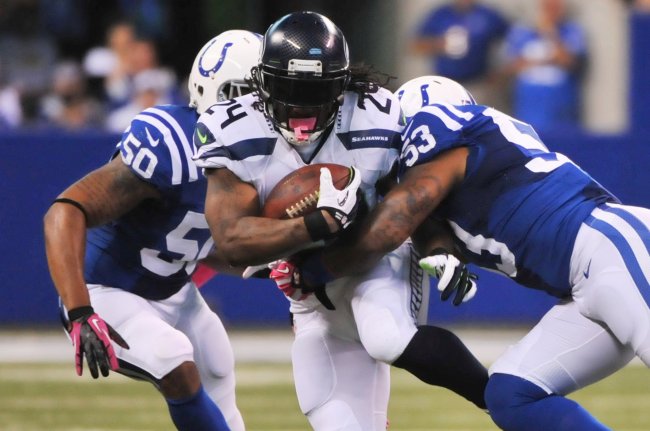 Jonathan Moore/Getty Images
Quarterback
Phillip Rivers, San Diego Chargers
Phillip Rivers has been a fantasy beast this season. He scored at least 20 points in ESPN leagues in three out of his first four weeks of the season, which makes sense since he's the put up the third best numbers behind just Peyton Manning and Drew Brees.
So how could fantasy owners out there possibly question Phillip Rivers starting against the Indianapolis Colts in Week 6?
It's simple: The Colts D.
Indy has the a top-10 passing defense so far, allowing just over 200 yards per game, which is good for sixth best overall. Unfortunately for Rivers and his fantasy owners out there, this does not bode well for the Bolts' starting QB.
Rivers has thrown for under 200 yards twice this season, once against Houston and again against the Titans. Houston and Tennessee are both top-10 passing defenses who surrendered touchdowns to Rivers, but kept his yard total low.
Seeing that Rivers has struggled against strong passing defenses, this week's matchup against Indy isn't exactly a good one for Rivers and the Chargers offense who haven't faced a defense ranked better than 21st in their other games.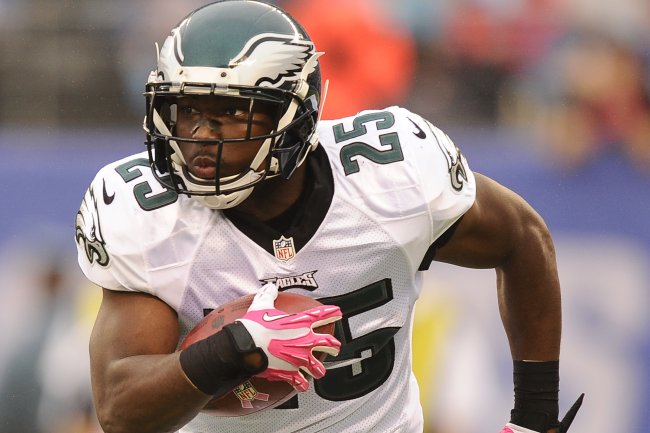 Maddie Meyer/Getty Images
Running Back
LeSean McCoy, Philadelphia Eagles
The Eagles' high-powered, Chip Kelly offense has been good to McCoy who, according to ESPN.com, is on pace to rack up over 2,400 all-purpose yards and set a career high in touches. McCoy has been on a tear, racking up over 500 yards and reaching pay dirt three times in the first five weeks.
However, McCoy's Week 6 matchup won't be as kind.
The Eagles will matchup with the Tampa Bay Buccaneers in Week 6. Yes, you read that correctly, the Tampa Bay Buccaneers. The 0-4, just got rid of their former starting quarterback, team in shambles, Tampa Bay Buccaneers.
Tampa hasn't scored a victory yet, but they also haven't allowed a rushing touchdown. As the 10th best running defense, they have surrendered over 100 on the ground just once, against the New England Patriots.
The Eagles offense, which can really produce when it gets rolling, is first in the league in rushing, averaging over 180 yards on the ground per contest, but Tampa Bay has proven to be surprisingly stingy against the run.
While it'd be next to impossible to send LeSean to the bench this week, it's something to keep in mind.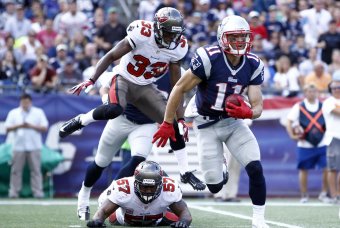 Mark L. Baer-USA TODAY Sports
Wide Receiver
Julian Edelman, New England Patriots
When you think of stud fantasy football receivers Julian Edelman probably isn't one of the first names that comes to mind but, surprisingly enough, he's been a top-10 guy thanks to Tom Brady and Patriot injuries.
Week 6 might be the week where Edelman's impressive season ends.
Danny Amendola is limited, but he's back, which spells bad news for Edelman. Even if Amendola isn't back to his normal self, Tom Brady and the Pats will want to get their stud receiver back into the swing of things, taking targets away from Edelman.
Another big negative for Edelman this week is the rumored return of tight end touchdown tyrant Rob Gronkowski. While Gronkowski's status is still unsure, he's been talked about for the past few weeks as almost ready.
With Amendola back and Gronk soon to follow, Week 6 could be the beginning of Edelman's return to normalcy as Tom Brady gets back two superstars to find in the passing game.
It doesn't help that the New Orleans Saints secondary who will oppose Edelman in Week 6 make up the 13th best passing defense in the NFL.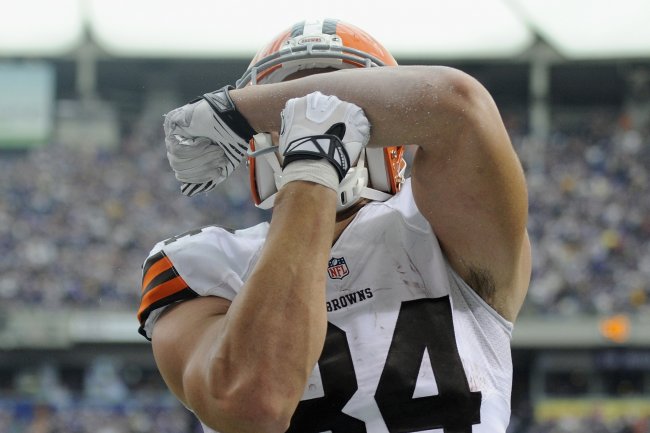 Hannah Foslien/Getty Images
Tight End
Jordan Cameron, Cleveland Browns
Jordan Cameron has come out of nowhere this season to give Cleveland fans hope that their future might not be all bad, at least at the tight end position. Cameron is easily a top-five fantasy tight end, racking up at least 95 yards and a touchdown in each game this season, including his explosion in Week 3 when he found the end zone three times against the Vikings.
But not so fast, fantasy owners. He may be one of the best tight ends in the league, but he's facing an extremely talented defense in Week 6 against the Detroit Lions.
The Lions aren't the prettiest pass defense on paper, allowing over 268 yards through the air per game, but they have an absolutely terrifying defensive line, an impressive group of linebackers and insatiable ballhawks in the secondary. They might allow a ton of points, but they make big plays and they haven't surrendered a TD to a TE in their first five games.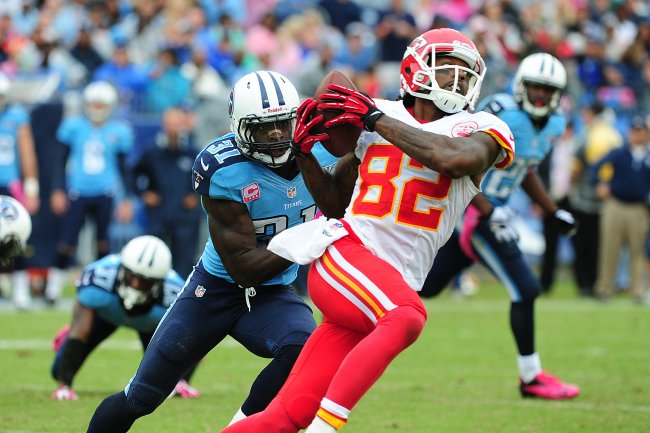 Scott Cunningham/Getty Images
Defense
Tennessee Titans
Tennessee as a team hasn't been that great this season—but they haven't been awful, sitting at 3-2. If the Titans have a bright spot, it's certainly their young defense who is the third best in ESPN fantasy and 10th overall against the pass and 14th against the run.
The Titans D has been tough to bench, producing interceptions and fumbles in four of their five games and finding the end zone in Weeks 2 and 4.
During Week 6, however, fantasy owners might want to stay away from the Titans.
The Titans will have their hands full as they take on Russell Wilson and the Seattle Seahawks—the same Seahawks that have the second best running attack in the NFL. While their passing game isn't anything amazing, putting up just over 200 yards per game, they score a bunch of points.
The Seahawks started the season with a quiet 12-7 win over the Carolina Panthers, but since then they've got the kinks worked out of their offense, putting up at least 23 in the last four weeks, including a 45-17 win over Jacksonville.
The Titans defense has been good. Let's be honest, if you're going to draft a Tennessee entity in fantasy football, it's probably going to be the defense. However, Week 6 might be a good week to give the Titans D a little break on your bench.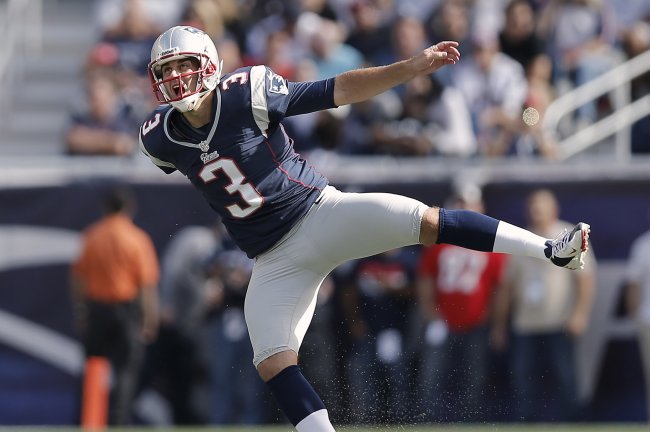 Winslow Townson/Getty Images
Kicker
Stephen Gostkowski, New England Patriots
Ah, the fantasy football kicker. Few things in the world seem so irrelevant, unless you're one of those jokesters who drafted Jason Hanson with your first pick before the future Hall of Famer retired. While kickers might seem like a waste of a roster spot, they can be a huge factor in whether you get a win or a loss.
Fantasy owners who had the privilege of drafting Stephen Gostkowski this season have been pretty happy campers for the first part of the season. He's made at least two field goals in each game and has the pleasure of kicking extra points for Tom Brady and a high-scoring Patriots offense.
Once again, not so fast my friends. Tom Brady and the Pats will face off against Drew Brees and the New Orleans Saints in Week 6, which doesn't bode well for Mr. Gostkowski.
The Saints haven't allowed more than 18 points yet this season and, more importantly for Gostkowski owners, they have only allowed three field goals over the entire season.
Kickers aren't necessarily a hot commodity in fantasy football. If you can get a little better matchup from the waiver wire this week, it might be worth it to give Gostkowski a break.
This article is
What is the duplicate article?
Why is this article offensive?
Where is this article plagiarized from?
Why is this article poorly edited?