Week 5 will conclude in Atlanta on Monday night, giving way to a brand new slate of matchups in Week 6.
With the Atlanta Falcons and Miami Dolphins each on a bye this coming weekend, there will be 15 games for NFL fans to sink their teeth into, including a pair of intriguing NFC vs. AFC matchups Sunday afternoon. In the early afternoon, the Green Bay Packers will visit the defending Super Bowl champion Baltimore Ravens.
Then, in one of four late-afternoon kickoffs, the undefeated New Orleans Saints will battle the New England Patriots in Foxborough, Mass.
Read on to see my picks for those games and every other matchup in Week 6.
*Biggest locks to win on the road are highlighted.
NFL Week 6 Picks

| | |
| --- | --- |
| Matchup/Prediction | Comments |
| Chicago Bears 27, New York Giants 17 | Giants' minus-13 turnover differential is the worst in the NFL, and the Bears have 14 takeaways through five games. |
| Green Bay Packers 23, Baltimore Ravens 16 | Packers' top-five offense will find a way past the Ravens defense. Green Bay defense should find success against Baltimore's one-dimensional attack. |
| Cincinnati Bengals 31, Buffalo Bills 14 | Bengals beat depleted Bills to earn first road win of 2013. Cincy's seventh-ranked scoring defense leads the way. |
| Detroit Lions 17, Cleveland Browns 13 | Lions bounce back against the Brian Hoyer-less Browns, who can't overcome their lackluster quarterback play. |
| Kansas City Chiefs 30, Oakland Raiders 17 | Raiders can't win away from home, and the Chiefs win everywhere. |
| Minnesota Vikings 26, Carolina Panthers 13 | Vikings will be ready to go at home coming off a bye week, while Panthers and their putrid offense will remain winless on the road. |
| Pittsburgh Steelers 27, New York Jets 20 | Steelers have their best chance to get a win against Geno Smith's turnover-prone Jets. |
| Philadelphia Eagles 20, Tampa Bay Buccaneers 10 | Buccaneers haven't been able to get out of their own way all year, and the Eagles have an offense despite their struggles. |
| Houston Texans 34, St. Louis Rams 17 | Texans can't lose four in a row or fall at home to the lowly Rams. |
| Denver Broncos 55, Jacksonville Jaguars 13 | Broncos have scored 103 points over the past two weeks, and the Jaguars rank second-to-last in fewest points allowed. |
| Seattle Seahawks 24, Tennessee Titans 9 | Seahawks haven't lost at home since 2011, and the Titans will find yards and points tough to come by. |
| New Orleans Saints 36, New England Patriots 31 | Drew Brees and the Saints have more weapons at their disposal than the Patriots, and that should make the difference. |
| San Francisco 49ers 23, Arizona Cardinals 17 | The Cardinals defense is gaining momentum, but the offense doesn't pose much of a threat to the reigning NFC champions. |
| Dallas Cowboys 34, Washington Redskins 24 | Cowboys are clearly the best team in the dreadful NFC East and should find points easy to come by against the Redskins' porous defense. |
| Indianapolis Colts 28, San Diego Chargers 22 | The Colts appear to be locked in at the moment, while the Chargers have been lacking focus from the start. |
Schedule courtesy of NFL.com
Detroit Lions Topple Cleveland Browns in Battle of Surprising 3-2 Clubs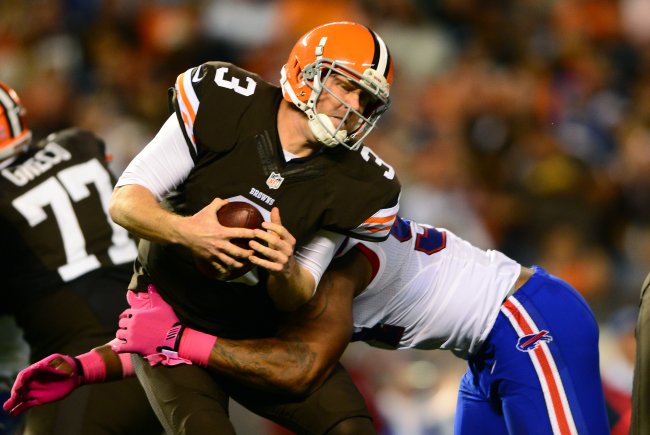 Andrew Weber-USA TODAY Sports
Detroit and Cleveland combined to win just nine games in 2012 but have nearly matched that mark through the first five weeks of the 2013 season.
Surprisingly, both teams enter Sunday's showdown with winning records and a share of the lead in their respective divisions. But it'll be the Lions who propel themselves further above .500 in Week 6.
Which team will be 4-2 after Week 6?
The reason: quarterback play.
Matthew Stafford ranks inside the top 10 with a 94.9 passer rating and is throwing the ball downfield, averaging 305 passing yards per game and 7.8 yards per attempt. Meanwhile, Cleveland's Brandon Weeden ranks 28th among the 34 qualified quarterbacks with a passer rating of 69.2 and boasts just two touchdowns to three picks in 2013.
The Browns defense will keep them in this game, but the Lions are clearly the more dangerous team with Brian Hoyer out of the mix.
Philadelphia Eagles Keep Pace in NFC East with Win over Tampa Bay Buccaneers
Thanks to a favorable schedule that will pit Philadelphia against another winless team in Week 6, the Eagles should be back to .500 by next weekend.
With or without Michael Vick in the lineup, Chip Kelly's team will be at a massive advantage going up against one of the league's worst offenses. The Bucs rank dead last in passing yards and second-to-last in scoring offense, averaging just 11 points per game in 2013.
On top of the woeful offensive numbers in Tampa, chemistry took a huge hit with the release of quarterback and former captain Josh Freeman.
Much like last week's road win over the Giants, the Eagles won't have to be anywhere close to perfect in this game in order to win, and that's why I like them to pick up win No. 3 on Sunday.
Indianapolis Colts Survive San Diego Chargers on Monday Night Football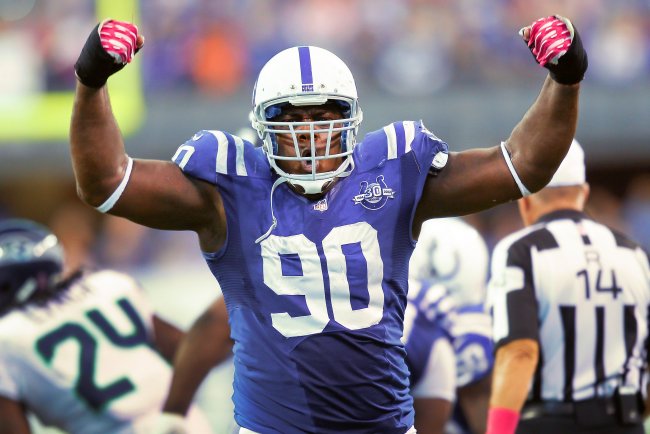 Michael Hickey/Getty Images
The San Diego Chargers have been wildly inconsistent to start the year. On the other hand, the Indianapolis Colts have been anything but.
Led by second-year superstar Andrew Luck, the Colts have won three consecutive games and rank sixth in the NFL in scoring offense. What makes Indy a real threat to go deep in the playoffs this year, though, is its much-improved defensive unit, which ranks fifth in scoring defense.
Meanwhile, San Diego's defense has been horrid for the most part this season, surrendering big chunks of yardage through the air and on the ground while failing to generate turnovers. The Chargers have just two takeaways through five games. Those numbers are encouraging for fantasy owners, as NFL.com's Michael Fabiano points out via Twitter:
In case you were wondering, the Chargers play the Colts next week. Smile if you have Andrew Luck.

— Michael Fabiano (@Michael_Fabiano) October 7, 2013
In a league in which games are decided by turnovers, I'll take the Colts and their plus-six differential over the Chargers' dreadful margin of minus-eight.
Follow Bleacher Report Featured Columnist Patrick Clarke on Twitter.