Why Green Bay Packers Run Defense Must Stop Ravens' Ray Rice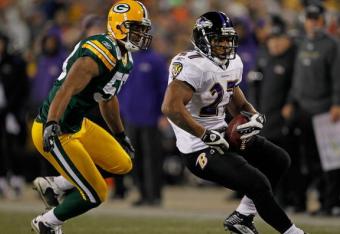 In order to stop the Ravens this Sunday, the Packers will first have to stop Ray Rice.
Jonathan Daniel/Getty Images
The loss of outside linebacker Clay Matthews for a month (thumb), inside linebacker Robert Francois (season-ending torn Achilles) and inside linebacker Brad Jones for at least Week 6 (hamstring) doesn't mean disaster for the Green Bay Packers run defense against the Baltimore Ravens this Sunday.
Yes, it's frustrating that the injury bug has bitten again—and hard—in Green Bay. It's nerve-racking to lose your best pass-rusher and highly underrated run defender in Matthews before facing the 2012 Super Bowl champions—at home.
But it is by no means a catastrophe.
The Packers don't need a full-strength pass rush to win this matchup. Joe Flacco—he of five touchdowns in as many games this season—currently ranks 29th overall among quarterbacks, according to Pro Football Focus (subscription required), and he won't be the obstacle Green Bay needs to overcome.
Instead, they should be focused on Ray Rice.
The same Ray Rice who has just 163 rushing yards and 72 receiving yards over four games this season, you ask? The Ray Rice who's only averaging 2.9 yards per carry?
Yes, that's the one.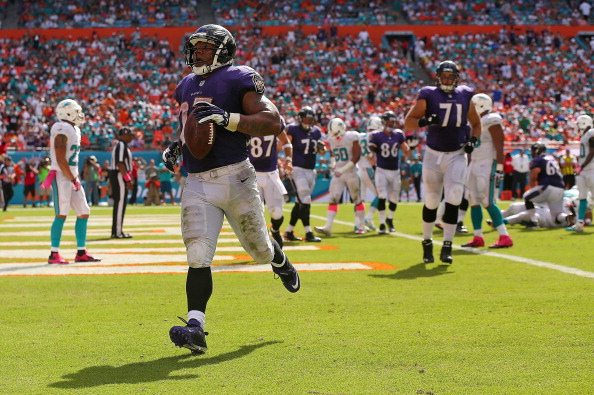 Mike Ehrmann/Getty Images
According to ESPN Stats & Information, the Baltimore Ravens have won 20 straight games when Ray Rice has at least 25 touches.
The most recent example of this trend came last Sunday, when the Miami Dolphins' hopes of a fourth-quarter comeback were dashed by Rice's short but effective carries that ran down the clock and got the Ravens in position for a game-winning field goal.
Rice didn't explode out of the gate at the beginning of the season, which, compounded with the hip injury that benched him in Week 3, temporarily crippled the Ravens' running game.
But Rice's two touchdowns and 33 touches in Week 5 demonstrated three things: he's getting back to form after his injury; the team is putting points on the board and effectively eating up the clock; and this type of offense also keeps quarterbacks like Aaron Rodgers off the field.
The Ravens' time of possession compared to the Dolphins' last Sunday? 36:16 to 23:44.
As the table below shows, in both of the Packers' wins this season—against the Washington Redskins and Detroit Lions—Green Bay had an almost identical time of possession, with the sweet spot being about five minutes more than their opponent. Stopping Alfred Morris and Reggie Bush, respectively, were key to that.
Packers Time of Possession in Wins in 2013

| | | | | |
| --- | --- | --- | --- | --- |
| | Green Bay Time of Possession | Opponent Time of Possession | Final Score | |
| Week 2 vs. Redskins | 32:29 | 27:31 | 38-20 | |
| Week 4 vs. Lions | 32:19 | 27:41 | 22-9 | |
| | | | | |
ESPN
Allowing Rice more than 25 touches could be devastating to Aaron Rodgers and the Packers' opportunities to get into the red zone. And that's where the need for depth along the defensive line comes into play.
Heading into a matchup with a team like the Ravens that will use Rice to control possession, it's arguably more important that the Packers have full depth along their D-line as opposed to their linebacking corps.
According to Genaro C. Armas of Yahoo! Sports, Mike Neal, who made the conversion to hybrid outside linebacker/defensive end this offseason and has been playing both positions, will move to the right outside linebacker spot, joining Nick Perry.
Both players are more than capable of putting pressure on Flacco.
As ESPN Wisconsin's Jason Wilde reported, both Mike McCarthy and defensive coordinator Dom Capers said that last Sunday's game against the Lions was the best game of both Perry's and Neal's respective careers. Fans should have confidence in them when Flacco does drop back to pass; their coaches certainly do.
The team's six or seven active defensive linemen will be taking a lot of snaps this Sunday. Green Bay will likely be filling the box by running a heavy base defense against the Ravens—requiring three down linemen rather than two—as they have so often employed this season when facing run threats Frank Gore, Morris and Bush.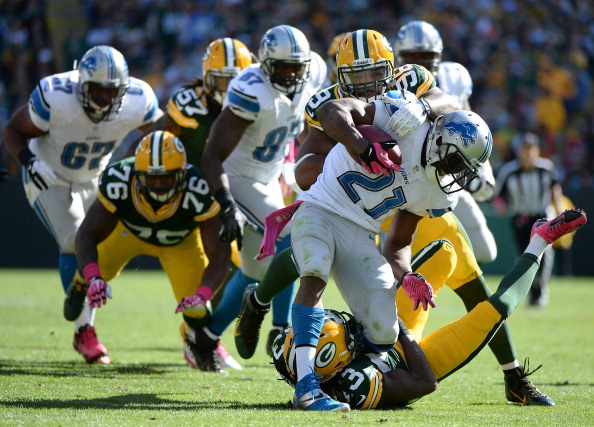 Harry How/Getty Images
The D-line is where bodies are needed on Sunday.
Because Neal won't be available for depth, veteran nose tackle Ryan Pickett, starting left defensive end B.J. Raji and starting right defensive end Johnny Jolly will rely all the more on down linemen C.J. Wilson, Mike Daniels and Datone Jones to rotate in.
Freshness and depth on the line are key to McCarthy's game plan, especially when running a lot of base snaps.
"I'm very aware of each rep that every player plays in the game, what their reps are over the season," McCarthy told Packers.com's Mike Spofford. "You have targets based on play time, because everybody has a role."
The Packers head into Sunday with the No. 5-ranked run defense. Of course, a big part of what got them there was the play of Matthews and Jones, who have combined for a total of 18 run stops, according to Pro Football Focus.
However, Raji and Daniels have also been stout against the run in 2013. Pro Football Focus places Daniels at No. 7 overall among defensive ends against the run. Daniels was particularly effective against the Redskins, when he had two tackles in the right B and C gaps on Morris and Robert Griffin III, respectively, which resulted in losses.
Though the saying goes "hey diddle diddle, Ray Rice up the middle," as the table below shows, Rice tends to run both through the B and C gaps on the right side while also receiving many of his catches out to the right. This will create plenty of opportunities for Daniels and right-side starter Jolly to make stops.
2013 Ray Rice Rushing and Receiving Routes on 74 Total Plays

| | | | | |
| --- | --- | --- | --- | --- |
| | Right Side | Left Side | Middle | |
| Rushes and Receptions | 30 | 24 | 20 | |
| Total % of All Plays | 41% | 32% | 27% | |
| | | | | |
ESPN
Every yard Rice breaks away for takes more seconds off the clock and more time away from Rodgers and the best receiving corps in the league (not to mention the fifth-best rushing offense).
Teaming up with left inside linebacker A.J. Hawk to help manage that ball-carrier overflow is right inside linebacker Jamari Lattimore, filling in for the injured Jones.
Surprisingly, of all the team's injuries, the Packers may miss Jones the most. Through Week 5, he was the league's tenth-best inside linebacker against the rush, according to Pro Football Focus, stopping a whopping 13.2 percent of run plays for which he was on the field.
Can the Packers limit Ray Rice to less than 25 touches?
Lattimore is certainly taking his matchup against Rice seriously.
"Great athlete," Lattimore said about Rice to Tyler Dunne of The Milwaukee Journal-Sentinel. "Short. Doesn't mean that he's not physical, doesn't mean that he can't out-run you. He's a great player."
When Rice does manage to evade the front seven, that's where the Packers will get a big boost from the return of strong safety Morgan Burnett from a hamstring injury.
Burnett is especially essential against Rice, who of course brings the dual-threat of all-purpose yards. Remember: the biggest goal on Sunday is to prevent Rice from getting 25-plus touches, regardless of whether it is via the run or the pass.
When the Packers do take the D-line down to two men in order to run a nickel or dime package, you can expect to see Burnett move down toward the box to prepare for Flacco to find Rice through the air.
Finally, look for the defense to get some takeaways at Rice's expense. According to ESPN's Jamison Hensley, dating back to the playoffs, Rice has fumbled five times over his last eight games.
This article is
What is the duplicate article?
Why is this article offensive?
Where is this article plagiarized from?
Why is this article poorly edited?

Green Bay Packers: Like this team?