They say pitching wins championships. Someone should have told that to the Los Angeles Dodgers.
The NL West champions ran Braves starter Julio Teheran out of the game in the third inning and survived its own disappointing pitching outing from Hyun-Jin Ryu. The Dodgers were able to come away with a 13-6 win over the Atlanta Braves Sunday night, thanks to a mostly sterling night from the bullpen and lineup.
In a series dominated by pitching performances—first Clayton Kershaw, then Mike Minor—the bats came alive with the weekend's trip out west. Carl Crawford and Juan Uribe each hit homers over the Dodger Stadium fence and the Dodgers dropped 10 runs on the scoreboard—all before the fifth inning got underway.
The offensive outburst sent the highly touted Teheran to the showers after just 2.2 innings pitched. He gave up six runs and allowed eight hits, marking it the first time all season Teheran's given up more than five runs in a start.
Crawford caught Teheran for a three-run blast that followed a Ryu sacrifice fly in the second inning. The veteran outfielder finished the game 2-for-5 with three RBI and three runs scored, adding a single and reaching base on an error and a fielder's choice. It was Crawford's first multi-hit game of the series.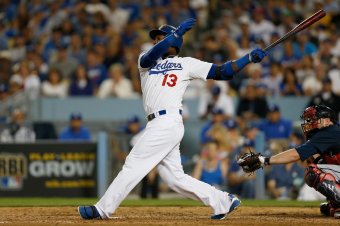 Victor Decolongon/Getty Images
Sunday night opened the floodgates for nearly every Dodgers batter. Every starting position player except Mark Ellis had a base hit, while A.J. Ellis joined Mark as the only two players who didn't collect at least one RBI. The heart of the Dodgers lineup each had two or more more runs batted in, including shortstop Hanley Ramirez, who was only a home run short of the cycle. By the end of the fourth, the Dodgers had amassed a 10-4 lead and added three more in the bottom of the eighth.
For the series, Ramirez has seven hits in 13 at-bats—all but one going for extra bases. His six extra-base hits tie the all-time Division Series record, which he now shares with Carlos Beltran and Jim Edmonds. The mark also ties him for the Dodgers postseason record, tying a record set by Duke Snider in the 1952 World Series and Steve Garvey in the 1978 NLCS.
Hanley Ramirez's 6 extra-base hits tie Beltran (2004 HOU) and Edmonds (2000 STL) for the most extra-base hits in a Division Series. #Dodgers

— Dodgers PR (@DodgersPR) October 7, 2013
Ramirez's 6 extra-base hits are tied with Garvey ('78 NLCS) and Snider ('52 WS) for most extra-base hits by a Dodger in a postseason series.

— Dodgers PR (@DodgersPR) October 7, 2013
"[Ramirez] is in a real good groove right now, he's in a zone," Crawford told TBS' Craig Sager after the game. "We're just trying to get on base for him, and he's driving us in."
Had his offense not picked up the slack, it would have been Hyun-Jin Ryu drawing concern about his postseason acumen. The 26-year-old lefty opened the game giving up three hits and two runs in the first inning, and then matched the totals two frames later.
Brian McCann and Chris Johnson scored the runs on fielder's choices in the third, and Ryu's night was over when he was pinch hit for with Michael Young in the bottom of the inning. It marked the second time in as many starts Ryu did not make it to through the fifth inning.
The Dodgers claimed there was nothing concerning about the rookie's clandestine bullpen session Friday, but his performance in his past two outings indicates otherwise.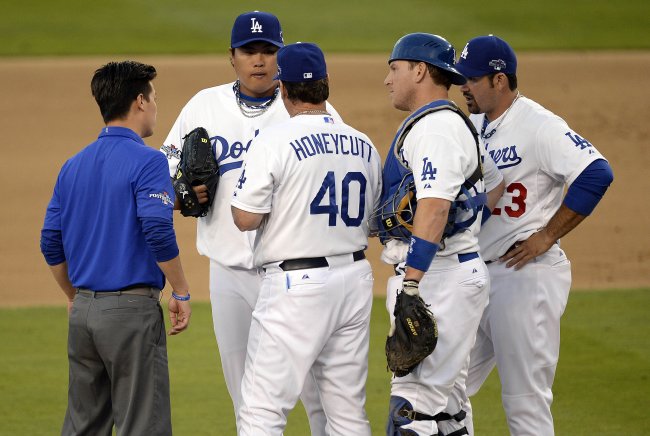 Richard Mackson-USA TODAY Sports
Ryu's departure made way for the second hero of Sunday night: the Los Angeles bullpen. Chris Capuano, J.P. Howell, Ronald Belisario combined to pitch five innings of scoreless, one-hit ball to help keep the cushion.
Paco Rodriguez gave up a two-run home run to Jason Heyward and four hits in the ninth inning to blow the pseudo-shutout from the bullpen, giving us the final 13-6 scoreline. Closer Kenley Jansen recorded the game's final out in a non-save situation.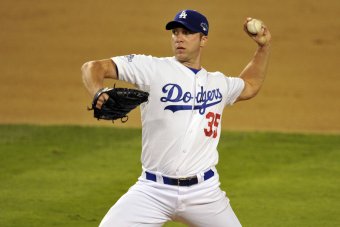 Robert Hanashiro-USA TODAY Sports
Cleaning up Ryu's wreckage, Capuano went three scoreless innings to record his first postseason win in his first October appearance of his nine-year MLB career. He walked and struck out three batters.
Capuano began struggling in the sixth, walking Andrelton Simmons on four pitches and throwing three straight balls to Elliot Johnson. But he persevered, getting Johnson to hit into a nifty 6-4-3 double play and then whiffing pinch-hitter B.J. Upton to get out of the frame unscathed.
The 35-year-old lefty's outing continued his recent run of success against Atlanta. David O'Brien of the Atlanta Journal-Constitution noted:
#Dodgers Capuano 3-0 with a 1.75 ERA in 6 games (5 starts) vs. #Braves over past 3 seasons

— David O'Brien (@ajcbraves) October 7, 2013
Atlanta gets the loss despite a very good night from the top of its lineup. The Braves' first four hitters went 8-for-16 and were responsible for scoring all but one of their runs.
The win gives the Dodgers a 2-1 lead in the best-of-five NLDS. They will have a chance to close out the series on Monday night at Chavez Ravine. Ricky Nolasco, who has plenty experience against these Braves from his days as a Miami Marlin, will get the start for Los Angeles. Atlanta will rely on 37-year-old journeyman Freddy Garcia to keep its World Series hopes alive.
Sunday was Los Angeles' first home playoff game since the 2009 NLCS against Philadelphia. With one more win on its home field, it would return to that hallowed ground for the first time since as well.
Player Grades
Atlanta Braves

| | |
| --- | --- |
| Hitters | Grade |
| Jason Heyward CF | B- |
| Justin Upton RF | B+ |
| Freddie Freeman 1B | B+ |
| Evan Gattis LF | B |
| Brian McCann C | C+ |
| Chris Johnson 3B | B- |
| Andrelton Simmons SS | C |
| Elliot Johnson 2B | C+ |
| B.J. Upton PH | C- |
| | |
| Pitchers | Grade |
| Julio Teheran SP | F |
| Alex Wood RP | D |
| Luis Ayala RP | B- |
| Jordan Walden RP | C- |
| Luis Avilan RP | D |
| David Hale RP | C+ |
Los Angeles Dodgers

| | |
| --- | --- |
| Hitters | Grade |
| Carl Crawford LF | A |
| Mark Ellis 2B | D |
| Hanley Ramirez SS | A |
| Adrian Gonzalez 1B | B |
| Yasiel Puig RF | B+ |
| Juan Uribe 3B | A- |
| Skip Schumaker CF | C+ |
| A.J. Ellis C | C+ |
| Michael Young PH | C- |
| Andre Ethier PH | C- |
| Pitchers | Grade |
| Hyun-Jin Ryu SP | D |
| Chris Capuano RP | A |
| J.P. Howell RP | B |
| Ronald Belisario RP | B |
| Paco Rodriguez RP | D |
| Kenley Jansen RP | B- |
Player of the Game: Carl Crawford (OF, Los Angeles Dodgers)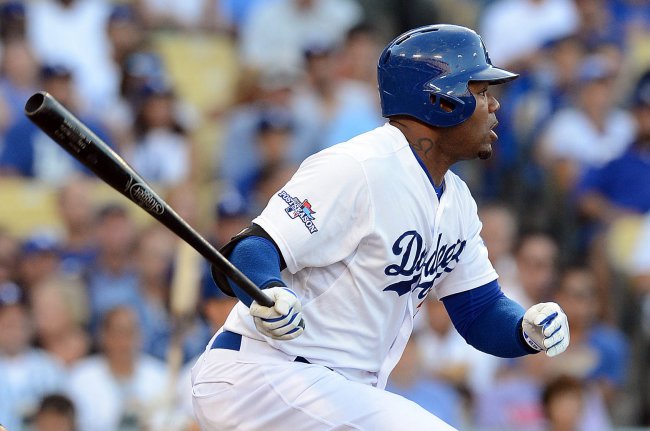 Jayne Kamin-Oncea-USA TODAY Sports
When Crawford arrived in Los Angeles last August, he was essentially brought in as a sunken cost. He was the $142 million wreckage the Dodgers had to take on just to acquire Adrian Gonzalez from the Boston Red Sox. He had spent his only two seasons in Boston oscillating between injured and disappointing, with his elbow injury making some wonder whether he'd ever be an effective player again.
While the 32-year-old Crawford may never reach the heights he did in Tampa Bay, nights like Sunday serve as reminders of why he was once deemed worthy of $142 million. His three-run homer in the second inning got the ball rolling on Julio Teheran's rough night, and then he helped catalyze the fourth-inning scoring outburst by forcing Alex Wood into a throwing error with his speed down the first-base line.
For the series, Crawford is now hitting a respectable .286 after nondescript performances in the first two games. He also did the following, at a point where no one would have faulted him for letting the ball drop:
Hanley Ramirez had another great game on Sunday night and has certainly been the better player throughout the series and season. But the POTN honors here go to the man who got the unstoppable ball rolling.
Follow Tyler Conway on Twitter: