Denver Broncos vs. Dallas Cowboys: Score, Grades and Analysis
October 6, 2013
If you've ever wanted to see the equivalent of a heavyweight title fight on a football field, look no further than the Week 5 shootout between the Denver Broncos and Dallas Cowboys on Sunday night. The Broncos came out on top by a score of 51-48. 
That wasn't the real story, though.
Peyton Manning and Tony Romo put on a combined performance for the ages. Together they totaled 920 yards and nine touchdowns through the air. So what if the NFL rules changes are making it easier for quarterbacks? If we get games like this, who's really going to complain?
Defense was at a premium, and drama was in abundance.   
Romo finished with 506 yards passing, which marked a Cowboys franchise record, and five touchdowns, per SportsCenter:
Although it's still relatively early in the regular season, this was the kind of game that made you wonder if Romo has truly turned the corner from talented, yet maligned quarterback to full-fledged elite monster.
Unfortunately, he then Romo-ed all over the game and threw a devastating interception in the fourth quarter that set the Broncos up with the winning field goal. As Fox Sports' Jay Glazer pointed out, it's the kind of thing that completely wiped out everything Romo had done up to that point in the game:
On the other side, thank goodness Manning finally threw an interception. You may have started to wonder if he is actually human and not some football-playing terminator bent on the destruction of humanity, one defense at a time.
Quite frankly, it's getting a little ridiculous at this point.
Once again, Manning took apart an NFL defense with surgical precision. Each pass was a deft cut of the knife. In short, everything was coming up Manning.
His first touchdown of the day came via a six-yard shovel pass to Julius Thomas to get the Broncos within a touchdown at 14-7.
The Sports Pickle suggested Peyton is just trolling Eli now.
As if Manning was done at that point. After holding the Cowboys to a field goal when Dallas had first-and-goal at the 3-yard line, Denver scored touchdowns on its next three possessions of the first half.
The Cowboys have to be frustrated, because they got out to just about the best start they could have hoped for.
For its first drive, the Dallas offense was extremely workmanlike. There weren't any big plays; rather, Romo hit his receivers for short- to mid-range throws, while DeMarco Murray ate up yards on the ground. The drive was capped off with a great bit of footwork by Dez Bryant to haul in a two-yard reception in the back of the end zone.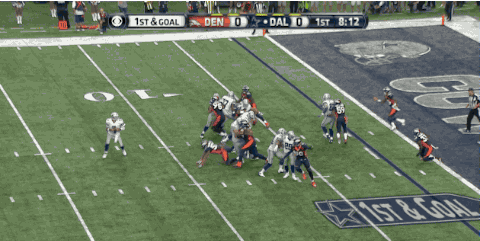 After forcing an Eric Decker fumble, the Cowboys got out to a 14-0 lead on a four-yard touchdown run from Murray.
Then came the blitzkrieg that was the Broncos offense.
What shouldn't be forgotten is the performance of Knowshon Moreno, who was able to consistently churn out positive yardage. That kept the Dallas defense honest and prevented it from putting all of its attention on Manning and the Broncos receivers.
Not that that would have really made that much of a difference. At least not when Manning is making throws like the touchdown pass to Eric Decker to get the Broncos to within three, 17-14.
When a quarterback can hit his receiver's back shoulder like that, there's nothing a defender can do.
Manning hooked up with Thomas again to put Denver on top, 21-17. At that point, it looked like the Broncos could do just about anything they wanted. That belief was furthered when Manning ran it in from one yard out to make it 28-17.
Yes, you read that right. Peyton Manning actually had a rushing touchdown. It was his first since 2008, per ESPN.
According to the Broncos' Twitter account, Manning joked about the rushing TD and shared an interesting note about the play:
After the Dallas defense was able to hold Denver to a field goal to start the third quarter, Romo hit Terrance Williams for a bomb downfield that went 82 yards to the house. Suddenly, Dallas had the jolt it needed to get back into this game.       
Everything the Cowboys did in the second half was a little bit sharper. They ratcheted up a little more defensively, and the offense was able to keep pace with the Broncos.
They finally took the lead again, following a third-quarter touchdown pass from Romo to Bryant and then another in the fourth quarter to Jason Witten. Following a successful two-point conversion attempt, the Cowboys were on top, 41-38.
The crowd in AT&T Stadium was electric. Phil Simms commented on the CBS broadcast that it was the loudest he's heard a Dallas crowd in years.
Manning shared that sentiment, per the Broncos on Twitter:
However, it wasn't to be.
For Romo, it's yet another bitter defeat after looking so good for so long. It's a shame that he can't figure out how to rid himself of that problem.
For Cowboys fans, it's more self-doubt as to whether this team can put it together for 60 minutes in order to become Super Bowl winners again.
Key Player Grades
Peyton Manning: A

Ronald Martinez/Getty Images
What more needs to be said about Peyton Manning's performance? It's scary how good he continues to be, even at 37 years old.
With that first touchdown pass to Thomas, he became the active leader in consecutive games with a touchdown pass, per NFL Network's Rich Eisen:
The Broncos were also able to score on that drive without even getting to third down, which was the fifth straight drive that happened, per NFL Live's Trey Wingo:
Through five games, Manning has also had the best start of any quarterback in history, per ESPN Stats and Info:
From now on, teams that play Denver should get spotted 10 points in order to keep pace with the Broncos offense.
Denver Broncos Pass Rush: C
The absences of Von Miller and Elvis Dumervil haven't been felt more for the Broncos than they were on Sunday night. Although Denver recorded four sacks, Romo frequently had so much time to throw.
That was never more evident than on the touchdown pass to Jason Witten in the fourth quarter. Romo had about 30 seconds to throw in the pocket, then acres of space outside the pocket to find his tight end in the end zone.
You also have to give a lot of credit to the Dallas Cowboys offensive line.
Tony Romo: A-
Tim Heitman-USA TODAY Sports
Although Romo finished with more yards and touchdowns than Manning and just as many interceptions, his pick came at a much more inopportune time.
He genuinely looked like he was going to shift his career narrative in one game. He's been great for most of the season, and this game was just a continuation of that.
Yet despite passing for over 500 yards and notching five TDs, he's still going to get the critics jumping on his back for that interception in the fourth quarter. It put the Broncos in a perfect position to score and pretty much ended any shot the Cowboys had of winning the game.
What's Next?
The Broncos welcome the Jacksonville Jaguars into Denver for Week 6. Don't surprised if the spread is 57 points for that one. The Dallas Cowboys have a pivotal NFC East game next Sunday when the Washington Redskins come into town.