Titans' Chris Johnson Bursts Through Chiefs' D for 49-Yard TD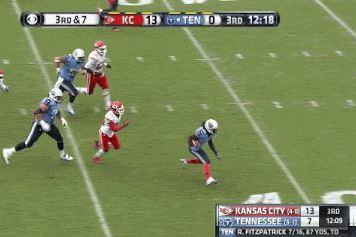 Tennessee quarterback Ryan Fitzpatrick couldn't find anyone open down the field, so he threw a short pass to Chris Johnson. Not a bad option, as Johnson took the pass 49 yards for the score.
Kansas City had kept Tennessee off the board until that point, but Johnson used his speed and agility to pull the Titans within six points.
It happened quickly, and there aren't many running backs who could make something out of nothing on a play like that.