Tiger Woods was not at his best on Day 4 of the 2013 Presidents Cup, but he did enough to secure a 1-up win over Richard Sterne in his singles match and clinched the trophy for the USA in the process.
It has become a sort of formality for Woods to close out the competition, as it marked the third consecutive time he'd done so:
It's over! For the third straight @PresidentsCup, Tiger Woods has clinched the Cup for the Americans! #GoUSA

— PGA TOUR (@PGATOUR) October 6, 2013
After the outcome was decided at Dublin, Ohio's Muirfield Village Golf Club, Woods told Golf Channel's Steve Sands that it felt good to come out on top— even if it wasn't exactly pretty—as documented by CBSSports.com's Kyle Porter.
"We gave ourselves a really nice lead going into the singles. It was a tough day. It feels good," said Woods.
The win over Sterne pushed the Americans' total to 18 points, and the USA won 18.5 to 15.5 overall. Team USA needed only 17.5 points to win, but while the Cup was still being decided, Woods had to get the full point to clinch. He managed to do just that.
The top-ranked player in the world started off Sunday finishing off the last nine holes of his foursomes match with playing partner Matt Kuchar. That tandem had been 3-0, but trailed 2 down entering the day.
Opponents Brendon de Jonge and Ernie Els won holes No. 12 and No. 14 to go 3-up with four to play.
Even though Woods and Kuchar won the next two holes thereafter, they couldn't do enough to square things up. The Americans suffered their first loss, 1-up.
Els/de Jonge deliver first loss of week to Woods/Kuchar at Pres Cup. 1up in foursomes but Int'ls trail by 6 heading into singles

— Kelly Tilghman (@KellyTilghmanGC) October 6, 2013
The top highlight of that stretch was Woods' lash at the par-five 15th green, where he knocked it to within 12 feet and Kuchar knocked it in for eagle, seizing the momentum that the Americans couldn't sustain:
Not too shabby of a record, though.
As for singles, debate stirred when Woods was matched up with Sterne—not exactly a household name on the International side. Golf fans hoping for Adam Scott, Jason Day or another more renowned player were disappointed.
Tiger Woods vs. Richard Sterne. The captains may have given this Presidents Cup the perfect anti-climax to an anticlimactic Sunday.

— Randall Mell (@RandallMellGC) October 6, 2013
Detractors, it turns out, doubted too soon.
Amid the criticism, a perceived giveaway point when the International team needed to make up six, Sterne proved to be a worthy opponent.
Both players made identical scores through the first six holes, both birdieing only the par-five fifth through a stretch of pars, when Sterne snagged the lead with a birdie at the par-five seventh.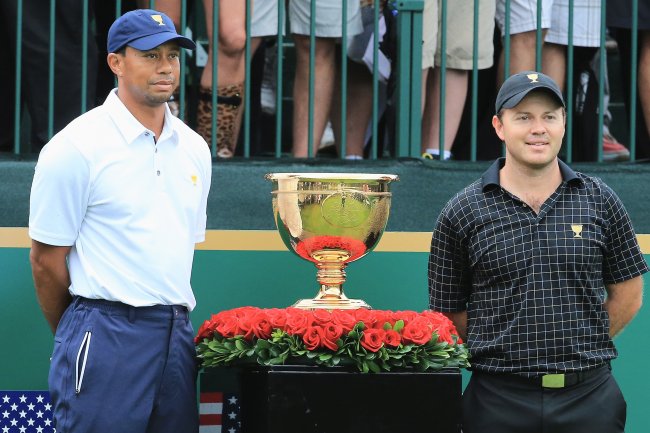 David Cannon/Getty Images
Woods bogeyed the hole to fall behind, but responded with a birdie at the par-four ninth to square the match after Sterne's approach found the water.
Another splash by Sterne at the par-three 12th resulted in a concession, giving Woods his first lead of the match. It would soon be relinquished, unfortunately, on the very next hole, courtesy of a Woods bogey and a Sterne birdie.
The most discouraging development of the day came at No. 15, where Woods took a cut at the par-five green with his second shot.
Woods appeared to tweak his back—a bad sign, considering his back spasms suffered at the Barclays caused him to crumble to the ground in pain in the final round.
Tiger gives it a rip w/ his 2nd shot @ 15 & appeaers to tweak his back. The shot sails right of the green.

— GC Tiger Tracker (@GCTigerTracker) October 6, 2013
Tiger takes swing on 15 and ... there goes his back. Just gave out. Clutching it now as he's walking. Shades of Barclays final round.

— Jason Sobel (@JasonSobelGC) October 6, 2013
It was the site of Woods' best shot at Muirfield earlier in the day with Kuchar, but the failure to get up and down right of the green left the match even.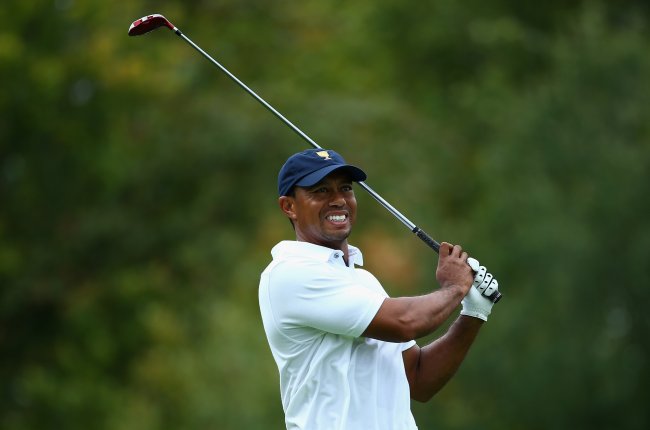 Andy Lyons/Getty Images
However, Woods again captured the lead at No. 16. Sterne's tee shot sailed over the green, and Woods, though in pain, two-putted from long distance to make par and go 1-up.
Tiger Woods, with his back clearly hurting, is 1 up on Richard Sterne after 16 holes and could secure the decisive point for a U.S. Cup win.

— Mark Lamport-Stokes (@MarkLamport) October 6, 2013
Kuchar lost to Marc Leishman, which cut the International deficit to just 17-13, putting pressure on Woods to clinch the Cup when his tournament teammate couldn't.
Another point for the Internationals...Leishman beats Kuchar 1 up. Now 17-13, U.S.

— Brian Wacker (@pgatour_brianw) October 6, 2013
Both Woods and Sterne found the fairway on the scenic par-four 17th, with Sterne missing a birdie putt and Woods needing a scramble to hold his slim match leverage.
All Woods needed to do was par No. 18 for the Cup.
Fans are packed in surrounding the 18th hole as Tiger Woods has a chance to clinch the #PresCup for USA. pic.twitter.com/9Zt4mswr6A

— The Presidents Cup (@PresidentsCup) October 6, 2013
Huge crowd gathered at 18 to watch @TigerWoods try and clinch @PresidentsCup pic.twitter.com/YVF6PgeR4o

— Todd Lewis (@ToddLewisGC) October 6, 2013
Two mediocre approach shots from the fairway put Sterne in a must-make situation from 60 feet, assuming Woods wouldn't three-putt from 40 feet or so.
As might be expected, Sterne missed and Woods pulled through when his lag putt was conceded. He delivered the Americans the coveted top prize for the fifth year in a row and improved their record to 8-1-1 in the competition overall.
Despite the valiant effort from Sterne, it did drop the Presidents Cup rookie's record to 0-4 in his maiden appearance. His last defeat had to leave a particularly bitter taste after his team mounted a valiant rally.
Then again, there isn't much to be ashamed of. It is Tiger Woods after all, and once again, the 37-year-old legend gutted through a physical ailment to get it done when it mattered most.