A back-and-forth defensive brawl was eventually sealed by two key fourth-quarter interceptions, as the Chiefs improve to 5-0 heading into Week 6.
Final
Kansas City - 26
Tennessee - 17
Kansas CIty Chiefs Grades

| | | |
| --- | --- | --- |
| Positional Unit | First-Half Grade | Final Grade |
| Pass Offense | C | C+ |
| Run Offense | B | B |
| Run Defense | A- | A- |
| Pass Defense | A+ | B+ |
| Special Teams | A | A |
| Coaching | A- | A |
vs. Titans Week 5
Game analysis for the Kansas City Chiefs
Pass Offense: Alex Smith's productivity swung back and forth like a pendulum. He often looked flustered due to the Titans pass rush, but No. 11 connected on several deep passes that stretched the field.

Run Offense: Jamaal Charles, who Sunday became the No. 3 rusher in Chiefs history, didn't hit any home runs, but he consistently weaved his way through traffic for respectable yardage. The Chiefs' ankle-breaking blur also etched his first 100-plus-yard effort (22 carries for 108 yards) of the season.

Run Defense: Ryan Fitzpatrick doubled as Tennessee's most threatening rusher. With the exception of Jackie Battle rumbling for one 37-yard gain, Tennessee's backfield was suffocated throughout the entirety of the game. Dontari Poe served as a one-man wrecking crew.

Pass Defense: Fitzpatrick appeared infinitely more comfortable in the pocket in the second half while also effectively scrambling when the situation demanded it. Questionable pass-interference flags plagued the Chiefs throughout the third quarter, but a pair of fourth-quarter interceptions sealed the Titans' fate.

Special Teams: Due to a low snap, Dustin Colquitt uncharacteristically shanked a punt. That miscue aside, the special teams units performed admirably throughout the afternoon. Ryan Succop converted all four of his field-goal attempts, which ultimately proved to be the difference on the scoreboard.

Coaching: Andy Reid and Bob Sutton both flummoxed the opposition with an array of looks and packages.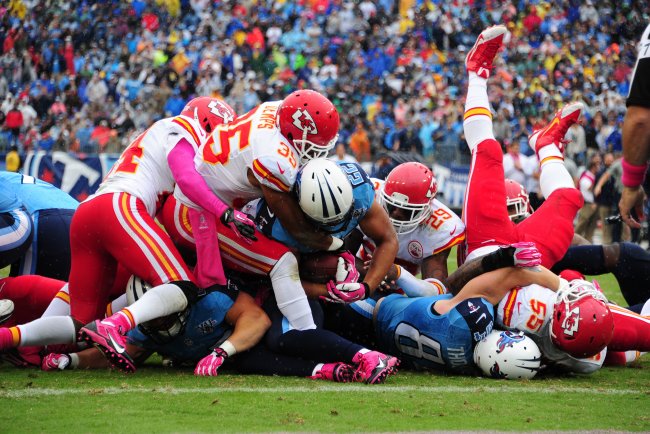 Scott Cunningham/Getty Images
First-half analysis for the Kansas City Chiefs
Pass Offense: Kansas City's pockets looked like torture chambers. Tennessee applied relentless pressure, especially through the interior. The Chiefs attempted to move the pocket via rollouts, but pursuit still forced Alex Smith into inaccurate throws. Two heaves to Donnie Avery served as the lone bright spots.

Run Offense: From a rushing standpoint, Jamaal Charles enjoyed his sharpest half of the season. While the offensive line was manhandled during passing situations, the group partially redeemed itself by creating creases in the ground game.

Run Defense: Dontari Poe obliterated the interior of Tennessee's offensive line, and Chris Johnson routinely crashed into a brick wall at the line of scrimmage. The Titans were forced into five consecutive three-and-outs, but Jackie Battle eventually kickstarted the offense with a 37-yard scamper.

Pass Defense: Ryan Fitzpatrick failed to complete a pass in the first quarter. Kansas City's pass rush bombarded the quarterback during his dropbacks and Chiefs cornerbacks blanketed wideouts in man coverage. Fitzpatrick looked like a gazelle ambushed by predators every time he sat in the pocket.

Special Teams: Three minutes into the game, Kansas City's biggest scoring threat turned out to be Dustin Colquitt. The Pro Bowler's first punt ricocheted into the leg of a Titans gunner and was subsequently recovered by Marcus Cooper in the end zone.

Coaching: At times, Andy Reid's unpredictable play-calling exploited Tennessee's aggressiveness. Bob Sutton's defense, which thwarted the Titans on four consecutive downs from Kansas City's 1-yard line, stonewalled Tennessee's offensive efforts.
Follow Brett on Twitter: