Top Five Atlanta Braves Players of Today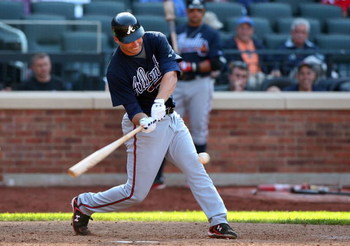 The Atlanta Braves were the team of the 90's, and a pretty good team up until 2006 when the payroll issues pushed the team into rebuilding mode.
Well, they haven't been back to the playoffs since the '06 season, and the drought has manager Bobby Cox looking for the right nucleus to place on the field and compete for a division crown that was once theirs to lose every year.
The Braves have a lot of talent on their roster and some veterans that are looking to lift this team back to the top.
With this being said here is my edition of the top Atlanta Braves players today.
Hope you enjoy
No. 5: Derek Lowe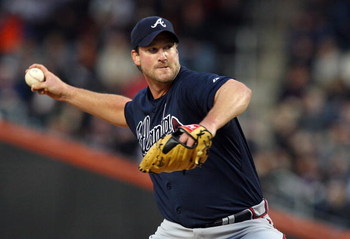 Derek Lowe is the leader of the Braves pitching staff and the ace who logs the innings while setting an example for some of the younger members on the staff at the same time.
The Braves signed Lowe this offseason in hopes that he could do what he had done his entire career, which is to not get hurt. He has been stellar so far posting a 5-2 record with a 3.58 ERA and has pitched in every scheduled start.
D-Lowe is number five on my list because he is a good pitcher on a team with lots of talent. He knows how to pitch in big game situations which is exactly what the Braves will be in this year in a tough NL East division.
No. 4: Jeff Francoeur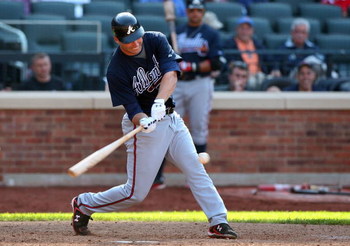 Jeff could have possibly been higher on this list, but he's an inconsistent hitter that looks for the first swing home run a little too much. He's still one of the top Braves because Braves fans love this guy and he puts fans in the seats.
Frenchy has been a pretty productive right fielder for the Braves except for that dismal 2008 campaign when he only hit 11 homers with 71 RBI's while only hitting .239.
Frenchy is only hitting .242 with 3 homers so far this season, but with his improved batting stance and his new approach to the game, I expect for those numbers to pick up heading into the summer.
No. 3: Jair Jurrjens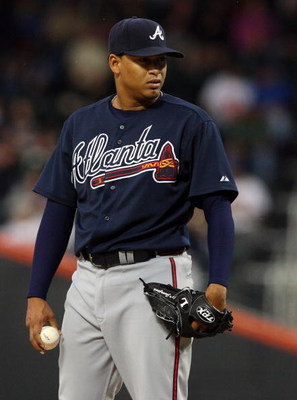 Jurrjens was the only bright spot for the Atlanta Braves pitching staff last season. As a rookie, he posted a record of 13-10 with an ERA of 3.68 and 139 K's.
Jurrjens has been even better this year with a record of 4-2 and an ERA of 1.96. He would have more wins if he would've gotten more run support from his teammates.
J.J. is one of the future greats for this Braves pitching staff who will be joined by Kris Medlen, who has yet to make his big league debut. Tommy Hanson will soon join the mix as the future ace of the staff, but J.J. makes a strong case for ace of the present staff.
No. 2: Brian McCann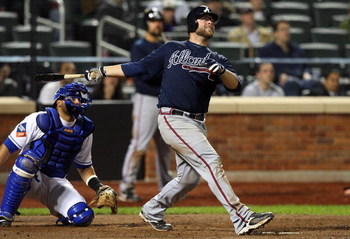 Personally, I like to think of him as a Big Mac sandwich from Mickey D's because he has all the tools of a good baseball player, just like the Big Mac has all the tools of a good fast food burger.
Who would have thought that when the Braves called him up and Francoeur that McCann would be the better of the two. When he was called up, he wasn't even considered the best catcher in the minors for the Braves at that time. Jarrod Saltalamacchia was their best prospect, but McCann came up and showed the Braves that he was their future at catcher.
McCann is a great hitter with decent power and should continue to be that safety net in the line up.
No.1: Chipper Jones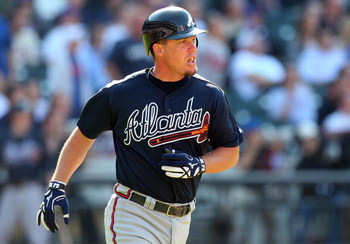 Chipper has spent his whole career with the Braves and has been that one player that the Braves just wouldn't part ways with, and I see why.
Of course Chipper doesn't play 140 games a year, as he once did, because he's up there in age now. He is the top Atlanta Brave of today, tomorrow, and basically until the day that he puts down the bat and hat for good.
Chipper is one of the most feared hitters today, and if it wasn't for the guy at number two on this list, Chipper wouldn't see anything to hit, which is also what makes him the top Atlanta Braves player.
Chipper is a future Hall of Famer and the best switch hitter that I have seen in my 15 years of baseball. When he retires, the Braves just won't be the same.
I hope you enjoyed this list, and if you feel I am wrong, please let me know Braves fans. We can discuss who should have been on this list and who shouldn't have.
Keep Reading

Atlanta Braves: Like this team?