Week 5 is hours away from arriving at full force.
Sunday gives us another exciting compilation of games to fill the day. And knowing how empty our Sunday nights now feel without Breaking Bad, the NFL will gift us with a bonus Sunday night game. (Or more accurately, they needed to reschedule since the Oakland Raiders share a stadium with the Oakland Athletics, who won a playoff game at home on Saturday night.)
The only thing we enjoy as much as watching games is predicting who will win them. What else are we supposed to do? Wait patiently for them to start?
Here are picks for Week 5's full schedule, followed by an extended look at some of the more interesting games.
Note: All spreads are courtesy of Vegas Insider.
NFL Week 5 Schedule, Spread and Predictions

| | | | |
| --- | --- | --- | --- |
| Time (ET) | Away | Home | Prediction (against spread) |
| 1:00 p.m. | Detroit Lions | Green Bay Packers (-7.5) | Lions |
| 1:00 p.m. | Seattle Seahawks (-3) | Indianapolis Colts | Seahawks |
| 1:00 p.m. | New Orleans Saints (-1.5) | Chicago Bears | Saints |
| 1:00 p.m. | New England Patriots (-1) | Cincinnati Bengals | Patriots |
| 1:00 p.m. | Kansas City Chiefs (-3) | Tennessee Titans | Chiefs |
| 1:00 p.m. | Jacksonville Jaguars | St. Louis Rams (-11) | Rams |
| 1:00 p.m. | Baltimore Ravens | Miami Dolphins (-2.5) | Dolphins |
| 1:00 p.m. | Philadelphia Eagles | New York Giants (-2) | Giants |
| 4:05 p.m. | Carolina Panthers (-2.5) | Arizona Cardinals | Panthers |
| 4:25 p.m. | Denver Broncos (-7.5) | Dallas Cowboys | Broncos |
| 8:30 p.m. | Houston Texans | San Francisco 49ers (-5.5) | Texans |
| 11:35 p.m. | San Diego Chargers (-5) | Oakland Raiders | Chargers |
| 8:30 p.m. (Monday) | New York Jets | Atlanta Falcons (-10) | Falcons |
Vegas Insider
Carolina Panthers (-2.5) at Arizona Cardinals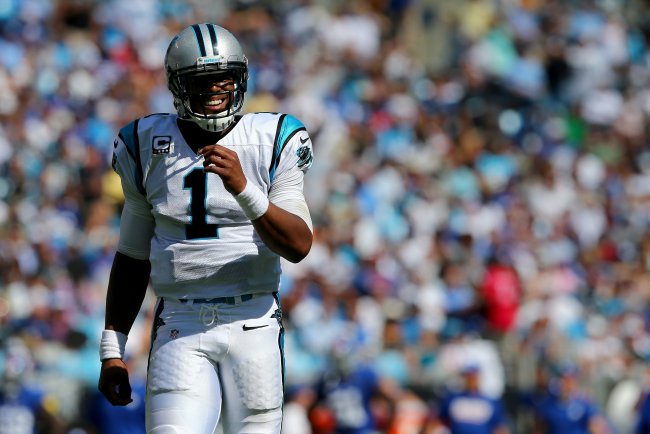 Streeter Lecka/Getty Images
The home team usually receives a few gimme points, but this spread is too small for two teams on diverging paths.
The Panthers could easily be 3-0 after losing their first two games by a combined six points. Meanwhile, the Cardinals needed to face Mike Glennon to earn a victory last weekend.
Who will win: the Panthers or Cardinals?
Carolina squashed the New York Giants during Week 3, cruising to a 38-0 triumph before its early bye week. We forget so easily, so two weeks was ample time to offset any good vibes surrounding the Panthers.
Its stout defense, which has allowed 12 points per game, ranks 10th with 318.7 total yards allowed. After witnessing firsthand how badly the Giants need help at linebacker, the Panthers traded Jon Beason to them. Former Giant Chase Blackburn had outplayed the former Pro-Bowler to earn the starting outside linebacker spot, so the move won't hamper Carolina's unit.
Arizona has averaged just 78.8 rushing yards per game, which should cause it to experience similar problems as New York. With little threat of a ground game, the Panthers sacked Eli Manning seven times, and Carson Palmer has already been taken down 10 times.
Prediction: Panthers 17, Cardinals 7
New York Giants (-2) vs. Philadelphia Eagles
An 0-4 team is favored to win, and it's somehow not that crazy.
Both the Giants and Eagles are absolute messes. The Eagles came out swinging to start the season, but they simply capitalized on another NFC East disaster in the Washington Redskins. The Giants have lost their last three games by a combined 80 points, and they're all kinds of terrible almost everywhere.
But since there is no way for both teams to lose, let's go ahead and put the Giants in the win column for the first time this season.
Who will win this NFC East showdown?
While the Giants are the only team that has surrendered more points than the Eagles, their defense has allowed much less yardage. Philadelphia gives up 446.8 yards per game, while the Giants permit 384.3.
Not that they're much good, but turnovers on the other side have made New York's defense look a lot worse than they actually are. Philadelphia's high-powered offense should manufacture its share of big plays, but Eli Manning should get his offense back together.
Since joining the G-Men, Victor Cruz has amassed 399 receiving yards and five touchdowns in four games against the Eagles. Manning has collected 1,036 passing yards and 12 scores over that same stretch.
The offense will wake up and carry the team to a much-needed victory.
Prediction: Giants 38, Eagles 34
Houston Texans at San Francisco 49ers (-5.5)
There's nothing wrong with favoring the 49ers to win on Houston. In fact, I'm picking them to win as well.
But that spread is rather large for a game with such stingy defenses.

The spread for this game is:
The 49ers rank first in the NFC with 299.8 yards allowed per game while the Texans top the NFL with 254.3 yards yielded per contest. Neither team favors as prominently on the points-allowed leaderboard, but that discrepancy should even out.
San Francisco looks better after stomping the St. Louis Rams last week, but their two substantial losses cannot be forgotten. Its upside is enough to pick them to win, but not enough to confidently forecast a hefty margin.
Perhaps Houston's ugly 31-9 loss to the Baltimore Ravens is fueling this spread. After two straight losses, nobody can be blamed for questioning Houston's legitimacy as a title contender.
This just has the makings of a grueling fight where every point will be precious.
Prediction: 49ers 16, Texans 13