2014 MLB Free Agents: Veterans Who Are Perfect Fit for Cash-Strapped Teams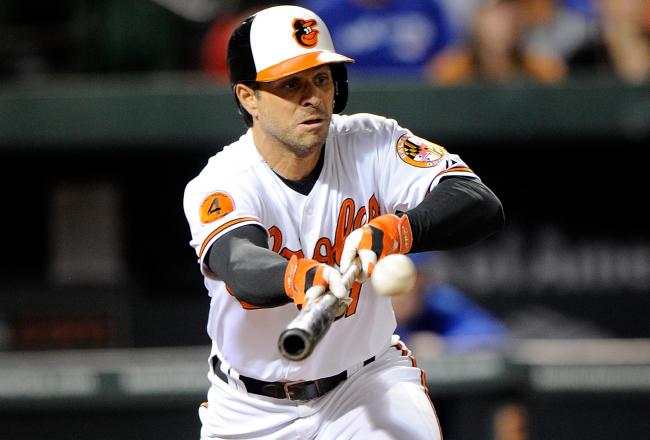 Greg Fiume/Getty Images
Being strapped for cash is nothing new for some teams in Major League Baseball, as bad contracts have become a depressing trend in the league.
Those bad contracts are handcuffing teams financially, so it's important to keep an eye out for which free agents will bring the most bang for your buck year to year. On top of that, small-market teams are always looking for those same types of players but have little money to spend.
Veterans in their mid-to-late 30s are always the best bet for penny-pinching teams, so let's take a look at which vets fit the bill in the 2014 offseason.
Carlos Ruiz, Catcher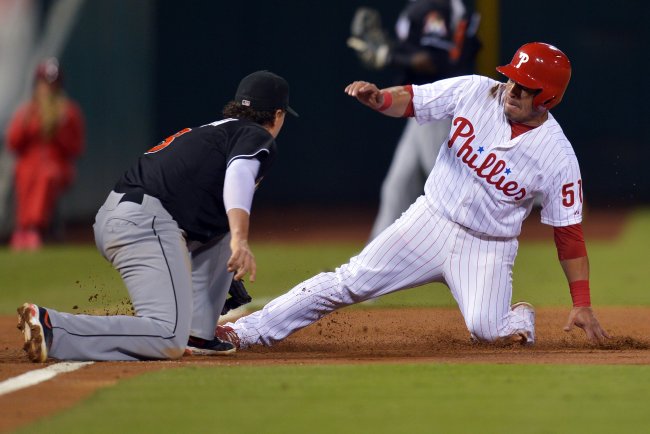 Drew Hallowell/Getty Images
Before 2013, Carlos Ruiz had hit .300 or better in two of his last three seasons, with 2012 being the best campaign of his career. In that season, Ruiz hit 16 homers and drove in 68 RBI while sporting a .325 average in 114 games.
2013 was a much different story for the 34-year-old. He hit just .268 with five homers and 37 RBI. That drop in production will likely cause a scare in interested teams, and that will bring down Ruiz's market value considerably.
Add to that a suspension for taking banned substances and injury issues this past season, and you have a catcher who will come cheaper than normal.
Granted, any team that signs him will need a solid backup to share some of the duties, but Ruiz is still a viable option to start behind the plate for a lot of teams. He's strong defensively, and his second-half numbers of five homers and 31 RBI prove he can still make an impact with the bat.
Brian Roberts, Second Base
It isn't clear whether Brian Roberts will return to the Baltimore Orioles, but if he doesn't, there will be suitors for his services this offseason.
Roberts has had many injury problems the past four seasons, which will likely hurt his chances of being re-signed by the only team he's ever known. The Orioles are looking to build a competitive team for the future.
The 35-year-old played in 77 games in 2013—the most he's seen since the 2009 season. Most of the games he missed this season were in the first half, so his strong and healthy finish to the year is a positive sign—although it won't go far in increasing his value.
Aside from being able to hold his own defensively, Roberts is a patient hitter and would be perfect for a lineup in need of an experienced hitter who takes pitches. The second baseman still showed some pop with eight homers and 39 RBI, so playing as the designated hitter now and then is also an option and could help preserve his oft-injured body.
Marlon Byrd, Outfielder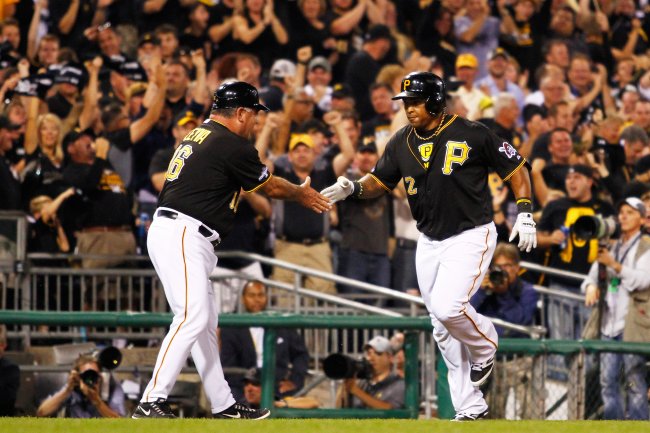 Justin K. Aller/Getty Images
Marlon Byrd had his best season to date in 2013 after slugging 24 homers and racking up 88 RBI with a .291 average for both the New York Mets and Pittsburgh Pirates. It must be noted that Byrd was awfully quiet for the Pirates in 30 games, with just three homers and 17 RBI, but he did hit for a .318 average.
Still, Byrd's production this season was the best of his career. Skeptics will say that maybe Byrd's season was a fluke, and that will make him a risky bet and bring down his value when combined with a past suspension for PED use.
Even if that's not entirely the case, Byrd will cost far less than most of his fellow productive outfielders on the market. As far as those kinds of outfielders go, Byrd will be a bargain.
He likely won't garner a long-term deal at the age of 36, so teams looking for a short-term and cheap fix at a tough position will have Byrd on their list.
Bronson Arroyo, Starting Pitcher
At age 36, Bronson Arroyo is as durable as pitchers come in the MLB. In eight of his past nine seasons, Arroyo has thrown in at least 200 innings. The lone season under 200 innings came in 2011, when he appeared in 199.
In 2013, Arroyo posted a 14-12 mark with an ERA of 3.79. It was the fourth time in five seasons he'd kept his ERA under four.
It isn't easy to find pitchers on the open market who are locks to throw 200 innings, but Arroyo certainly is. He will likely come cheaper than his younger counterparts, and even if he doesn't, a long-term deal won't be necessary to acquire him, as he turns 37 before the 2014 campaign begins.
Getting the most out of an investment for a pitcher means getting a ton of quality innings, and Arroyo has proven time and time again that he can give teams just that.
This article is
What is the duplicate article?
Why is this article offensive?
Where is this article plagiarized from?
Why is this article poorly edited?