Miguel Cotto (38-4) looked like anything but a fighter at the end of his proverbial boxing rope on Saturday. The Puerto Rican legend knocked out Delvin Rodriguez (28-7-3) in spectacular fashion at the Amway Center in Orlando, Fla.
The end came in the third round on a thunderous left hook that sent Rodriguez to the canvas like a ton of bricks. Referee Frank Santore stopped the fight almost as soon as Rodriguez fell, but the 33-year-old Dominican probably wouldn't have beat the 10-count without Santore's intervention.
Rodriguez had been rocked to his core at the end of the second round by a right-left combination. He didn't appear to have regained his wherewithal in the third before Cotto was on top of him again.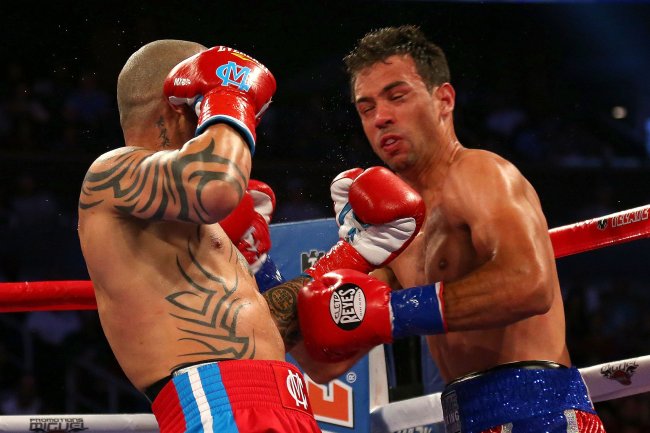 Mike Ehrmann/Getty Images
The stoppage win was the 31st of Cotto's Hall of Fame career. It raised his KO percentage to .738 and further established him as one of the sport's most devastating punchers of this era.
After suffering two straight losses for the first time in his career, this was the type of win Cotto needed. He was in fantastic shape, and thanks to his reunion with Hall of Fame trainer Freddie Roach, his aggressive, power-punching style had returned.
Roach: I'd like to thank Miguel for listening to me. (Turns to Miguel.) Thank you for making me look good.

— Top Rank Boxing (@trboxing) October 6, 2013
Cotto set up his win with hard body shots, and he appropriately changed levels once he was inside. He didn't settle for throwing one punch at a time. He instead featured crisp and accurate combinations that turned out to be Rodriguez's undoing.
Would Cotto defeat Canelo Alvarez?
To put things in the proper perspective, Rodriguez was no world-beater. That said, Cotto handled him the way a legitimate title contender and elite fighter should. He outclassed Rodriguez in every way.
There is no reason Cotto shouldn't be in line to challenge champions or elite fighters at 154 and 160 pounds—as long as their names aren't Floyd Mayweather Jr. or Austin Trout.
This win will certainly increase the attractiveness of a Cotto-Canelo Alvarez bout. The two could put on a spirited fight, and it would, of course, be another installment of the infinite Mexican-Puerto Rican boxing rivalry.
Miguel Cotto: "I am not closing any doors on a fight with Alvarez but there will have to be some discussions with Top Rank" #boxing

— Boxing Insider.com (@BoxingInsider) October 6, 2013
We'll see where Cotto goes from here, but it's clear he's still a force to be reckoned with.
Follow me for musings on boxing, MMA, the NBA, the WWE and sports video games.