Every NFL Team's Biggest Key to Victory in Week 7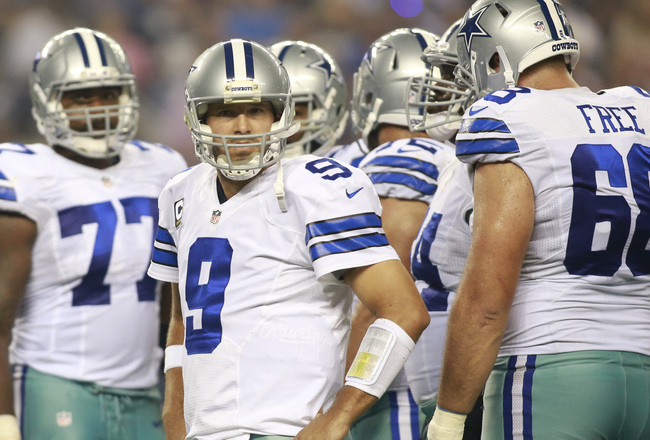 Tony Romo and the Dallas Cowboys square off with the Philadelphia Eagles this week in a clash between the co-leaders in the NFC East.
Tim Heitman-USA TODAY Sports
The seventh week of the NFL's 94th season features some important and intriguing games.
The week kicked off on Thursday night with the Seattle Seahawks' 34-22 win over the Arizona Cardinals, the first of six divisional matchups this week.
In the City of Brotherly Love, the 3-3 Dallas Cowboys and the 3-3 Philadelphia Eagles look to break a tie atop the NFC East. There is also the first rematch of the season on Sunday when the AFC East leaders, the New England Patriots, visit the New York Jets.
And rumor has it that a former Colts quarterback is returning to Indianapolis this Sunday night as well.
Not a bad slate at all.
In the following slides, we first take a look back to Thursday night in order to see how the Seahawks came away victorious, followed by a breakdown of both New Orleans' and Oakland's seasons so far (as they are both off this week), and we will end with a game-by-game analysis for the rest of Week 7's matchups.
Seattle Seahawks 34, Arizona Cardinals 22
Once again, it wasn't the sharpest of efforts by quarterback Russell Wilson and the Seattle Seahawks. But Pete Carroll's club still came out on top.
The Seahawks raised their record to 6-1 and ensured that they would end Week 7 in sole possession of first place in the NFC West after they defeated the Arizona Cardinals.
Wilson threw for 235 yards and three touchdowns, despite putting the ball on the ground three times and losing two of those fumbles.
Seahawks running back Marshawn Lynch gained 91 tough rushing yards and a score, and Seattle took a 14-0 second-quarter lead and never relinquished it.
For the Cardinals, it was a reminder of some of last year's setbacks. Bruce Arians' team ran for a mere 30 yards on 18 carries. Quarterback Carson Palmer threw for 258 yards and a score, but he was also picked off twice and sacked seven times.
Even more upsetting for the Cards was the fact that they lost to an NFC West rival once again. Since defeating the Seahawks in last season's opener, Arizona has dropped eight games in a row within the division.
New Orleans Saints (5-1) and Oakland Raiders (2-4): Bye Week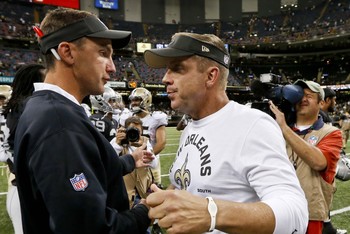 Derick E. Hingle-USA TODAY Sport
New Orleans Saints (5-1)
At this time last season, the Saints were riding a two-game winning streak. Of course, that followed a crippling 0-4 start that basically doomed the team's season before October even rolled around.
Last Sunday, Sean Payton's club lost for the first time in six games this season. As a result, his team still holds a comfortable lead for first place in a division where other teams have a combined 3-12 record—Carolina Panthers (2-3), Atlanta Falcons (1-4) and Tampa Bay Buccaneers (0-5).
Still, the 30-27 loss to the New England Patriots did raise a few concerns about a team that had allowed only 73 points during its 5-0 start. Despite sacking Patriots quarterback Tom Brady five times, Payton's club couldn't stop the New England offense in the closing minutes.
And while running backs Pierre Thomas and Darren Sproles have been vital compliments to quarterback Drew Brees and the passing game, it will be interesting to see if the New Orleans offense develops a little more balance over its final 10 games.
Oakland Raiders (2-4)
Here's a somewhat somber thought, as well as a major challenge: Dennis Allen's team must win seven of its final 10 games to avoid its 11th straight non-winning season.
Still, there are plenty of positives to focus on despite the Raiders' 2-4 start.
For instance, third-year quarterback Terrelle Pryor has opened some eyes with his play, especially when he shows off his passing prowess.
Not only is the former Ohio State product leading the team with 285 yards rushing, but he's also completing 64.5 percent of his throws. Pryor has committed just five turnovers despite being sacked 20 times in five outings, with nine of those coming last Sunday at Kansas City.
Defensively, Allen's team has had its ups and downs. The pass rush has been inconsistent at best, and the Raiders have totaled only nine takeaways in six games, with more than half of those (five) coming in the team's Sunday night win over the San Diego Chargers in Week 5.
Still, this is a very competitive football team that is making strides. Then again, making up ground in the AFC West this season with the Denver Broncos and Kansas City Chiefs both remaining unbeaten may be too tall of a task for any club.
Tampa Bay Buccaneers (0-5) at Atlanta Falcons (1-4)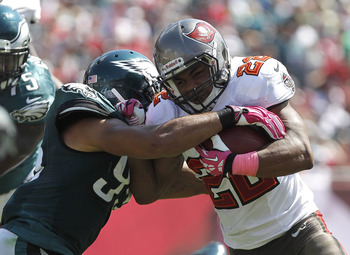 Kim Klement-USA TODAY Sports
Tampa Bay Buccaneers
The good news for Greg Schiano's team last week was the fact that the Tampa Bay Buccaneers put a season-high 20 points on the board.
The bad news was the fact that the Bucs also allowed a season-high 31 points in a loss to the visiting Philadelphia Eagles.
Be it Josh Freeman, now with the Minnesota Vikings, or rookie Mike Glennon at the helm, Schiano and company are still looking for their first win of 2013. In fact, the Buccaneers are now 1-10 in their last 11 games dating back to last season, with that lone win coming in Atlanta last December.
Second-year running back Doug Martin ranks ninth in the NFL with 409 rushing yards. But we haven't seen the wow factor that was such a big part of his dynamic rookie season. Martin has scored only one touchdown in 2013 and hasn't been a big part of the passing game, totaling just 11 receptions for 59 yards this season.
Glennon does not figure to see much of a pass rush from an Atlanta Falcons team that has totaled just 11 sacks so far this season. And perhaps a healthy dose of Martin, early on as a receiver and later as a runner, could finally produce a victory for the Buccaneers this season.
Atlanta Falcons
To date this season, we certainly haven't seen the Atlanta Falcons team that was the NFC's top seed in 2012 with a 13-3 record.
This Sunday against the winless Tampa Bay Buccaneers, we may not be seeing many of the Falcons' notable players at all.
Wide receiver Julio Jones was put on injured reserve last week. Also, running back Steven Jackson and wideout Roddy White were among those who didn't practice on Thursday, per D. Orlando Ledbetter of The Atlanta Journal-Constitution.
Quarterback Matt Ryan does have veteran tight end Tony Gonzalez and wideout Harry Douglas at his disposal, but they figure to have their hands full with Tampa defenders Dashon Goldson and Darrelle Revis.
Still, the ageless Gonzalez may be Ryan's best option, as the 17-year veteran has totaled 33 receptions for 339 yards and a team-high three touchdown receptions so far this season.
St. Louis Rams (3-3) at Carolina Panthers (2-3)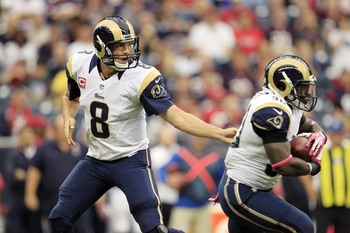 Thomas Campbell-USA TODAY Sports
St. Louis Rams
Who would have thought at this stage of the season that the St. Louis Rams offense would be on par with or ahead of its talent-laden defense?
Jeff Fisher's team has totaled 141 points in six games. But more importantly, the offensive unit has reached the end zone 13 times. As a point of comparison, in 16 games in 2012, the Rams managed a combined 27 rushing and receiving touchdowns.
However, none of the team's 13 touchdowns this season have come on the ground. That's because the St. Louis running game has been virtually non-existent, as only four teams have rushed for fewer yards per game than Fisher's club.
Does anyone expect that to improve this week against the Carolina Panthers? Only two teams in the NFL have allowed fewer total yards per game, and only two clubs are giving up more yards per game on the ground.
Good luck, Daryl Richardson and Zac Stacy.
Carolina Panthers
He remains one of the league's best big-play threats, or at least most think so. But while Carolina Panthers wide receiver Steve Smith still has the goods when it comes to frustrating opposing secondaries, the veteran has been strangely quiet so far in 2013.
This season, Smith has totaled 23 catches for 224 yards and a pair of touchdowns, which has him tied for the team lead in receptions with tight end Greg Olsen. But the speedy wide receiver is averaging an un-Smith-like 9.7 yards per catch, and his longest reception of the season was for a mere 19 yards.
That could all change this week when the Rams come to Carolina. Jeff Fisher's team has already surrendered 17 offensive touchdowns in six games, including 11 through the air. The Rams rank 30th in the league against the run, which also means they may be highly susceptible to the play-action pass.
Cincinnati Bengals (4-2) at Detroit Lions (4-2)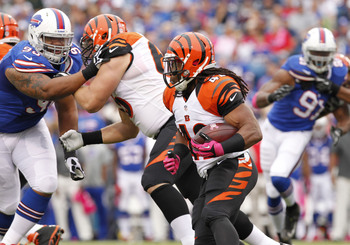 Kevin Hoffman-USA TODAY Sports
Cincinnati Bengals
Head coach Marvin Lewis and his Cincinnati Bengals suddenly find themselves all alone atop the AFC North.
It is hardly a surprise given the talent on the roster, but truthfully, the Bengals have yet to really take the bull by the horns this season.
Last week, the club got its first road win of the season thanks to a 27-24 overtime triumph over the Buffalo Bills. It didn't come easy, either, as the Bengals squandered a 24-10 fourth-quarter lead before prevailing in the extra session.
Speaking of extra, rookie running back Giovani Bernard has been getting most of the attention in 2013 when it comes to the Cincinnati backfield, but let's not forget that veteran BenJarvus Green-Ellis leads the team with 295 yards rushing and three scores.
Sunday could serve as a great reminder, though. The Detroit Lions defense is allowing 124.8 yards per game on the ground, the fourth-most in the league this season. And you can look for Lewis and offensive coordinator Jay Gruden to take advantage of this little fact on Sunday at Ford Field with a little assistance from The Law Firm.
Detroit Lions
The Bengals have yet to really break out on offense this season.
This Sunday, Lions outside linebacker DeAndre Levy is out to make sure that this isn't the week it happens.
The productive defender is having an outstanding season for head coach Jim Schwartz. Levy leads the Lions with 49 tackles and is tied for the club lead with six passes defensed. He's also totaled four interceptions, which is tied for the most in the league in 2013.
The Cincinnati passing attack is keyed by wide receiver A.J. Green, who has totaled 37 catches, four of them for touchdowns. But the tight end combination of Jermaine Gresham (24) and rookie Tyler Eifert (19) have accounted for 43 receptions. Rookie running back Giovani Bernard has totaled 20 catches as well, with two going for scores.
It sounds like it will be another busy afternoon for the emerging Levy.
San Diego Chargers (3-3) at Jacksonville Jaguars (0-6)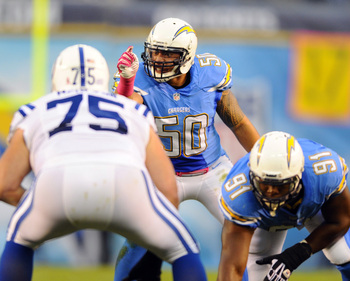 Christopher Hanewinckel-USA TODA
San Diego Chargers
Rookie inside linebacker Manti Te'o is still learning the ropes in the NFL.
That is because his pro career has gotten off to a slow start, as a foot injury that he suffered during the preseason shelved the second-round pick for the first three games.
But Te'o was on the field Monday night in the team's 19-9 win over the Indianapolis Colts. He tied for the team lead with five tackles, all of them solo, as the San Diego defense held quarterback Andrew Luck and company out of the end zone.
While the Jacksonville Jaguars have yet to win a game this season, they still have talented running back Maurice Jones-Drew. And considering that the Chargers defensive unit has been average at best against the run (tied for 17th in the NFL), one of the shorter names in the NFL may be getting a large dose of one of the longer nom de guerres in the league.
Jacksonville Jaguars
Is there still hope for the Jacksonville Jaguars this season?
Well, since no team has ever reached the playoffs following an 0-6 start, you would have to say no.
But through just two weeks since coming back from a four-game suspension, second-year wideout Justin Blackmon is out to prove that he intends on having a big season and will do his best to get his team in the win column.
Blackmon has demonstrated that with 19 receptions for 326 yards and a score in the team's last two games. While he didn't reach the end zone in the team's 35-19 loss to the Denver Broncos last Sunday, he still totaled 14 catches for 190 yards.
Blackmon apparently has some aches and pains from last week's performance, but, according to Michael DiRocco of ESPN.com, head coach Gus Bradley and the team expects him to be ready for this week's visit from the San Diego Chargers.
Buffalo Bills (2-4) at Miami Dolphins (3-2)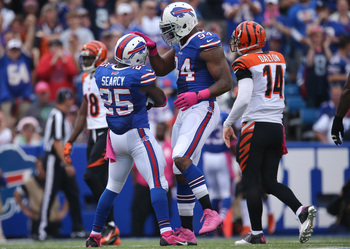 Rick Stewart/Getty Images
Buffalo Bills
Once again, will the real Mario Williams and the Buffalo Bills defense please stand up?
Only two players in the NFL have more sacks than Williams this season, who has totaled eight quarterback traps in six games.
However, 4.5 of those sacks came in a Week 2 win over the Carolina Panthers. That means that Williams has totaled only 3.5 sacks in his other five outings—not bad, but not exactly awe-inspiring.
The former first overall pick certainly has a chance to add to those numbers this week, as Miami Dolphins quarterback Ryan Tannehill has been sacked 24 times in just five games this season.
More importantly, let's see if the Bills can get a rare win over an AFC East rival. The team is 6-26 against divisional foes dating back to 2008, including being 0-2 within the division this season.
Miami Dolphins
Only three teams in the NFL are averaging fewer rushing yards per game this season than the Miami Dolphins.
Joe Philbin's club has totaled just 348 yards on the ground in five contests in 2013. In two of those tilts, the Dolphins were held to less than 25 yards rushing.
But if there were ever an opportunity to right that wrong, it would be this week. The Bills are ranked 28th in the league when it comes to stopping the run. Doug Marrone's team has allowed at least 150 yards rushing in three of their six games this season.
One way to keep the Buffalo pass rush off quarterback Ryan Tannehill is to give Lamar Miller the football. In fact, look for a breakout game from the second-year talent this week.
New England Patriots (5-1) at New York Jets (3-3)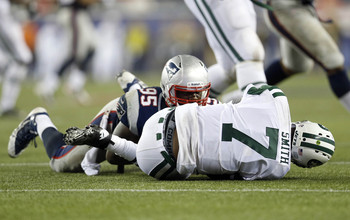 Greg M. Cooper-USA TODAY Sports
New England Patriots
Say what you want about this season's New England Patriots. They may not be rolling up big points this year, but they continue to win games.
One of those victories was a 13-10 prime-time triumph over the New York Jets in Week 2. And one of the Patriots standouts that night was second-year defensive end Chandler Jones, as the emerging performer totaled five tackles and two sacks in the three-point win.
On a New England defense that is missing several key performers along the front seven, Jones may have to up his sack total against Jets quarterback Geno Smith and add in a forced fumble or two if the Pats are to sweep New York for the third straight year.
New York Jets
If the New York Jets are to end their current five-game losing streak to the New England Patriots, they may indeed already have the formula they need.
When the teams met five weeks ago on a Thursday night in Foxborough, the Jets came up short. Running backs Chris Ivory (52) and Bilal Powell (48) combined for 100 of the team's 129 rushing yards that night, and Powell scored the Jets lone touchdown of the game.
That was also the lone touchdown of the season for the young running back, who leads the club with 360 yards on the ground in 2013.
With the Pats being without defensive tackle Vince Wilfork, and now linebacker Jerod Mayo as well, it wouldn't be a shock to see the Jets roll up some big numbers on the ground this Sunday. And that could go a long way toward getting New York back into the AFC East title race.
Dallas Cowboys (3-3) at Philadelphia Eagles (3-3)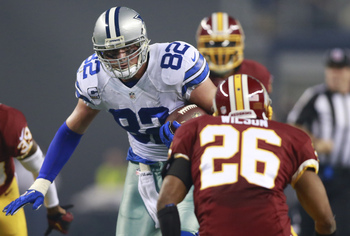 Tim Heitman-USA TODAY Sports
Dallas Cowboys
Perhaps Dallas Cowboys quarterback Tony Romo can simply pick his primary target of choice this Sunday.
These days, the Philadelphia Eagles haven't been stopping much when it comes to other teams. Despite two straight wins, no team in the NFL has given up more total yards per game this season than the Eagles, and only the Denver Broncos are allowing more yards through the air.
Romo is completing 70.2 percent of his passes this season while also throwing for 14 scores and only three interceptions (although everyone still wants to talk about his fourth-quarter pick that lost the game against Denver in Week 5).
Meanwhile, veteran tight end Jason Witten is showing no signs of slowing down in his 11th NFL season. He ranks second on the team in catches (31), receiving yards (340) and touchdowns (three).
There is no doubt that Cowboys wideout Dez Bryant will draw plenty of attention from the Eagles secondary, but let's see if the Philadelphia linebackers or safeties can keep up with Witten.
Philadelphia Eagles
In recent seasons, the Philadelphia Eagles have made a habit of rolling up some big yardage totals on the ground against the Dallas Cowboys.
Could we see that again this Sunday?
Chip Kelly's team ranks second in the NFL in total yards per game, but it is No. 1 when it comes to running the football. A large part of that is running back LeSean McCoy, who leads the league with 630 yards rushing. Add in 241 receiving yards on 15 catches, and McCoy also leads the NFL in total yards from scrimmage (871).
But the emphasis is on rushing yards. And with the current Dallas defensive front, it's hard to believe that Kelly and the Eagles ground attack won't be taking aim at the Cowboys early and often this Sunday.
Chicago Bears (4-2) at Washington Redskins (1-4)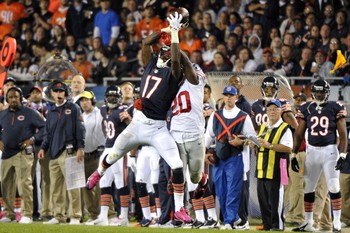 Rob Grabowski-USA TODAY Sports
Chicago Bears
It's been a nice start for the Chicago Bears.
So what else is new?
The team has opened 7-3 and 7-1, respectively, during the previous two seasons, and neither of those campaigns ended with a trip to the playoffs.
Marc Trestman's team is off to a solid start this season, though, and one key has been keeping quarterback Jay Cutler out of harm's way. In four wins this season, the Bears signal-caller has been sacked a combined three times. Meanwhile, Cutler was sacked three times in each of the team's losses.
Better protection has also enabled Cutler to find his other targets. And that would be second-year wide receiver Alshon Jeffery, who has totaled 29 receptions for 456 yards and two scores this season.
With Washington Redskins cornerback DeAngelo Hall focusing on Brandon Marshall, it will be interesting to see if Jeffery enjoys a big afternoon in the nation's capital.
Washington Redskins
Unfortunately for head coach Mike Shanahan, his Washington Redskins are making it pretty difficult on themselves when it comes to defending their NFC East crown.
Fortunately for the 'Skins, even at 1-4, they are just one game behind the division leaders, the 3-3 Dallas Cowboys and 3-3 Philadelphia Eagles, in the loss column.
Speaking of three, that's the sack total for former Pro Bowl outside linebacker Brian Orakpo. The pass-rushing standout missed the final 14 games last season due to injury but has rebounded well to date.
Too bad the Redskins defense hasn't responded in the same fashion. Washington has allowed at least 31 points in three of its five games this season along with a combined 16 touchdowns.
But Orakpo hopes to change that this week when he faces Bears left tackle Jermon Bushrod, who hopes to keep Cutler out of harm's way this weekend.
San Francisco 49ers (4-2): at Tennessee Titans (3-3)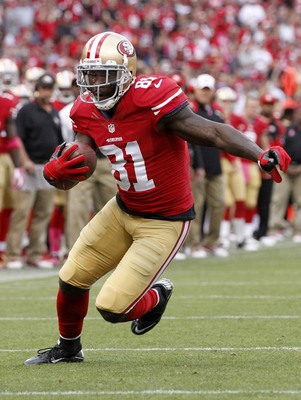 Cary Edmondson-USA TODAY Sports
San Francisco 49ers
We were all lauding veteran wide receiver Anquan Boldin when the San Francisco 49ers defeated the Green Bay Packers, 34-28, in Week 1, as the 11-year veteran totaled 13 receptions for 208 yards and a score in his team's six-point victory.
But it's been a somewhat different story since this game. In the five games following Week 1, Boldin has totaled only 16 receptions for 213 yards and a touchdown.
Even more interesting is the fact that those 16 catches have come with Boldin being targeted 33 times. He remains quarterback Colin Kaepernick's pass-catcher of choice.
But with the Tennessee Titans defense presumably concentrating on 49ers tight end Vernon Davis this weekend, could Boldin come up big once again? He may have to for San Francisco to win its fourth straight game.
And with Titans cornerback Alterraun Verner lurking, that is going to be no easy task.
Tennessee Titans
Is this a game for old time's sake?
Tight end Delanie Walker is in his first season with the Tennessee Titans after spending seven years in San Francisco. He saw both the good and the bad times with the 49ers, who have flourished under head coach Jim Harbaugh since 2011.
But now, the versatile Walker will be facing a lot of his former teammates. The tight end has totaled 20 receptions for 185 yards and two touchdowns so far this season.
It's safe to say that the veteran tight end knows a little something about the Niners' strengths and weaknesses on defense.
On Sunday, we may find out exactly how much Walker knows.
Cleveland Browns (3-3) at Green Bay Packers (3-2)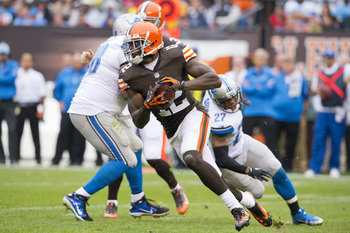 Jason Miller/Getty Images
Cleveland Browns
Wide receiver Josh Gordon has begun to emerge as one of the better deep threats in the NFL.
The former supplemental draft selection, who was suspended the first two weeks of this season, is averaging 17.2 yards per catch via 25 receptions in 2013. Gordon has also scored a pair of touchdowns in his four games.
While tight end Jordan Cameron remains the team leader with 38 catches, five of them for scores, the growing rapport between quarterback Brandon Weeden and Gordon is evident.
With the Green Bay Packers pass rush being a bit hampered by injuries, Browns head coach Rob Chudzinski could look to strike early and put the Pack back on their heels.
And with Cleveland's running game being somewhat of an afterthought these days, Gordon could be very busy at Lambeau Field on Sunday.
Green Bay Packers
So far in 2013, the Green Bay Packers defense has seen opposing quarterbacks drop like flies, as Dom Capers' unit has totaled 17 sacks in just five games.
But in the last few weeks, the Packers have been following suit and going down with injuries.
Perennial Pro Bowler Clay Matthews is out indefinitely, and now Nick Perry won't play this week against the Cleveland Browns due to a fractured foot.
Apparently, head coach Mike McCarthy and his team will need another sensational effort from inside linebacker A.J. Hawk. In last week's 19-17 road win over the Baltimore Ravens, the former first-round pick totaled 10 tackles and three sacks.
When you consider that the Browns have already allowed 24 sacks in six games this season—18 at the expense of quarterback Brandon Weeden—you can bet that Capers and Co. will be bringing the heat with Hawk and whoever else takes the field this Sunday.
Baltimore Ravens (3-3) at Pittsburgh Steelers (1-4)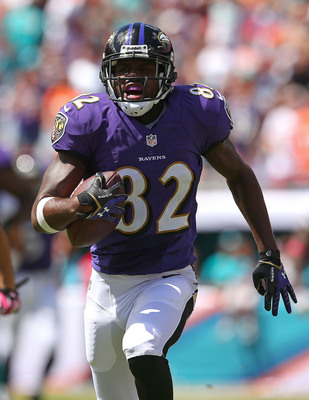 Mike Ehrmann/Getty Images
Baltimore Ravens
When Baltimore Ravens quarterback Joe Flacco used to face the Pittsburgh Steelers, you could always count on the talented signal-caller to have his good and bad moments—and unfortunately for head coach John Harbaugh, they were mostly bad.
But that hasn't been the case lately, as Flacco and the Ravens have won three of their last four meetings against the Steelers, including two straight at Pittsburgh.
In his last four games versus Mike Tomlin's team, Flacco has thrown five touchdown passes, compared to only one interception. He's also been sacked just nine times and has lost two fumbles.
Compare that to his first eight meetings with the Steelers, including a pair of playoff defeats in 2008 and 2010, when Flacco was 2-6 in those contests. While he threw for seven scores, he also committed a total of 13 turnovers, including eight interceptions. Furthermore, the strong-armed quarterback was sacked 29 times in those eight outings.
It's been an erratic start for Flacco in 2013. He has thrown seven touchdown passes but has been picked off eight times this season. However, another win in the Steel City would make things a little bit better.
Pittsburgh Steelers
Miss me?
That's what Pittsburgh Steelers quarterback Ben Roethlisberger may ask the Baltimore Ravens on Sunday when these two intense rivals clash.
Last season, the teams split their series, with both clubs winning on the road. Also, both games were decided by exactly three points.
But last year's physical tilts also had one other thing in common: Roethlisberger didn't play in either contest. So keep that in mind this Sunday when Big Ben hopes to come up big against a team that he's had his share of success against in the past.
In 14 games (13 starts) versus Baltimore, Roethlisberger owns a 9-4 record as starter, throwing 21 touchdown passes, compared to 15 interceptions, and two of those nine wins came in the playoffs.
Welcome back.
Houston Texans (2-4) at Kansas City Chiefs (6-0)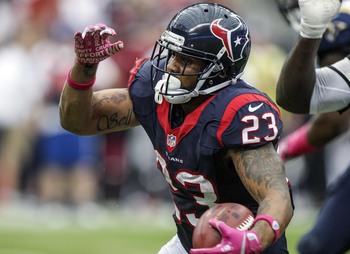 Troy Taormina-USA TODAY Sports
Houston Texans
Even if he is healthy, a case could be made for Houston Texans head coach Gary Kubiak to sit down struggling starting quarterback Matt Schaub.
But just in case you missed it, there will be a different man behind center this Sunday when the Texans invade Arrowhead Stadium.
According to the team's official Twitter account, Kubiak has opted for Case Keenum as his starter (in place of the injured Schaub) when his team faces the Kansas City Chiefs this weekend.
Talk about two teams headed in opposite directions. The Texans have dropped four straight after a 2-0 start, while the Chiefs are 6-0 for the first time since 2003.
Amazingly, Houston has limited each of its first six opponents to fewer than 300 total yards. But 15 turnovers by the team's offense—six of them being returned for touchdowns—have short-circuited the defense's good work.
With Keenum making his first start in hostile territory, Kubiak may lean on running back Arian Foster quite heavily. The league's third-leading rusher with 531 yards will hope to do his usual damage against a Kansas City defense ranks 23rd in the NFL against the run.
Kansas City Chiefs
It is a tall task that awaits the Houston Texans this Sunday.
As a backup quarterback and assistant coach with the Denver Broncos, Kubiak truly knows how tough of a task it is to play at Arrowhead Stadium.
It's made even tougher when you have to face a Kansas City defense that totaled nine sacks last week and 30 of them in total over six games this season. The Chiefs have also forced a league-high 18 turnovers.
Second-year nose tackle Dontari Poe ranks third on the team with 4.5 sacks, and he may also be the most improved defensive player in the league.
Poe's presence has certainly made life even easier for outside linebackers Justin Houston (9.5 sacks) and Tamba Hali (7.5 sacks), Pro Bowlers a year ago who look headed in that same direction once again in 2013.
Although the Chiefs defense has still been a bit susceptible to the run, Poe and Co. have offset that damage in a big way. Kansas City has allowed just 65 points and has limited each of its six opponents to 17 points or less this season.
So don't be stunned if the Texans roll up some yards on offense, even with Keenum making his NFL debut as a starting quarterback. But also, don't be surprised if those yards don't amount to a lot of points.
Denver Broncos (6-0) at Indianapolis Colts (4-2)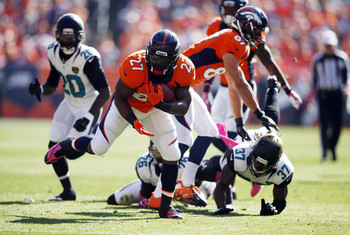 Chris Humphreys-USA TODAY Sports
Denver Broncos
The talented Knowshon Moreno has rolled up 373 yards rushing and seven touchdowns this season, but the Denver Broncos running back has also yet to total at least 20 carries in a game in 2013.
Don't be surprised if that changes Sunday night when Peyton Manning returns to Indianapolis to face his former team.
With all of the focus being on Manning and his record-setting pace in 2013, it is hard to ignore the fact that the Colts defense is next-to-last in the NFL in rushing yards allowed.
No team in the league has scored more points, averaged more total yards per game or more passing yards per game than the Broncos.
But on a night when the franchise celebrates the return one of the greatest and most successful players in its history, Chuck Pagano's defense could be getting a very heavy dose of the run by evening's end.
Indianapolis Colts
Hello, old friend.
When Denver Broncos quarterback Peyton Manning takes the field on Sunday night at Indianapolis, he'll be lined up against a defender that he used to see in practice on a constant basis when both were with the Colts.
Only now, one-time defensive end Robert Mathis is not only an outside linebacker, but he'll actually be out to put Manning on the ground (something he likely didn't get a chance to do when they were teammates).
In its simplest form, it's a meeting between the league leader in touchdown passes (22) versus the NFL co-leader in sacks (9.5).
For the veterans Manning and Mathis, it will be a clash between two longtime masters of their crafts.
Minnesota Vikings (1-4) at New York Giants (0-6)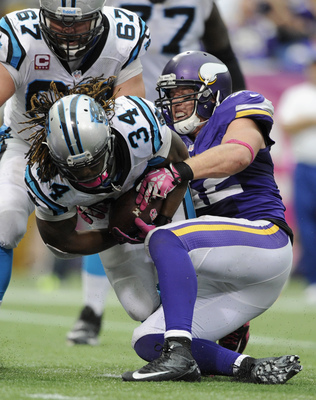 Hannah Foslien/Getty Images
Minnesota Vikings
Leslie Frazier's Minnesota Vikings are getting ready to play their sixth game of the season—and the team is also getting ready to start its third different quarterback in 2013.
One-time Tampa Bay Buccaneers first-round pick Josh Freeman will be under center for the Purple Gang on Monday night against the winless New York Giants.
But putting points on the board hasn't necessarily been the problem for Minnesota, as the Vikings are averaging 25.0 points per game.
However, Frazier's club has also given up at least 27 points in each of their first five games this season. Even worse, the defense will now be a little shorthanded this week with safety Harrison Smith being placed on injured reserve/designated for return on Friday, per Josina Anderson of ESPN.
That puts a little extra emphasis on the Minnesota secondary and cornerback Josh Robinson, who will likely see Giants speedster Victor Cruz on a regular basis. The Vikings have allowed 13 touchdown passes and have picked off just seven passes in five games this season, and none of those interceptions have come via the cornerback position.
That might be food for thought as Giants quarterback Eli Manning takes aim at Frazier's defense on Monday night.
New York Giants
No team in the league has turned over the football more than the New York Giants. In fact, their 23 miscues in six games are two more than they managed all of last season.
Of course, no team in the NFL has given up more points per game (34.8) than the G-Men, either. In fact, Tom Coughlin's club has allowed more than twice as many points this season (209) as they have scored (103).
Hence, Big Blue is off to its worst start since 1976. For lovers of history, that was the first season the team played football at the Meadowlands.
There was a bright spot in last week's 27-21 loss to the Chicago Bears, though, as newly acquired linebacker Jon Beason, formerly of the Carolina Panthers, totaled a team-high 12 tackles, including 11 solo stops.
Last week, his former team had to deal with Minnesota Vikings running back Adrian Peterson. On Monday night at MetLife Stadium, Beason will get his chance to play Peterson, hoping that his team does enough all-around to get that elusive first win of 2013.
Keep Reading