Washington vs. Stanford: Live Score and Highlights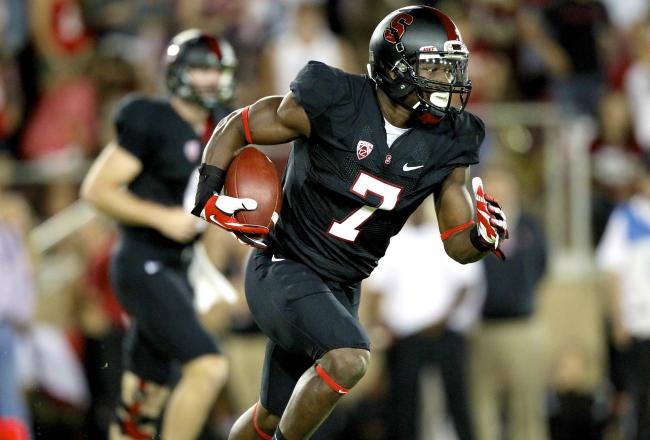 No. 5 Stanford held off a plucky No. 15 Washington team on Saturday evening, remaining undefeated with a down-to-the-wire 31-28 victory.
Current Score: Stanford 31, Washington 28 — FINAL
That's all from me, guys. Kudos to those of you east-coasters, like myself, who stayed up late (and missed Saturday Night Live) to watch this awesome finish.
I think we all made the right decision, and I think that ending was our reward.
Have a good one!
Stanford might be the toughest team in the FBS. But UW is second, and it's a pretty close race.

— Paul Myerberg (@PaulMyerberg) October 6, 2013
One Final Thought: Could the Pac-12 North Be the Best Division in Football?
What I just watched felt important. It didn't feel like an average 2 a.m. east coast nail-biter. It felt like something that actually mattered.
I picked Stanford to win the BCS National Championship this preseason. The Cardinal just came dangerously close to blowing a home game against a team that started the season unranked.
And yet I couldn't feel better about my pick.
That's how much respect I have for Washington right now. This game started ugly, but by its end, two of the best 15 teams in college football were duking it out in a heavyweight bout. And it was an absolute treat to watch.
Combine these two with Oregon, Washington's Week 7 opponent, and I think the Pac-12 North might actually be college football's best division. If nothing else, it's squarely in the debate.
It could beat the SEC East backward and forward, and only the SEC West (Alabama, LSU and Texas A&M) might sit ahead of it.
But that's a pointless argument. The main takeaway from this game is that both of these teams are very good. Kevin Hogan didn't light the world on fire but he made just enough plays to get by.
And that's exactly what Stanford asks of him. Good stuff all around.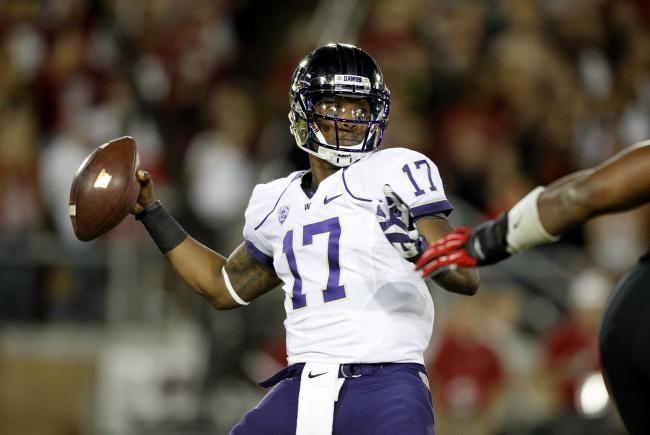 Honorable Mention Player of the Game: QB Keith Price, Washington
Wow. Just wow. What a gutsy performance from a much-maligned player. He won a lot of brownie points with the game he just played.
Despite injuring the thumb on his throwing hand—and showing visible signs of intense pain—Price gutted through all 60 minutes, finishing with 350 yards on 48 passes.
The controversial play at the end, which was eventually ruled incomplete, wouldn't have even existed if not for his escapability, as he made a Houdini-like move to get free and toss the pass in Kevin Smith's direction.
Simply put: Keith Price is a gamer. And even after a bad season in 2012, no one can ever tell me otherwise. I know what I just watched.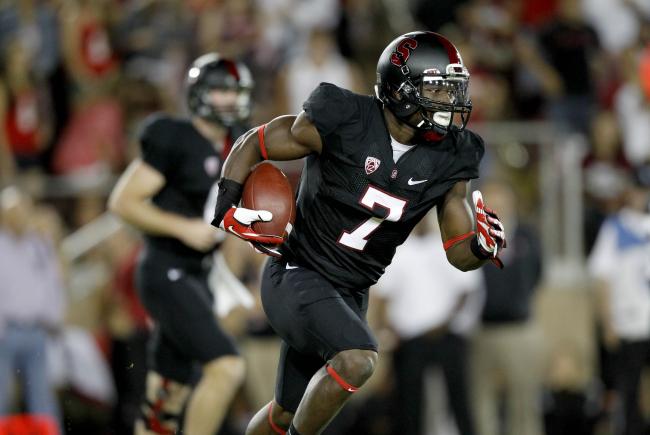 Player of the Game: WR Ty Montgomery, Stanford
It feels dirty giving this to anyone but Keith Price (more on him in a bit), but let's not forget the impact Montgomery had on this outcome.
First he returned the opening kickoff 99 yards for a touchdown. Then he ended the first half with a 39-yard touchdown reception. And finally, after a Washington score, he came back from an injury to return another kick over 60 yards and set up another Stanford TD.
That is three Stanford touchdowns that Montgomery had a direct hand in, which is a ridiculous proportion considering it only scored four in total.
Who said this team is wanting for playmakers? It looks to me like they have one—and a very good one at that.
FINAL SCORE – Stanford 31, Washington 28
It's official, folks. Stanford holds off Washington 31-28, advancing to 5-0 on the season.
The Huskies get Oregon next in a brutal bit of scheduling.
Either they had an angle ESPN didn't show or … PAC-12 REFS.

— Stewart Mandel (@slmandel) October 6, 2013
At least it wasn't Glasses Ref...
WASHINGTON TURNOVER ON DOWNS
The call is overturned!
I actually agree, though that play is sure to be debated for the next day or two.
But Stanford is out there in the victory formation. The Cardinal have survived.
I think he trapped it, but not enough video proof yet to overturn.

— JB Long (@JB_Long) October 6, 2013
I feel the exact same way.
Pac-12 games always seem to come down to the refs, huh? Funny how that works.
HOLY KEITH PRICE.
The UW quarterback makes an unreal play in the backfield on 4th-and-10, buying time and delivering a first-down strike to Kevin Smith...
...or so it appears. The play is under review and it is VERY close.
If Hogan cuts inside, he has it. Brain freeze at the wrong time for Stanford.

— Matt Zemek (@MattZemek_CFN) October 6, 2013
For what it's worth, Hogan made an AWFUL block read on that 3rd-and-1.
Stanford is challenging a Kasen Williams catch but appears to be in the wrong.
Washington is at the Stanford 49 and time isn't THAT big of an issue.
WOW.
Stanford gets shut down on 3rd-and-1, and there was a holding penalty too, which stopped the clock.
Washington gets the ball back with 1:51 remaining and one timeout. It trails by three points.
Keith Price can become a legend.
Voters who move UW down for this potential loss, I just don't buy their logic. Huskies have proven most since Boise win.

— JB Long (@JB_Long) October 6, 2013
Couldn't agree more. These are two of the 15 best teams in America.
Period.
UW has all 3 timeouts left. That is huge

— Daniel Jeremiah (@MoveTheSticks) October 6, 2013
No need to onside kick for Washington, which has all three timeouts remaining.
Stanford gets the ball at its own 20 with 2:34 on the clock. If it milks things properly, one first down should ice it.
HUSKIES TOUCHDOWN – Stanford 31, Washington 28
Man. Every time I doubt Price and his thumb, they both prove me wrong.
Two amazing back-shoulder throws to Kasen Williams and Kevin Smith get Washington down to the one yard line. And from there, one quick screen to Mickens punches it in.
Win or lose, Washington's QB has made a big impression this evening. Oregon better start getting ready.
Washington gets the ball back but has to go, go, go.
Can Price's thumb hold up? He has just over three minutes to score twice on a blue-chip defense. That might be close to impossible.
For the record, Shayne Skov hurt his left knee in 2011. This time they were looking at right knee

— David Lombardi (@DavidMLombardi) October 6, 2013
For what it's worth, re: Skov's injury, it was not the same knee he injured back in 2011.
Phew.
There it is - Stanford's 29th consecutive game with a takeaway. #gostanford

— Stanford Football (@StanfordFball) October 6, 2013
The Cardinal's 28-game streak was in jeopardy, and Washington had been judicious with the ball all night. That couldn't have come at a better time.
There are just too many players on this defense. Even with Skov, an All-American, on the sideline, two All-Pac-12 guys step up and make the biggest play of the game.
HUSKIES TURNOVER
What a huge play by Stanford, pinned in its own red zone.
Trent Murphy gets a mitt on Price's pass, batting it straight up into the air, and A.J. Tarpley picks it off. Unbelievable stand!
Price just made, perhaps, the play of the drive, scrambling all over the field and picking up the first down on 3rd-and-5.
But he gets up with his thumb in obvious pain, which is something to watch not just tonight but also next week vs. Oregon.
Shayne Skov is also down on the field. He limps up at a brisk jog. More to come in him when we have it.
Gardner walks off. Stanford can't afford another injury hit on DL with Henry Anderson and Nwafor already out.

— David Lombardi (@DavidMLombardi) October 6, 2013
Gardner walks off the field, but gingerly.
It doesn't appear serious, which is very good news. The Cardinal are already thin along the defensive line. Gardner should be back soon, though.
Now it's Stanford's Ben Gardner down on the field, writhing in pain.
Hard to tell what's hurt, but this definitely slows down the Huskies' crazy-fast pace. Cue conspiracy theorists in 3, 2, 1...
(For what it's worth, he looks legitimately hurt. But what do I know?)
Per the ESPN broadcast, Keith Price has some sort of thumb injury. He's still out there playing, but he might have trouble gripping the ball.
Will that give him trouble? Doesn't look it. He throws a beautiful touch pass to Kevin Smith to convert a third down.
Stanford 3-and-out. Washington will get the ball back, still down 10.
Really weird ebb and flow to this game. Stanford always has an answer when Washington scores, but it can't get anything going after Washington punts.
Why can't they drive the nail into the coffin? Does this team just play better with its back against the wall?
5 sacks, 10 TFL for Stanford tonight. One can say that the pass rush has arrived.

— David Lombardi (@DavidMLombardi) October 6, 2013
Add this to "Stories of the Game," right next to Ty Montgomery and first-half Washington penalties.
Stanford's defense seems to force a negative gain just as often as it cedes a positive one. And this is a very good offense the Cardinal are punking.
Very impressive stuff.
Stanford sack on 3rd-and-long and the Huskies have to punt.
Why is that notable? Because, once again, Shayne Skov had the pressure. He's been a force rushing up the middle all night. Even if Vaughters technically got the sack, Skov made the play.
Washington's interior linemen have had no answer for him.
This article is
What is the duplicate article?
Why is this article offensive?
Where is this article plagiarized from?
Why is this article poorly edited?