Jacksonville Jaguars vs. St. Louis Rams: Live Score, Highlights and Analysis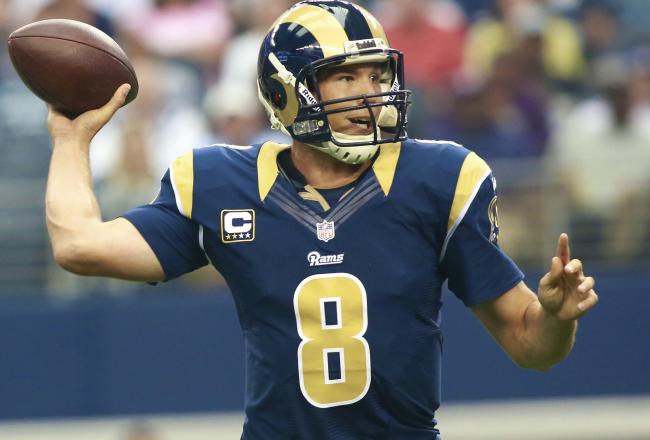 The St. Louis Rams have defeated the Jacksonville Jaguars 34-20, dropping the Jaguars to 0-5 for the first time in team history. The Rams move to 2-3, but it was far from an impressive win.
Alright folks, that's it for me this week. Thanks for joining me! Jacksonville heads to Denver next week where the spread should be the highest in the history of the NFL, so that'll be fun. The Rams head to Houston Week 6 to take on the Texans.
I'm off to watch the Seahawks-Colts now. Peace!
FOURTH QUARTER OBSERVATIONS: 1. QB play absolutely atrocious 2. Defense shaping up very well 3. We're going to Denver next week? /cries

— BCCGameday Tweets (@BCCGameday) October 6, 2013
Interesting nugget there at the end, Jags the first team since '86 Colts to lose their first 5 games by 10+ points

— BrentDaveStuart (@actionsports360) October 6, 2013
Rams' perspective...
Zac Stacy, Austin Pettis, Lance Kendricks, Mike Brockers, Quinn (sometimes), were the only guys that looked good today. At all.

— Nick Page (@NFLDraftPage) October 6, 2013
Damn...
Jaguars coach Gus Bradley to Rams coach Jeff Fisher at midfield: "yeah, I think he broke it." Assume he's talking about LT Luke Joeckel

— Mark Long (@APMarkLong) October 6, 2013
2-3 is much more salvageable than 1-4 for the Rams, but their defense didn't play very well, and their offense left a lot of points on the field. I don't see St. Louis challenging for a playoff spot, but they're still alive.
#Jaguars 0-5 and are minus-112 points, worst among the last 15 teams to start 0-5.

— Ryan O'Halloran (@ryanohalloran) October 6, 2013
The Jaguars are now 0-5 with Denver up next on the schedule. They also play at home against San Diego and will play the 49ers in London before the bye week, which can't come soon enough. I'm having trouble finding a win on the Jaguars' schedule this year.
And we end the game in the most embarrassing way possible

— Joey Farbo (@joeyfarbo) October 6, 2013
34-20 Rams, 1:48 4th Quarter
The Jaguars stop the Rams on third down, but they're inside the 10-yard line. Jacksonville commits an encroachment penalty on the field-goal attempt, which gives the Rams a first down and allows them to run out the clock. Good grief.
Jaguars run defense still hot garbage

— Joey Farbo (@joeyfarbo) October 6, 2013
34-20 Rams, 3:20 4th Quarter
Benny Cunningham trucked Jaguars defenders to pick up a first down and salt away the clock. This game is all but over.
34-20 Rams, 4:07 4th Quarter
Jacksonville goes for it on fourth down. They pretty much have to at this point. Henne goes for it with a man wide open, but he overthrows him by about five yards. Shorts clearly got held on that play, but no call.
Win or lose, Gus is making this team better. Ain't no way you can deny that. #JAXvsSTL

— BCCGameday Tweets (@BCCGameday) October 6, 2013
33-20 Rams, 5:45 4th Quarter
Sam Bradford goes up top for Austin Pettis, touchdown Rams! Great throw by Bradford. Pettis arm-barred Will Blackmon away from that ball, but no flag.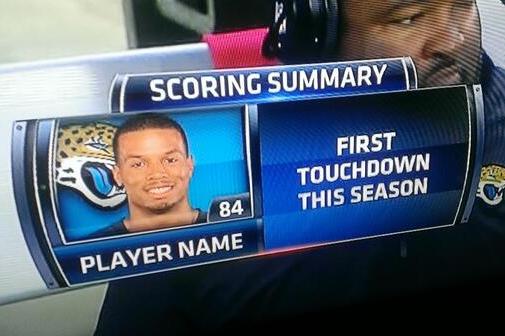 Oh hi, CBS...
27-20 Rams, 9:07 4th Quarter
Jacksonville is stacking the box, but the Rams continue to have success running the ball. They're up to 125 yards rushing now.
WE'RE COVERING THE SPREAD!!!!! WE'RE COVERING THE SPREAD!!!!

— Joe Fisher (@OchoFisho) October 6, 2013
27-19 Rams, 10:22 4th Quarter
Touchdown, Cecil Shorts! Shorts ripped the ball away from the defender. Henne's throw was behind him, but Shorts made a great play and got the Jaguars within one score.
27-13 Rams, 10:48 4th Quarter
Jordan Todman explodes up the middle for a nice gain to get the Jaguars inside the St. Louis 10. Another player is down with an injury... this one is previous defensive hero Matt Giordano. The Jaguars are flying downfield... this game isn't over yet.
27-13 Rams, 12:00 4th Quarter
St. Louis takes a time out... right after a time out.
27-13 Rams, 13:33 4th Quarter
Chad Henne is definitely moving the offense better than Gabbert was in the second and third quarters, but Gabbert was solid in the first quarter. Let's just agree that they're both really bad.
27-13 Rams, 14:47 4th Quarter
Zuerlein ends the Rams' drive with another field goal. St. Louis hasn't played very well, but the Jaguars have handed them plenty of points with turnovers and sloppy offense.
THIRD QUARTER OBSERVATIONS: 1. Will Blackmon is doing well 2. Jimmy Smith is not 3. At least it's not a blowout, right?

— BCCGameday Tweets (@BCCGameday) October 6, 2013
This article is
What is the duplicate article?
Why is this article offensive?
Where is this article plagiarized from?
Why is this article poorly edited?