BCS Rankings 2013: Schedule, Date, TV Info for 1st BCS Standings Release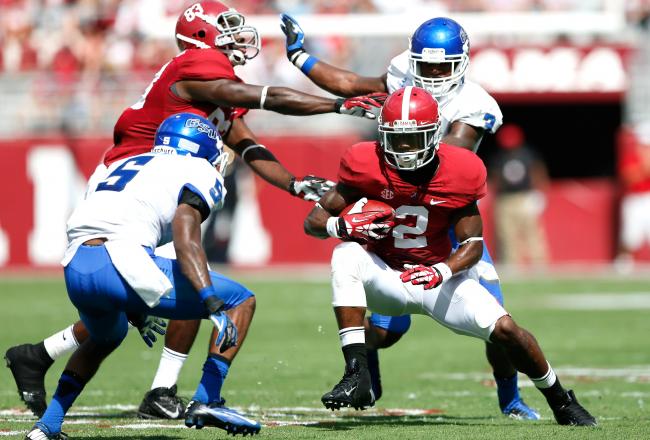 Kevin C. Cox/Getty Images
It seems almost quaint to remember a time when the BCS standings were the most controversial topic in college football. The algorithmic system that determines the best of the best in college football was once the source of more #HOTSPORTSTAKES than Johnny Manziel or hypocritical NCAA bylaw combined.
That conversation-generation period is rapidly drawing to a close. This year will mark the final season before college football adopts a four-team playoff system. The NCAA will then jettison the BCS off to the forgotten nether regions of the Bowl Coalition, with a committee taking over the selection process of selecting which teams will compete for the national title. Which, knowing how much folks love selection committees for the men's basketball tournament, should totally fix everything, you guys.
But before the BCS gets sent off to the Island of Misfit Determinants, it has one more season to infuriate the masses. The beginning of the end will start next Sunday, when the computers do their magical dance for the first time and release the initial BCS standings.
Now, we all know the initial BCS standings are only slightly more meaningful than the preseason rankings. They're based on result rather than assumption, but there are far too many games remaining to make them any sort of end-all-be-all for a team's season.
That said, the BCS is yet another reason for college football to enter the national lexicon. And who's going to get mad about that?
With that in mind, here is a quick look at how you can watch the initial unveiling of the rankings and a couple things to watch in the broadcast.
Event Information
Date: Sunday, Oct. 20, at 8:30 p.m. ET
Watch: ESPN
Stream: WatchESPN
What to Watch For
Just How Impenetrable Is Alabama?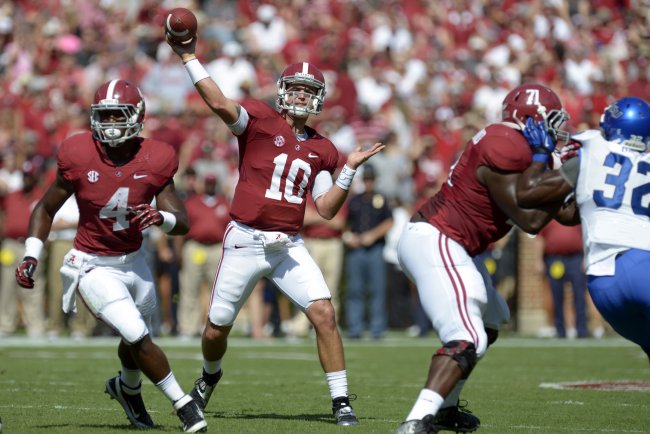 John David Mercer-USA TODAY Spor
Ask anyone east of Eugene which college football team they think is the best in the nation. No, really. Go ahead. It wasn't a rhetorical narrative device. I'll wait. Ask whoever you want.
They say Alabama? Well, good. They'd be right.
The Crimson Tide are and have been the most talented team in college football for the past half-decade running, and they've done nothing to ruin that reputation this season. Saturday's 45-3 win over Georgia State brought the nation's top-ranked team to 5-0 for the season, and it should have no problem retaining that spot when the poll results get released on Sunday.
The Tide received 55 of the 60 first-place votes in the Associated Press poll last week and 59 of the 62 in the USA Today football coaches poll. With not even half of the season passed, Alabama has a stranglehold on the voters usually reserved for end-of-season results.
More impressive is the fact that Alabama has mostly eschewed playing cupcakes thus far. Texas A&M is one of the nation's five or 10 best teams, Ole Miss was ranked when it played the Crimson Tide and Virginia Tech's only loss of the season came in its season-opener. Those are three quality teams, and the only one to come within 24 points was Texas A&M.
The next few weeks should be but mere foregone conclusions for the Tide as well. They take on Kentucky in Lexington next week and then host two tilts against Arkansas and Tennessee. While those once-great programs are technically Alabama "rivals," it's like comparing Coca-Cola to RC Cola—they're rivals in name only.
That should keep Alabama atop the rankings well into the future. But the question is how much of a cushion the Tide can get. They've been lucky recipients of BCS passes in the past, the computers will likely do their yearly fawning over A.J. McCarron and Co. next Sunday.
It's all about the margin at this point.
Will Ohio State's Terrible Schedule Come Back to Haunt It?
Jerry Lai-USA TODAY Sports
Let's answer that question early—yes, yes it will. The Buckeyes' cakewalk of an early slate will definitely prove a detriment, so much so that I'd be very shocked to see Ohio State ranked anywhere higher than fifth on the initial rankings. That's not accounting for the possible national friskiness for Florida State, which eviscerated a Maryland team that was in the Top 25 heading into this weekend.
The Buckeyes have two such wins on their resume with triumphs over Wisconsin and Northwestern each of the past two weeks. But they won those games by a combined 17 points. They needed a frantic fourth-quarter comeback to defeat Northwestern on Saturday night, in a game where both teams walked around blind and somehow found 70 total points while falling on their face.
Ohio State's other four wins? Yuck.
The team's FBS opponents have combined for six wins through as many weeks, and Florida A&M is 1-4 as a school in the MEAC. I'll give each of you who knows what the hell a MEAC is and whether I can die from it a dollar.
This isn't to discount what Ohio State has done as a team. The Buckeyes haven't lost since Urban Meyer took over and may have won the national championship last season had the BCS rankings favored an undefeated Ohio State team over one-loss Alabama. (I definitely would have picked Urban Meyer's team in a one-game playoff versus Notre Dame.)
But the reality of this team's situation is that it'll be held out of the title game again unless it gets help. The lack of nonconference threats will push the Buckeyes to the rear among undefeated teams, and that gap will only widen over the next month-and-a-half where they won't face one ranked squad.
It's literally impossible for all these teams to stay undefeated. And Ohio State probably has the highest odds of sticking in that conversation by virtue of the Big Ten's devolution into a cesspool of mediocrity.
If there are three undefeated teams? Well...Buckeyes nation better hope that the other is Fresno State.
Projected Initial BCS Standings

| | |
| --- | --- |
| Pos. | Team |
| 1. | Alabama Crimson Tide |
| 2. | Oregon Ducks |
| 3. | Clemson Tigers |
| 4. | Stanford Cardinal |
| 5. | Florida State Seminoles |
| 6. | Ohio State Buckeyes |
| 7. | Georgia Bulldogs |
| 8. | Oklahoma Sooners |
| 9. | Louisville Cardinals |
| 10. | UCLA Bruins |
Follow Tyler Conway on Twitter:
This article is
What is the duplicate article?
Why is this article offensive?
Where is this article plagiarized from?
Why is this article poorly edited?