Saints vs. Bears: Live Score, Analysis and Updates for New Orleans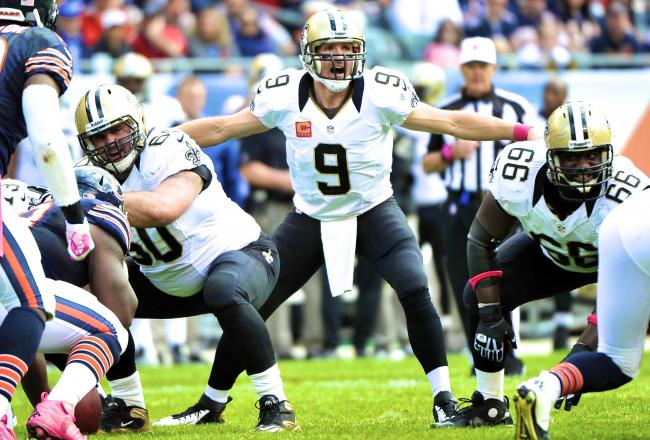 In what turned out to be a very entertaining game, the now 5-0 New Orleans Saints, defeated the 3-2 Chicago Bears by a score of 26-18.
The Saints uncharacteristically remained committed to run (despite the lackluster results), while implementing their normally explosive pass game. Drew Brees was an efficient 29-of-35 for 288 yards, with two touchdown and zero interceptions.
The defense was in bend but don't break mode as they gave up 358 yards through the air (10 receptions for 218 yards to receiver Alshon Jeffery). The Bears took a page out of the Saints' playbook as they only ran 14 designed run pays.
Wins are hard to come by in the NFL. Getting one—on the road—against a good team makes it even more special.
The Saints have another tough test on the road against the 4-1 New England Patriots next week. One I'm sure they can ace as well.
Thanks for following along for another one of my live blogs.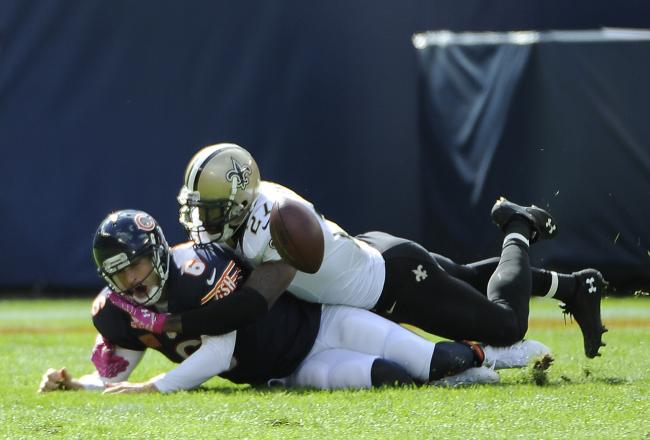 #Saints (5-0) keep proving they can win in different ways, even when they're not in comfort zone. Up next, at #Patriots (now 4-1).

— Mike Triplett (@MikeTriplett) October 6, 2013
This was a great test for both the New Orleans Saints and Chicago Bears. The Saints prove they have re-emerged as a major player with a balanced 26-18 win. The Saints did not run the ball effectively but they showed a commitment to it. The pass game was explosive and turnover free, Two things the Bears could not afford to happen.
The Bears now go back to the drawing board as they've now lost two straight after opening the season 3-0.
The Saints continue to pace the division (5-0), and are working on establishing the same status among the conference.
The Saints are going to have to field an onside kick here. Bears within 26-18, 2:11 left.

— Jeff Duncan (@JeffDuncan_) October 6, 2013
Saints recover the kick.
Brees is 29 of 35 for 288 yards & 2 TDs, 119 rating. But it looks like his streak of consecutive games w/300 yards passing will end at nine.

— Jeff Duncan (@JeffDuncan_) October 6, 2013
More.
The Bears with a TD pass to Marshall, followed by a two-point conversion by Matt Forte.
Saints 23, Bears 18
Cutler has all day to throw and delivers a 58-yd bomb to Alshon Jeffery to the NO 2. 1st & goal #Bears. #NOvsCHI

— Chicago Bears (@ChicagoBears) October 6, 2013
Alshon Jeffery continues to put on a show for the Bears.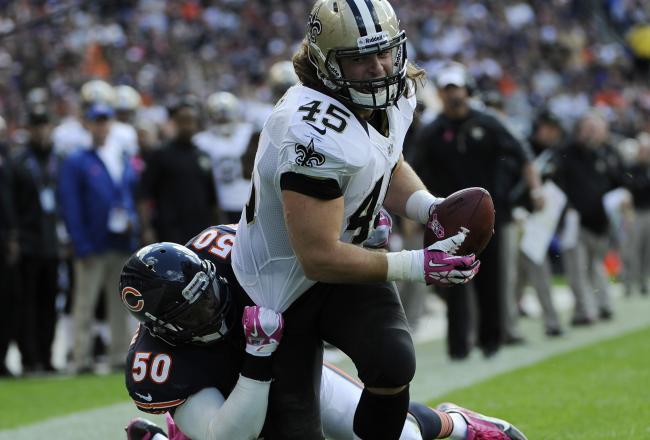 Saints finally get their first score of the second half. Of of a...Wait for it....Hartley field goal!
Saints 26, Bears 10
Pierre Thomas picks up only 2 yards on 3rd & 7. Saints will attempt a 48-yd FG with 3:06 left in the game. #Bears #NOvsCHI

— Chicago Bears (@ChicagoBears) October 6, 2013
more.
Lance Briggs rushes toward the line pre-snap and draws a neutral zone infraction penalty, giving the Saints a 1st down. #Bears #NOvsCHI

— Chicago Bears (@ChicagoBears) October 6, 2013
More.
The Bears defense looks ordinary without the forced turnovers.
The Bears are beginning to self-destruct. Two neutral zone infractions on one drive to help the Saints run out the clock.
Wow the Saints drew the Bears off-sides in my least favorite play. It works here, so I have ZERO problem with it.
The Saints have stalled out, and look to convert a 4th down.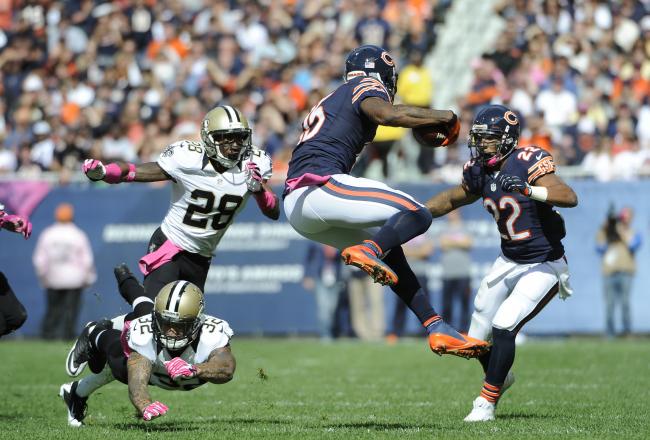 The Bears can't convert as Cutler delivers a strike to Earl Bennett that goes though his hands. 4th down failed. Time to run some clock off in the run game.
Great play by Saints corner Keenan Lewis as he breaks up the pass on 3rd down. The Bears will now go for it on 4th, although they are in field goal range.
The Bears running game is starting to pick up mightily. Both Forte and Michael Bush are gashing the Saints as of now. The Saints have to hold steady. They started playing a 3-3-5 to guard against the pass and the Bears are taking advantage of it.
Sensational punt by #Saints Thomas Morstead. 55 yards in the air, out of bounds at the 2. (plus holding on #Bears, backs up to 1)

— Mike Triplett (@MikeTriplett) October 6, 2013
More.
:41 seconds left in the third quarter
The Bears force a punt, and give themselves a chance to get back in this one.
Not a fan off off-tackle runs to convert third downs. Line up and go straight ahead. The Bears defense is way too fast for plays like that.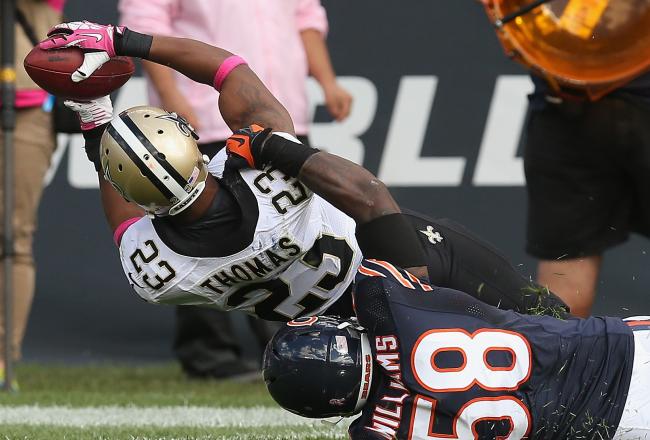 The Saints with a 3rd down conversion off of a draw from Sproles. The Saints are playing small ball here in the third.
the Saints have to answer back. They can't afford to get complacent.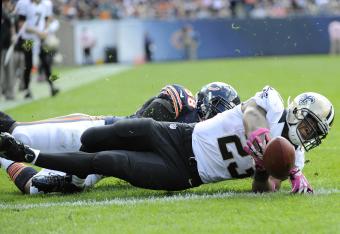 The Saints have scored on three consecutive series and own a 24:16-12:41 advantage in time of possession.

— Jeff Duncan (@JeffDuncan_) October 6, 2013
Stats.
The Bears can't convert as the Saints defense bends but doesn't break.
Saints 23, Bears 10
A rarity this year. #Saints give up deep pass. 42 yards to #Bears Jeffery vs. Greer down middle of field.

— Mike Triplett (@MikeTriplett) October 6, 2013
More.
Cutler with a 42-yard completion to Alshon Jeffery. Galette with the pressure but Cutler avoided it. The Bears are answering with a great drive of their own. They are inside the five yard line. 1st-and-goal
Nate Collins appears to have been injured on the play. He was down on the field, but is walking off on his own. #Bears #NOvsCHI

— Chicago Bears (@ChicagoBears) October 6, 2013
The Bears are have suffered an injury to their interior defensive line. Nate Collins, who had an earlier sack on Brees, appeared to have injured his knee.
This article is
What is the duplicate article?
Why is this article offensive?
Where is this article plagiarized from?
Why is this article poorly edited?