In a rivalry match, anything can happen.
Unfortunately for Guadalajara, their recent Liga MX struggles continued as Club America handed Chivas a 2-0 loss in the latest installment of El Super Clasico at the Estadio Azteca on Saturday night.
ESPN FC's Tom Marshall had this post as the score went final in Mexico City:
America 2-0 Chivas in Mexico's Super Clasico. Las Aguilas with 10 wins in 12 games in the Apertura, Chivas with 1 in 12.

— Tom Marshall (@mexicoworldcup) October 5, 2013
The two Liga MX giants have had starkly different seasons, a fact that can be seen with a quick glance at the Apertura standings. America sits at the top of the table with 31 points, while Guadalajara is in danger of relegation and near the bottom.
But Chivas was expected to bring their best effort to a match that has special meaning for fans of each club. Despite being just two points clear of last place in the table, Guadalajara had high hopes to reignite their season against America.
Suffice to say, those hopes were in vain.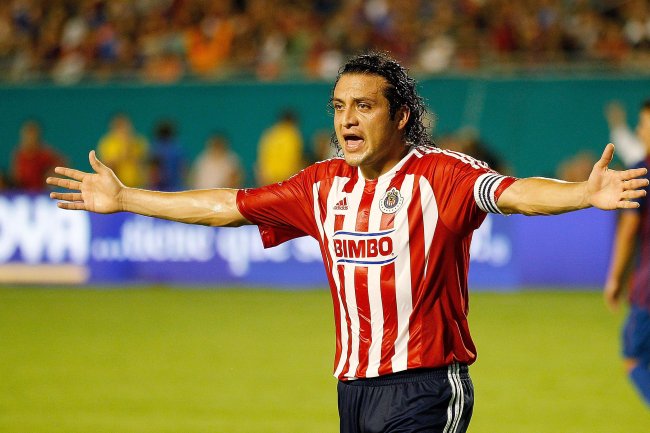 Mike Ehrmann/Getty Images
The home side used second-half goals from leading scorer Raul Jimenez and Luis Gabriel Rey in a span of just five minutes to turn a match that had draw written all over it into a commanding victory.
As the two most successful league clubs in Mexican history, Guadalajara and America both have 11 titles to their name. As noted by Marshall, America now has an inside track on No. 12 and the connected bragging rights:
America now in the liguilla and favorites to win the 12th title that would make Las Aguilas the most successful team in Mexico.

— Tom Marshall (@mexicoworldcup) October 6, 2013
23 points difference between America and Chivas in this Apertura. Chivas desperate for investment in squad. #statingtheobvious

— Tom Marshall (@mexicoworldcup) October 5, 2013
While the final score doesn't reflect it, Chivas played a match worthy of at least a draw. According to ESPN, Guadalajara won the time of possession battle, had just three shots less than America and had several quality scoring chances negated by Moises Munoz Rodriguez.
Simply put, the bounces just didn't go Guadalajara's way. The first half was littered with chances, but being unable to capitalize on those chances wound up costing Chivas when America showed off their depth in the second half.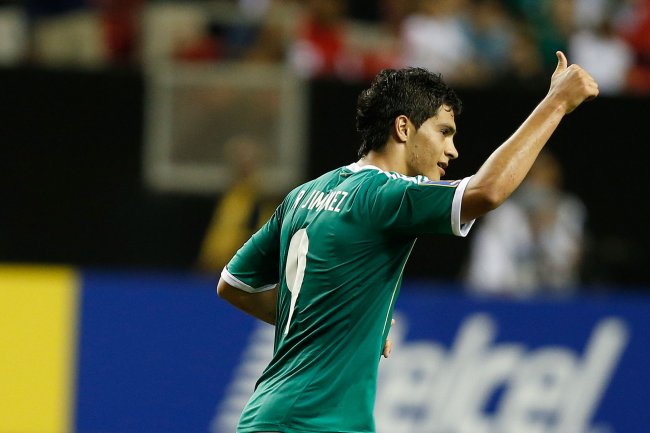 Mike Zarrilli/Getty Images
The first dagger came in the 69th minute, when Jimenez jumped high in the box to head home a goal past keeper Luis Michel. World Soccer Shop had this Twitter post as America took the lead:
GOAL! Aguilas' leading scorer Raul Jimenez's header puts #America ahead 1-0 in this #Clasico – in his Nike Hypervenoms! #tweetthecleat

— World Soccer Shop (@worldsoccershop) October 5, 2013
According to ESPN's Stats & Info, Jimenez is at his best against Chivas:
Club América def. Chivas Guadalajara 2-0 in Mexican Clásico. Raúl Jiménez had a goal and an assist. He has 3 goals in last 2 games vs GDL.

— ESPN Stats & Info (@ESPNStatsInfo) October 6, 2013
That statement would ring true again just minutes later, when Jimenez added an assist to his stat sheet by finding Rey for the game's second goal. It would be all the scoring America needed to take the wind out of Guadalajara's sails.
Though this year's El Super Clasico didn't have the extra curricular activities that have helped make the rivalry famous, the effort from both sides was evident from the start. Regardless of table standings, these two clubs are going to play a heated match.
America's depth and ability to weather the early stormed proved to be the difference.
Follow B/R's Ethan Grant on Twitter.