West Virginia vs. Baylor: Live Score and Highlights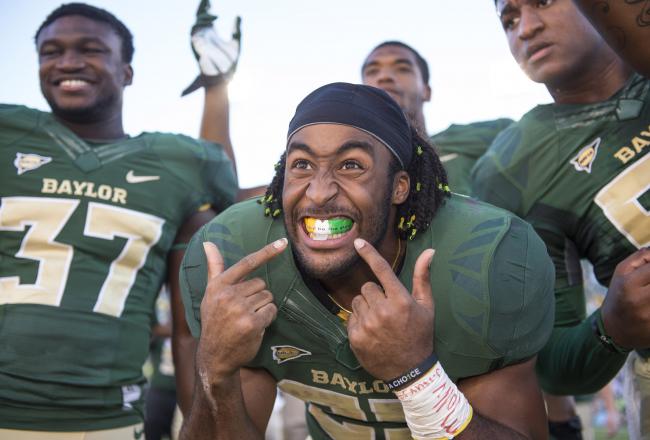 Jerome Miron-USA TODAY Sports
Baylor 73, West Virginia 42—Final

Baylor's offense rolls over the West Virginia defense. The Bears nearly got 900 total offensive yards in this one and pulled their starters at halftime.
You have to admire West Virginia though. They never quit and continued to work throughout.
Baylor certainly looked like potential Big 12 Champs tonight, but we'll have to see how they do as they move onto tougher conference matchups.
Keep it here for live updates and analysis.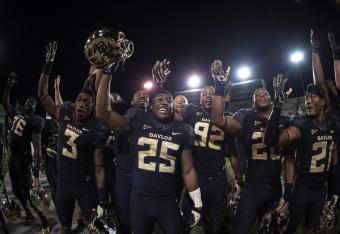 As promised, here's my "10 Things We Learned" piece. Hope you enjoyed this Baylor - West Virginia matchup. Thanks for reading!
Baylor went ham today

— Macklemore jr. (@give_me_a_clow) October 6, 2013
I'll leave you with this quote to perfectly sum up tonight's game. Be sure to come back and check out my "10 Things We Learned" post, coming shortly.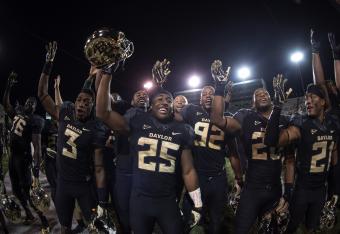 Baylor has to go to Kansas State next week, then gets Iowa State at home, followed by Kansas on the road. Then the real season begins.
The Bears should be 7-0 before their homestand against the Oklahoma Sooners, which is the start of a tough five-game run that includes Oklahoma State, Texas Tech, Texas, and TCU.
Obviously they have a long ways to go, but this team might have the best chance of any in the Big 12 to go undefeated.
Baylor had 864 yards of total offense, breaking the Big 12 single-game record. Previous record was 807 by West Virginia in 2012 vs Baylor.

— ESPN Stats & Info (@ESPNStatsInfo) October 6, 2013
ESPN notes that this was a Big 12 record for single game yardage tonight by the Baylor Bears.
Bryce Petty, when told Baylor put up school-record 864 yards: "Good grief, really?"

— Max Olson (@max_olson) October 6, 2013
Not even Bryce Petty can believe his team's dominance!
Clint Trickett may have only thrown for 161 yards and a score, but you had to like the gutsy performance by the young man if you're a WVU fan.
Trickett was obviously nursing an arm injury throughout this one; however, he continued to chunk the ball deep, trying to get his team back in the game.
In fact, the whole West Virginia team played tough. Charles Sims, in particular, came up with some big runs in the second half in route to a 92-yard performance by the back.
You hesitate to praise a defensive player after giving up 73 points and almost 900 yards of offense, but Darwin Cook made some big plays for West Virginia. He had a nice interception in the third quarter and then took another back after Travis Bell lateraled it to him.
Obviously, a lot of the good things the Mountaineers did came in the second half, after Baylor pulled it's starters. That said, they never quit and that's saying something for team that was being killed pretty much throughout.
#Big12FB: Final - @BUFootball 73, @WVUFootball 42. Baylor records 872 total yards on offense.

— Big 12 Conference (@Big12Conference) October 6, 2013
The Baylor Bears look like potential Big 12 Champs after this one. Any member of their first string offense could be Big 12 Player of the Week after the onslaught they produced against West Virginia.
Bryce Petty was his usual dominant self and could be the Big 12's best quarterback. However, the running back trio of Lache Seastrunk, Shock Linwood, and Glasco Martin were probably the most impressive.
Seastrunk continued to show why he's a Heisman contender by rushing for 172 yards and two TDs in a half. Linwood "shocked" the Mountaineers by putting up 126 yards and a score, mostly in the second half. Martin was the quietest of the three, but still managed to get in the end zone twice.
All in all, it was just another day at the office for the prolific Baylor offensive attack.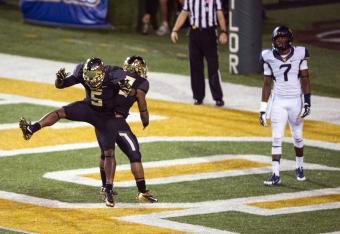 Baylor 73, West Virginia 42—Final
And this one is officially over. Baylor's offense will dominate the headlines and rightfully so. However, you have to give some credit to West Virginia for competing throughout this one.
Anthony Webb does his best to try and become the seventh Baylor player to score a touchdown, but can't quite get there.
Baylor sacks Paul Millard on fourth down. Baylor gets the ball in WVU's territory. Will Art Briles go for 80 points or just kill the clock?
Adam Pankey is given a targeting penalty for hitting a defenseless player with the crown of his helmet. Pankey is ejected and will miss the first half of next week's game.
Onside Recovery!
West Virginia recovers a somewhat surprising onside kick. You have to hand it to Dana Holgorsen for getting his team to keep competing in this one.
Why is Baylor throwing up by 38 with three minutes to go? Bears deserved to have that pick six against them.

— Danny Flynn (@IrishPugilist) October 6, 2013
Baylor 73, West Virginia 42
That was a really terrible throw by Seth Russell on the pick-six. Not sure who he was throwing to.
Interception!
Travis Bell picks Seth Russell off and laterals the ball to Darwin Cook who scampers in for a touchdown. You have to respect WVU for continuing to compete even though they're getting blasted.
Baylor forces West Virginia to punt. Can the Bears get to 80? They'll need to drive 98 yards to do it.
Baylor is the first team to score at least 70 points in 3 straight games since LSU in 1930 .

— ESPN Stats & Info (@ESPNStatsInfo) October 6, 2013
Baylor 73, West Virginia 35
Baylor's offense is just on another planet this season.
Baylor has set the school record for total offense in a game with 827 yards. #AmericasTopOffense #SicWVU

— Baylor Football (@BUFootball) October 6, 2013
Touchdown!
Seth Russel waltzes in to finish off an impressive Baylor drive.
Just when you think Art Briles has completely called off the dogs, Seth Russell throws a 36-yard bomb to Robbie Rhodes, followed by a 24-yard run by Devin Chafin.
#WVU with a couple of late scores. Millard TD pass to White makes it 66-35 #Baylor

— Connor Murray (@ConnorKMurray) October 6, 2013
Baylor 66, West Virginia 35
Paul Millard has looked very good in these last few drives. Granted, it's against Baylor's second string, but he seems to have a connection with Kevin White.
Touchdown!
Paul Millard with a pretty touch pass to Kevin White for the touchdown. White's quietly having a very good night: 130 yards, 2 TDs.
Baylor is erring backing off the gas pedal.

— Royal Randy (@RoyalRandy) October 6, 2013
Interception!
Darwin Cook (who almost got ejected from this game earlier) picks off Seth Russell. West Virginia with the ball in Baylor territory.
Still flinging it downfield, West Virginia scores on a 43-yard TD pass to Carswell. It's 66-28, Baylor, with 10:48 to go.

— Brice Cherry (@BriceCherry) October 6, 2013
Baylor 66, West Virgina 28
WVU's trying to get back in it, but this one's over.
Touchdown!
Ronald Carswell makes a great catch to get West Virginia another score. Looked like a bit of a push-off there by the receiver, but I doubt anyone is really complaining.
Prince Kent's interception of Paul Millard is negated by an offsides penalty. Millard tosses for a big gain directly after.
It looks like Clint Trickett is finished for the night. Gutsy effort by him, playing with what looked like an injured arm all night.
Aaron Jones misses a 37-yard field for Baylor. Not that it matters at this point.
This article is
What is the duplicate article?
Why is this article offensive?
Where is this article plagiarized from?
Why is this article poorly edited?