Arizona State vs. Notre Dame: Live Score, Analysis and Results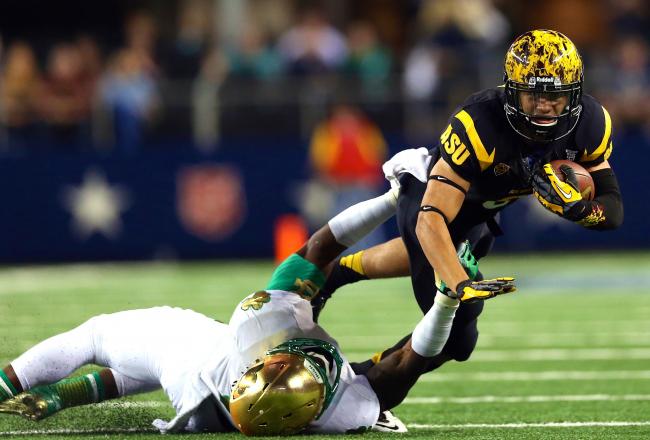 Notre Dame 37, Arizona State 34—FINAL

Notre Dame has defeated Arizona State in the Irish's annual Shamrock Series game, which took place at AT&T Stadium in Arlington, Texas.
The victory brings the Irish to 4-2 on the season, while the Sun Devils drop to 3-2.
For live scores, analysis and results of this contest, keep it here at Bleacher Report.
Thanks for following this evening, everyone.
And make sure to check out the ten things we learned in Notre Dame's win against Arizona State.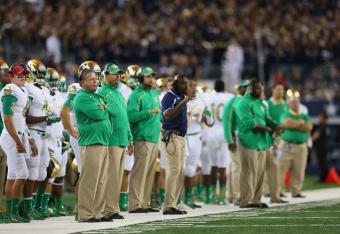 Notre Dame 37, Arizona State 34—FINAL
Alright, everyone, it's a final.
Notre Dame defeats Arizona State, 37-34, bringing its season record to 4-2. The Irish earned the victory by way of its rushing attack, which accumulated 146 rushing yards on the evening.
On the flip side, the Irish defense did its part by limiting the Sun Devils to just 55 rushing yards on 25 carries, forcing quarterback Taylor Kelly to throw the ball 47 times. He completed 33 passes for 356 yards and three touchdowns. However, Kelly tossed a devastating interception late in the fourth quarter that was returned for a touchdown by Irish linebacker Dan Fox.
The game was essentially a 10-point difference, though Arizona State scored a garbage-time touchdown to come within three.
The game didn't end without bad news, though. Inside linebacker Jarrett Grace and receiver Daniel Smith each left with serious injuries during the game, though how long each will be out of action has yet to be determined.
Make sure to check back soon for 10 things we learned about the Irish's win against Arizona State.
Notre Dame 37, Arizona State 34
The Sun Devils score a garbage-time touchdown, as only 11 seconds remain in regulation.
Notre Dame 37, Arizona State 27
Notre Dame linebacker Dan Fox picks off Taylor Kelly and takes it to paydirt to seal this game for the Irish.
The good news for Notre Dame is that Matthias Farley downed Kyle Brindza's punt on the Arizona State 1-yard line, forcing the Sun Devils to, primarily, the length of the field.
That's one of the worst decision Rees has made all evening. Even taking a sack there would have kept the clock running, but Rees decided to throw the ball out of bounds. That questionable decision-making will put the Irish in hot water unnecessarily.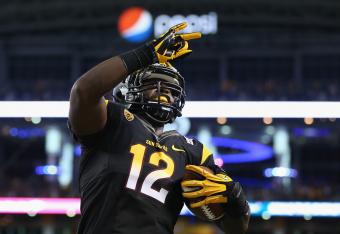 Arizona State is going to burn all three of its timeouts on this drive, but I don't think that's enough to save the day. But I suppose I shouldn't speak too soon.
OK, I was right. That's ballgame. Matthias Farley makes up for the missed tackle that allowed a touchdown earlier by picking off Taylor Kelly and taking it deep into Sun Devil territory.
That has to be the game there, folks. Deep in their own territory, the Sun Devils suffer a three-and-out and are forced to go for it on fourth.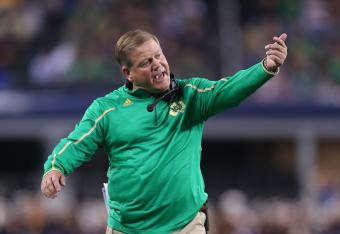 Notre Dame 30, Arizona State 27
I would have liked to have seen a pass interference call on the third down pass intended for DaVaris Daniels, but the Irish will settle for the field goal, which Kyle Brindza chipped in.
I hate the approach of burning clock in this situation. It's a tie game. You have to go for seven without question.
It's officially the Cam McDaniel show, everyone. It's really a joy to watch this kid play.
That's just Notre Dame doing Notre Dame things.
#NotreDame has had the momentum for the majority of the game. Two massive plays (interception and 3rd-and-20 conversion) nullify it all.

— Rachel Terlep (@eTruth_Irish) October 6, 2013
Notre Dame 27, Arizona State 27
Matthias Farley misses the tackle on the left hash, allowing the Sun Devil touchdown.
Arizona State converting that 3rd-and-20 puts the Sun Devils in business. We certainly have a ballgame here, folks.
And he got his bell rung on that run.
Hometown hero Cam McDaniel's 29-yard run is a career long.

— JJ Stankevitz (@JJStankevitz) October 6, 2013
Notre Dame 27, Arizona State 20
Kyle Brindza knocks in his second field goal of the game, putting Notre Dame ahead by a touchdown.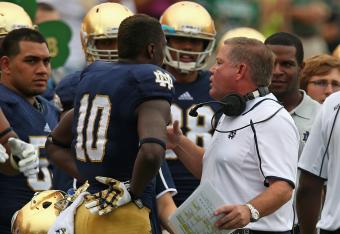 DaVaris Daniels continues to show flashes of brilliance, particularly right there. When he can gain consistency, he'll be a truly dangerous receiving threat who won't disappear for multiple games.
Seconded. Most definitely.
And right in the middle of 2012 happening again, 2013 happens again.

— Brian Hamilton (@ChiTribHamilton) October 6, 2013
Notre Dame 24, Arizona State 20
Tommy Rees' first bad decision of the evening leads to the Arizona State touchdown, effectively letting the Sun Devils right back into the game.
That's disappointing for Irish fans, who were likely hoping to see their team walk away with a resounding victory.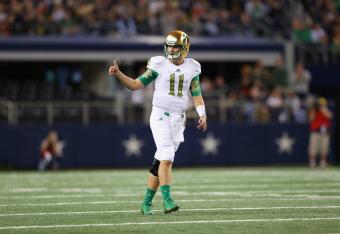 Sure, Tommy Rees has thrown for three touchdowns today, but do take into account his accuracy—the senior has completed just 15 of his 32 passing attempts.
Accuracy continues to be an issue for Rees, who is currently sits with a completion percentage of 53.
Notre Dame 24, Arizona State 13
Tommy Rees connects with tight end Troy Niklas to put the Irish ahead three scores. I suppose my doubts about the offense have been silenced. For now.
The work of the Irish defense in practice of stripping the football shows there, as cornerback Bennett Jackson strips the receiver, which linebacker Dan Fox recovers. This is huge in terms of field position for the Irish, who could go up three scores here.
This is true.
#NotreDame continues to call out the #ASU blitzes. You could actually hear Rees on TV.

— Edmund Hubbard (@Edmund_Hubbard) October 6, 2013
I think that's a good catch. As NBC stated, a receiver is allowed to reestablish himself in bounds if he is pushed out.
This article is
What is the duplicate article?
Why is this article offensive?
Where is this article plagiarized from?
Why is this article poorly edited?

Notre Dame Football: Like this team?