Georgia needed overtime to survive a difficult road game against Tennessee, escaping by a score of 34-31.
Running back Rajion Neal had a big showing for the Volunteers, totaling an impressive 148 rushing yards and two touchdowns. Unfortunately, the home team could not hold on for its first win over a Top 10 team since 2006.
Tennessee held a seven-point lead late, but Georgia quarterback Aaron Murray led an impressive drive while trailing in the closing minutes of the fourth quarter for the second week in a row. He finished with 196 passing yards and three touchdowns with no interceptions.
He also hit an impressive milestone in the second quarter, according to ESPN Stats and Information:
Georgia QB Aaron Murray has passed former Georgia QB David Greene for the most career passing yards in SEC history.

— ESPN Stats & Info (@ESPNStatsInfo) October 5, 2013
This is no small accomplishment considering the SEC has been arguably the best conference in football over the past decade. The four-year starter has been productive throughout his career and can now stake a claim among the best ever to play the position.
Meanwhile, it was not all good news for Georgia. The team suffered some devastating injuries, including one to Keith Marshall, who was carted off the field. As SportsCenter notes, the other issues in the backfield make this issue worse:
INJURY UPDATE: Georgia RB Keith Marshall is out of game w/ an apparent right knee injury. He was starting in place of injured Todd Gurley.

— SportsCenter (@SportsCenter) October 5, 2013
While Todd Gurley could be back soon, Marshall's injury appeared to be more serious, although no official announcement will be made until Sunday. The team suffered injuries to other key players as well, according to Stewart Mandel of Sports Illustrated:
Gurley, Marshall, Bennett, Scott-Wesley all out for Georgia now.

— Stewart Mandel (@slmandel) October 5, 2013
Even punter Collin Barber was concussed during the game and needed to be replaced.
The injuries are certainly a big concern moving forward, but the team had a number of backups step up to fill the void. J.J. Green was especially impressive with 129 rushing yards.
The Bulldogs defense was dominant early, preventing Tennessee from getting too much done in the first half. The Volunteers could only manage a field goal, while two Murray touchdown passes gave the road team a 17-3 lead at halftime.
However, the Volunteers made a big push to keep this game competitive in the second half. A great pass and catch from quarterback Justin Worley to receiver Marquez North cut the lead to seven halfway through the third quarter.
Tennessee then kept the momentum going with a blocked punt returned for a touchdown to tie the game at 17.
Murray answered right back by doing it himself on a career-long 57-yard run.
This play set up a three-yard touchdown run by Brendan Douglas to put Georgia back on top, although this did not last long. A nine-play, 75-yard drive helped Tennessee tie the game once again at 24.
The Volunteers finally earned the lead with 1:54 to go thanks to one of the most impressive drives you will ever see. The offense went 80 yards on 13 plays, including two fourth-down conversions, in almost seven minutes of game time.
Of course, this left plenty of time for Georgia, which drove back down the field in less than two minutes to tie up the game. ESPN College Football recapped the tying play:
In overtime, Tennessee appeared to score a go-ahead touchdown, but a review showed that Alton Howard lost the ball into the end zone, resulting in a touchback.
Georgia then ran three conservative plays before Marshall Morgan kicked the game-winning 42-yard field goal.
Looks like OT in Knoxville. Its Murray-to-Wooten as #Georgia scores w/ :05 left to knot it up 31-31 w/ #Tennessee.

— ESPN CollegeFootball (@ESPNCFB) October 5, 2013
While the Volunteers can be proud of themselves for keeping the game close, it is always better to get wins. For the Bulldogs, the victory keeps their national championship hopes alive as they improve to 4-1 on the year.
Head coach Mark Richt had this to say after the game:
Everybody get ready for Missouri. We are going to need you!! Im exhausted. I think I'll take a nap now. Go Dawgs!!

— Mark Richt (@MarkRicht) October 6, 2013
Grades
Aaron Murray, Georgia: B+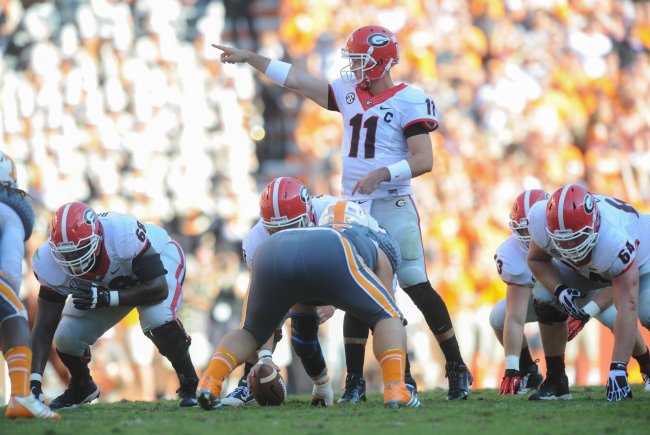 Randy Sartin-USA TODAY Sports
After a relatively slow start to the game, Murray came through when the team needed him the most. He led a touchdown drive to keep his team alive in regulation before the squad pulled through in overtime.
The quarterback did not have his best game statistically, but he has become someone who can be trusted to lead his squad to victory late.
J.J. Green, Georgia: A
Georgia was light on playmakers on Saturday with Gurley and Marshall out. However, Green was the next man up in the offense and came through with an impressive performance against the Vols.
The freshman—who only had five carries in his career prior to this game—finished with 129 yards on 17 carries. The team needed him in this game, and it might need him to keep up this productivity in the coming weeks as well.
Justin Worley, Tennessee: B+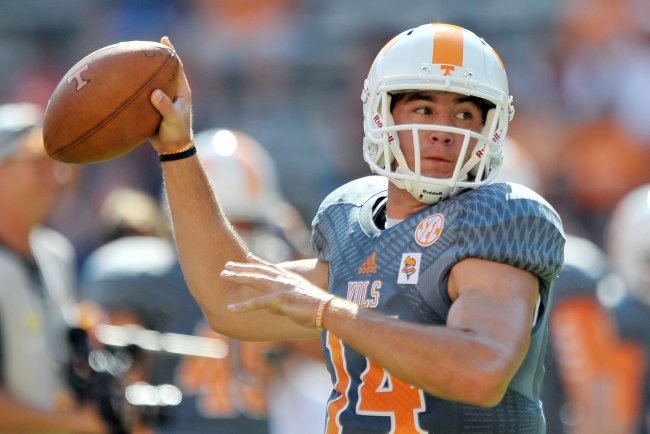 Jim Brown-USA TODAY Sports
The statistics were not great. Worley only completed 17 of his 31 passes for a total of 215 yards. However, he came through on the big plays when his team needed it, and he gave the Volunteers every chance to win.
While the squad just came up short, this was still a solid performance from the young player.
Rajion Neal, Tennessee: A+
The senior running back is one of the major reasons Tennessee was even in this game to begin with. Neal topped 100 yards for the third time this season, and he was a dominant force for all four quarters.
On a day where the Volunteers struggled to move the ball through the air, Neal helped the offense dramatically.
What's Next?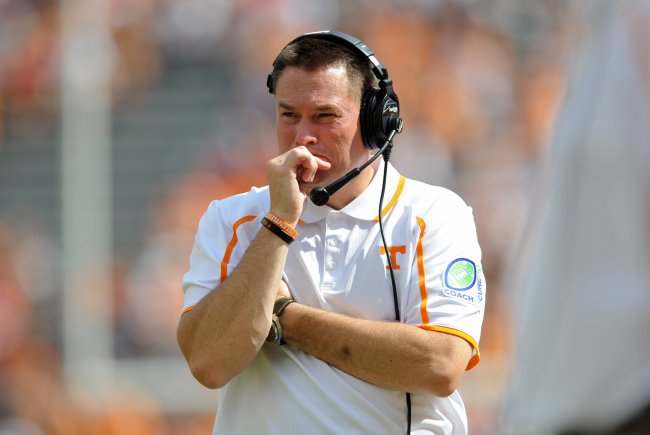 Randy Sartin-USA TODAY Sports
Georgia returns home next week for another SEC East battle, this time against Missouri. Tennessee will get a week off before hosting another highly ranked team, South Carolina. The brutal stretch will then be capped with a road game at Alabama the following week.
Follow Rob Goldberg on Twitter for the latest breaking news and analysis.