Arkansas vs. Florida: Live Scores and Highlights
Florida 30, Arkansas 10—FINAL
The Florida Gators knocked off the Arkansas Razorbacks in the first meeting between the two teams since 2009, a critical SEC cross-divisional contest.
Florida now extends it's lead in the series to 9-1 all-time, and the Razorbacks are still winless in conference play and in Gainesville.
Make sure you check out our final wrap up as we discuss the 10 things we learned about this Florida Gators team from this conference win over Arkansas.
Keep those comments coming, and remember to follow @BR_CFB and @davidrluther on Twitter!
That's going to wrap up our live blog. Make sure you check back for our link to 10 Things We Learned About Florida after today's victory.
Bleacher Report will have all of your breaking college football coverage from Week 6, and you can follow me on Twitter, @davidrluther, too!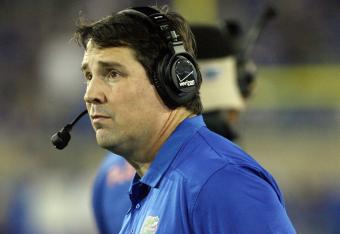 South Carolina is up next for the Hogs while the Gators make the always dangerous trip to Baton Rouge to take on LSU.
Arkansas can make an important statement about the direction of the program while Florida will be seeking to silence SEC-East title naysayers with a strong showing against a team chasing its own divisional title.
As for the Razorbacks, the defense certainly has some holes that were exposed by the Gators. The corners are vulnerable, as we saw Murphy exploit the out routes all evening long.
It's also tough to win games when your quarterbacks are a combined 17-of-44 for 164 yards and no touchdowns (with one interception).
Florida's defense did a good job of containing the Arkansas receivers, but on the occasions when a Razorbacks receiver did get some separation, it was an almost guaranteed drop.
Perhaps the lone bright spot for the Hogs was the running game. While there weren't any stupendous individual performances, as a team Arkansas put up 111 rushing yards (and 1 TD) on one of the nation's best run defenses. In fact, coming into today, Florida was giving up fewer than 55 yards on the ground per game.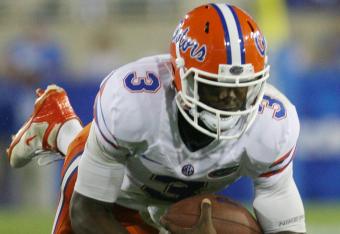 Florida's defense wasn't quite as stout as we've seen so far this season, but the offense showed some impressive improvements, scoring 30 points on an Arkansas team that fields its own suffocating defense.
Tyler Murphy is the real deal and brings a dual-threat at the position Florida fans haven't seen since Tim Tebow. While certainly not as electrifying as Tebow was, Murphy is definitely cause for excitement among the Florida faithful.
Final stats via NCAA.com...
| | ARK | FLA |
| --- | --- | --- |
| 1st Downs | 17 | 18 |
| 3rd down efficiency | 6-17 | 5-13 |
| 4th down efficiency | 0-1 | 0-0 |
| Total Yards | 275 | 355 |
| Passing | 164 | 240 |
| Comp-Att | 17-44 | 16-22 |
| Yards per pass | 3.7 | 10.9 |
| Rushing | 111 | 115 |
| Rushing Attempts | 29 | 41 |
| Yards per rush | 3.8 | 2.8 |
| Penalties | 8-57 | 8-84 |
| Turnovers | 2 | 0 |
| Fumbles lost | 1 | 0 |
| Interceptions thrown | 1 | 0 |
| Possession | 27:38 | 32:22 |
Florida 30, Arkansas 10—FINAL
Stay tuned for final thoughts, analysis and stats.
Florida may be one of the more unnoticed one-loss teams in the SEC this season. While today's victory wasn't dominating, it was a solid win over an Arkansas team that is clearly a better version of last season's incarnation.
Arkansas turns the ball over on downs.
Florida takes over and can simply run out the clock.
ESPN having some troubles with this game...
I know the #Gators are going to win, but I want to SEE IT happen!! No more technical difficulties please. #GoGata

— Emily Burris (@emilyburrisTV20) October 6, 2013
Sure, Florida's defense is playing a little softer now, but this is the best drive for the Razorbacks we've seen since the early first quarter.
If FBS wide receivers are getting a free education to catch footballs, the taxpayers of the state of Arkansas may not be getting their money's worth from the Razorbacks wide outs today.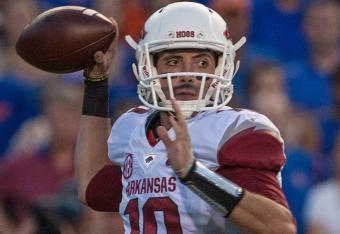 Soft pass coverage late in this game from Florida giving Arkansas some easy completions.
Still not enough to make those offensive numbers anything better than awful.
Once again, Arkansas helped out by a Florida flag.
That seems to be the only way the Hogs can get a first down these days.
Arkansas had us all fooled very early in this game. Came out throwing haymakers, taking an early lead by running all over the Gators.
Since the first half of the first quarter, however, it's been all Florida. It's just a formality from this point on.
TOUCHDOWN, Florida!
There's that dagger. Murphy to Valdez Showers for a nine-yard touchdown, and the Gators now lead 30-10 with just 4:47 left in the game (PAT no good).
Florida threatening, ready to drive a dagger deep into the heart of Arkansas.
I bet it does...
I love my razorbacks but watching this game physically hurts

— kendall hart (@the_kendallhart) October 6, 2013
A lot of hanging heads as Arkansas' offense walks off the field. The Hogs just don't have an answer for the Florida defense (or, more accurately, the Hogs' own inability to catch the football).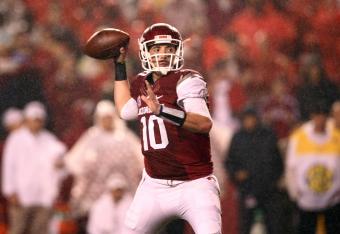 The Arkansas quarterbacks are now a combined 9-for-25 passing.
You won't win many games with those kind of numbers.
A bevy of flags and Arkansas ends up backed way up into their own end...
The cards are definitely staked against the Hogs here.
Another dropped pass for Arkansas.
I'd hate to be a receiver in the film room tomorrow.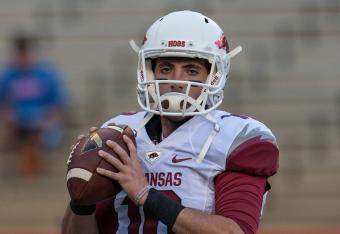 Brandon Allen back into the game for the Hogs...Can he lead them to a badly needed score?
Arkansas gets exactly what it needed from that defensive drive: three-and-out for the Gators.
Here's a replay of the injury to Will Hines' arm...
This could be a long-term injury, possibly the entire season.
The aftermath was epically gruesome...Let's hope there's no permanent damage.
This article is
What is the duplicate article?
Why is this article offensive?
Where is this article plagiarized from?
Why is this article poorly edited?