Where Does Georgia's Aaron Murray Rank Among All-Time Great SEC Quarterbacks?
Use your ← → (arrow) keys to browse more stories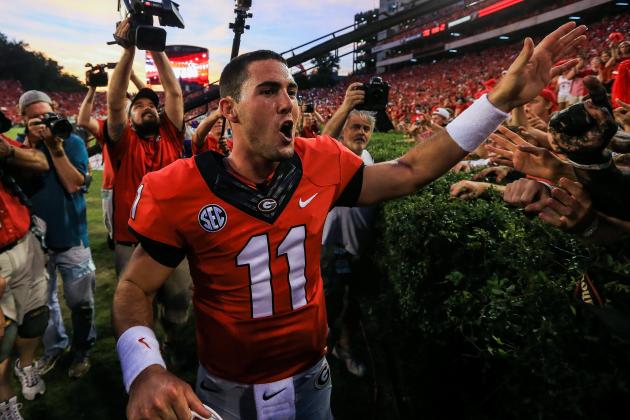 Daniel Shirey-USA TODAY Sports

Aaron Murray threw for 196 yards in a thrilling win at Tennessee on Saturday, bringing his career total up to 11,625 and passing former Bulldog David Greene for the most in SEC history.
Aaron Murray becomes the SEC's all-time leader in career passing yards, passing David Greene.

— ESPN_SEC (@ESPN_SEC) October 5, 2013
The feat is impressive for Murray, who, coming into this and last season, was the subject of some ill-judged criticism. Even with his high-volume totals, he was previously billed as someone who "couldn't win the big game," and his stock was devalued because of it.
Those judgements have been put to rest in 2013, when Murray and Georgia, despite losing the season opener at Clemson, have won big games over South Carolina and LSU. Murray has augmented his stats with a couple of high-profile wins, which begs an obvious question:
Where does he rank among all-time SEC greats?
Let's get this first part out of the way. Yes, Murray has the most passing yards in SEC history, but that by no means makes him its best all-time passer.
Even Aaron Murray doesn't think Aaron Murray tops that list.
B/R Featured Columnist Jake Martin ranked the Top 10 SEC quarterbacks of all-time earlier this year, and while his list is just one man's opinion—and shouldn't by any means be taken as gospel—it does provide a nice starting point for this debate.
Here's his list of 10, plus one honorable mention:
Jake Martin's Top 10 SEC Quarterbacks of All Time

| | | | | |
| --- | --- | --- | --- | --- |
| Name | QB Rating | Record | Heisman? | SEC Champ. |
| 11. AJ McCarron (ALA)** | 158.6 | 29-2 | No | 2* |
| 10. Johnny Manziel (A&M)** | 163.2 | 15-3 | Yes | 0 |
| 9. Tim Couch (UK) | 141.7 | 12-11 | No | 0 |
| 8. Pat Sullivan (AUB) | 129.4 | 26-7 | Yes | 0 |
| 7. Peyton Manning (TEN) | 147.1 | 39-6 | No | 1 |
| 6. Archie Manning (MISS) | 108.2 | 22-10-1 | No | 0 |
| 5. Steve Spurrier (FLA) | 123.7 | 22-9 | Yes | 0 |
| 4. Danny Wuerffel (FLA) | 163.6 | 45-6-1 | Yes | 4* |
| 3. Cam Newton (AUB) | 178.2 | 12-0 | Yes | 1* |
| 2. Joe Namath (ALA) | 125.7 | 29-4 | No | 1* |
| 1. Tim Tebow (FLA) | 170.8 | 35-6 | Yes | 1* |
| NR. Aaron Murray (UGA)** | 161.6 | 32-14 | No | 0 |
Source: Bleacher Report / Sports-Reference
*Won National Championship
**Still Active
It's hard comparing numbers from one era to another. Murray's yardage total is obviously inflated by the age he plays in and the fact that he's a four-year starter. It's important to look at the broader picture.
Right now, Murray could make an easy case for inclusion on that list. His profile, when adjusted for inflation, compares roughly with Tim Couch and Archie Manning, only with much more team success.
But he pales in comparison to the other men on that list, and it's not hard to see why. Football isn't all about stats—conference championships and prestigious hardware also serve to characterize a career.
Where Does Murray Rank Among All-Time SEC Quarterbacks?
There's a reason that Greene, the quarterback Murray passed on Saturday, isn't part of that discussion. And there's a reason that Manning and Couch, despite having had great careers, are still outside the top five.
Even after breaking the SEC yardage record, the book on Murray's legacy has yet to be written. How he and Georgia fare the rest of this season will determine where he ends up; his range of options is vast.
Drives like the clutch two-minute drill he executed at Tennessee on Saturday, stealing victory from the jaws of road defeat, can help cement his legend. But a banged-up team forcing him into that situation to begin with can destroy it.
The way we look on Murray's career is far from being decided.
He's already done enough, statistically, to be mentioned alongside guys like Couch. But he hasn't won enough—with regard to team or personal accomplishments—to be mentioned alongside the rest of that list.
If he had, though, and if does this season, the span of his successful career could vault him into the top five or three.