Minnesota vs. Michigan: Live Score and Highlights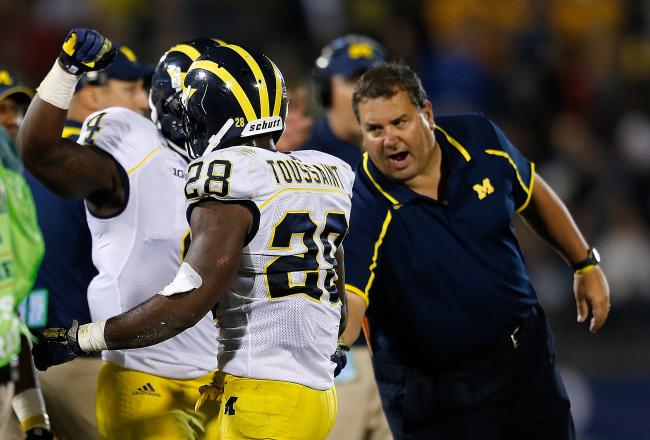 With a win over Minnesota, Michigan will move to 5-0.
Jim Rogash/Getty Images
Michigan 42, Minnesota 13 (Final)
Team 134 is 5-0, Brady Hoke is 18-0 at The Big House, and the Wolverines are owners of The Little Brown Jug after pummeling the visiting Minnesota Golden Gophers.
Fitz Toussaint led Michigan with 17 carries for 78 yards and two touchdowns. Derrick Green finished with a touchdown and 23 yards. Devin Funchess had seven catches for 151 yards and a 24-yard touchdown reception.
Devin Gardner threw for 235 yards; he was also turnover free for the first time this season.
Minnesota was led by quarterback Mitch Leidner, who rushed for 66 yards—the most that Michigan has surrendered to a quarterback this fall.
The Gophers haven't beaten Michigan since 2005. Michigan has won 21 of the past 22 meetings. Well, make that 22 of 23. Michigan now leads the all-time series with a mark of 73-24-3.
Don't forget to read about lessons learned from today's win.
Ondre Pipkins Injury Update
Michigan Radio: Left knee for Pipkins, wrapped up, doesn't look very good.

— Nick Baumgardner (@nickbaumgardner) October 5, 2013
Follow Bleacher Report's Michigan Wolverines football writer Adam Biggers on Twitter @AdamBiggers81.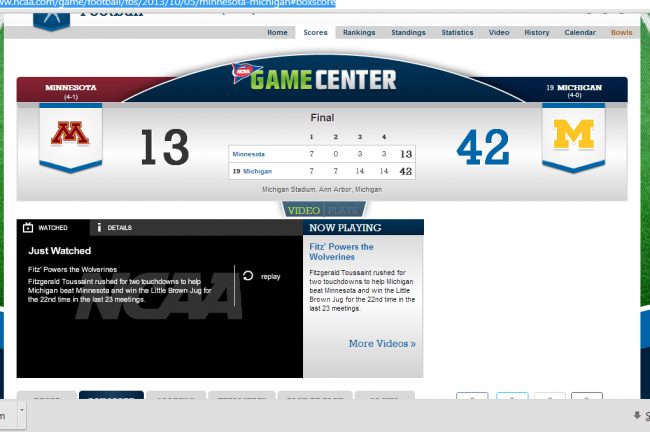 Michigan is 5-0 and entered Saturday at No. 19. Minnesota is 4-2 with two straight losses.
Michigan 42, Minnesota 13 (Final)
Team 134 moved to 5-0 with a statement homecoming victory over the visiting Minnesota Gophers.
Michigan's running attack still needs work. Other than a two-yard touchdown from Derrick Green, a freshman running back, and one from Devin Gardner, a redshirt junior, production on the ground was limited.
Green finished with 23 yards. Fitz Toussaint led the charge with 17 carries for 78 yards and two scores.
"We didn't run the ball well enough, but we did in spurts, which was great," said Wolverines coach Brady Hoke during a postgame sideline interview with ABC, later adding, "Our defense has to be better."
Gardner was turnover free for the first time all season—he threw for 235 yards and a touchdown (24 yards to Devin Funchess).
The Gophers hung in for most of the game (despite the lopsided score) because of quarterback Mitch Leidner, who rushed for 44 yards in the first half. He threw for 145 yards and one touchdown.
Michigan 42, Minnesota 13 (Late 4th Quarter)
Blake Countess has a team-high four picks this season. Add a 72-yarder for a touchdown on that list. Can you say "pick-six"?
Michigan 35, Minnesota 13 (Late 4th Quarter)
Offense has been slow today, but it's been somewhat steady. Now that Devin Gardner looks comfortable, Michigan looks capable. His two-yard touchdown was his first rushing score of the day.
Don't look now, but Devin Gardner has yet to throw one to the other guys. He's thrown eight picks this season, compared to only five in five games during his relief duties in 2012.
Michigan Radio: Left knee for Pipkins, wrapped up, doesn't look very good.

— Nick Baumgardner (@nickbaumgardner) October 5, 2013
Pipkins Update
Ondre Pipkins' condition is being reported by Michigan football radio. MLive.com's Nick Baumgardner is spreading the news to the masses.
Great punt coverage by Minnesota's Antonio Johnson, who stopped Drew Dileo from breaking a nice run. Four-yard return, Michigan is cruising...
Minnesota coach Jerry Kill has had five seizures since 2011. His health is a major issue.
Michigan 28, Minnesota 13 (Mid 4th Quarter)
Chris Hawthorne's 27-yard field goal is all the Gophers got out of their last drive. Minnesota has to act quickly if it wants to down Michigan, which hasn't lost at home under Brady Hoke (17-0).
The best thing for #Michigan so far today is the fact Gardner is on his way to completing his first start w.out a turnover #MINNvsMICH

— Zach Dirlam (@Zach_Dirlam) October 5, 2013
Bleacher Report's Zach Dirlam made a great observation about the game with this tweet.
Minnesota running back David Cobb has been a no-show today, but he came up rosy with a huge three-yard gain on 4th-and-1.
And Maxx Williams continues to dominate Jarrod Wilson. Ouch.
Michigan better hope Jake Ryan can run. They need someone to chase these tight ends.

— Mark Snyder (@Mark__Snyder) October 5, 2013
Mark Snyder of the Detroit Free Press makes a good point. Minnesota's tight ends, particularly Maxx Williams, have been trouble for Michigan, which needs Jake Ryan back in the fold ASAP.
Injury Report
Michigan D-lineman Ondre Pipkins was escorted off the field after an apparent injury. As a true freshman this past season, Pipkins suffered a neck injury while lifting weights. Hopefully he's OK. Injuries aren't fun.
Minnesota quarterback Mitch Leidner had 44 rushing yards at halftime. As of now, he's at 46 yards. The Wolverines caught on (and so did defensive coordinator Greg Mattison) to old Mitchy's ways, apparently.
Michigan 28, Minnesota 10 (Early 4th Quarter)
Fitz Toussaint's 12-yard touchdown run has the Wolverines in cruise control. Left tackle Taylor Lewan has lined up at right tight end during at least two running plays.
Maybe offensive coordinator Al Borges is on to something?
Michigan Man Marcus Ray & beloved former coach, Lloyd Carr, Go Blue Tailgate. #MichVoice#umichfootball#umalumni pic.twitter.com/KdFVa4mkKA

— Jim Brandstatter (@brandymancan) October 5, 2013
Former Michigan standout defensive back Marcus Ray caught up with former coach Lloyd Carr at today's game. Nice to see the bond lives on years after the game is over.
Mr. Elusive himself has made an appearance: Drew Dileo's chain-mover set up a great pass from Gardner to Jeremy Gallon. The Wolverines are humming on this drive.
Michigan 21, Minnesota 10 (Late 3rd Quarter)
Chris Hawthorne's 44-yard field goal inches the Gophers three points closer to the Wolverines. Personally, I would have liked to see the Gophers go for the touchdown, but points are at a premium today (for them). Siding with caution was the best choice, but not the most entertaining.
Here's a link to Green's touchdown, via ESPN.
Correction: It was a two-yard score, not a four-yarder, as previously written. My apologies.
Fantastic play fake from Mitch Leidner to Max Williams. Leidner is calm, cool and composed, despite facing an OK push from Michigan's D-line.
Michigan has something with Devin Funchess, the wide receiver -- Minnesota corners can't cover that.

— Nick Baumgardner (@nickbaumgardner) October 5, 2013
MLive.com Michigan beat writer Nick Baumgardner knows the deal.
Michigan 21, Minnesota 7 (Early 3rd Quarter)
Michigan's 75-yard drive was capped by Derrick Green's four-yard touchdown run. No hesitation; the freshman just went for the Promised Land with one thing on his mind: Score.
I've tabbed Devin Funchess as Devin Gardner's safety net throughout the season. Funchess showed why with a (maybe) terrific catch near the goal line. Funchess has five (maybe four) grabs on the day.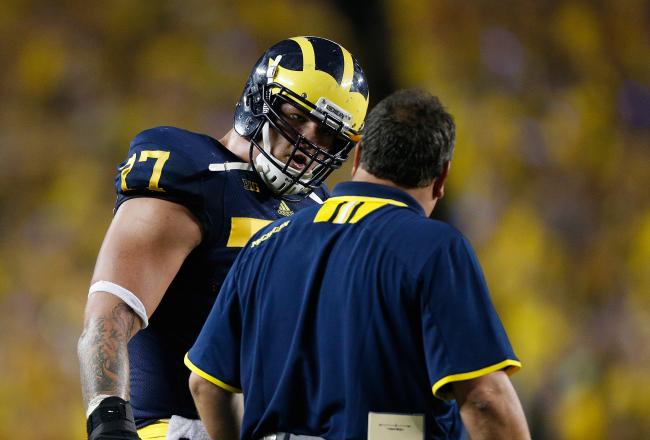 Taylor Lewan lined up as the right tight end during Derrick Green's six-yard carry. Never thought I'd see that. I'm scratching that off my bucket list. Thanks, Taylor.
ABC analysts are praising Fitz Toussaint, saying that he's "impressive" and "sees things well." Are they talking about the same Fitz we are watching?! Toussaint has been anything but impressive today (and all season).
Photo: #GoBlue#MichiganMarchingBand#CollegeFootball#BigTen#UniversityOfMichigan#Hail (at Michigan Stadium -... http://t.co/J2AsjJvr4I

— DocMissy✨ (@DocMissy15) October 5, 2013
Talk about a hashtag overload. But this photo from a Twitter user is nice shot worth noting.
This article is
What is the duplicate article?
Why is this article offensive?
Where is this article plagiarized from?
Why is this article poorly edited?