Detroit Lions vs. Green Bay Packers: Live Score, Highlights and Analysis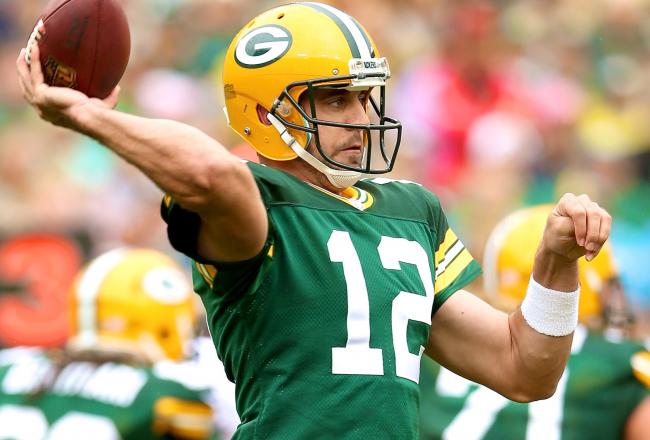 Final Score: Green Bay 22, Detroit 9
Here are some final thoughts on the game:
The Lions clearly missed Calvin Johnson. Green Bay's linebackers played the run all day and didn't have to worry about their coverage assignments because the safeties didn't need to help outside. It fundamentally altered the play-calling for both sides.

Aaron Rodgers finished with a QB Rating of 106.8 and made several pretty throws. His 9.1 yards per attempt dwarfed Matthew Stafford's 6.6 figure.

Detroit managed just one sack on the day, and the pass rush was not effective. It was a very quiet day for the defensive tackles. I don't recall Ndamukong Suh being anywhere near a play in the second half.
Brandon Pettigrew appears to have re-discovered his hands. He was Detroit's leading receiver with 59 yards on four receptions.
Once again the return units failed to do anything at all positive.
It's important to put the loss in proper perspective. This was a divisional road game, and the Lions played it without both Calvin Johnson and Nate Burleson, the top two receivers on the team. Green Bay desperately needed a win and they came through.
The Lions are still tied for the NFC North lead at 3-2 thanks to a Chicago loss. The Packers sit one game back at 2-3.
Detroit heads to Cleveland next week with a good chance to improve to 4-2. The Browns lost starting quarterback Brian Hoyer on Thursday night. It will not be an easy win as the Cleveland defensive front is very talented, but getting Calvin Johnson back should certainly help.
Thanks everyone for following along! Hopefully next week we get a more enjoyable game and a better outcome.
Aaron Rodgers takes a knee and the game is over, except the Lions call timeout. It forces Green Bay to punt. In a fitting twist, the Lions get flagged for a personal foul on the punt.
The misery ends in 17 seconds. Still 22-9 Green Bay
Thanks to Jarrett Boykin's holding penalty, Lacy only gets credited with 13 yards on that run. He's at 99 for the game.

— Jason Wilde (@jasonjwilde) October 6, 2013
This is not insignificant for Packers fans, or for the Lions trying to prevent a 100-yard rusher.
Jordy Nelson did a great job on that onside kick recovery. It was a good kick but he played it expertly. Notice that no Lions speared him while he was down, even though that's apparently allowed as we learned last week against the Bears.
The Lions finally crack the end zone! Matthew Stafford put together an efficient drive, capped off by a great post pattern by Kris Durham for the easy touchdown.
The Lions go for two, but fail. Green Bay leads 22-9 with 2:06 remaining in the game.
And Perry just sacked Stafford and forced a fumble that the Lions recovered.

— Jason Wilde (@jasonjwilde) October 6, 2013
Nice play by Nick Perry. He beat Riley Reiff like the proverbial rented mule.
Mason Crosby nails the 45-yard field goal, his fifth on the day. Green Bay now goes up 22-3 with 3:50 left in the game.
Detroit has to score quickly. Perhaps the return game finally shows some life?
James Jones beats Chris Houston over the top (again) and Aaron Rodgers delivers a strike to the outside shoulder. Touchdown Green Bay, though it is being reviewed to see if Jones got both feet down.
Houston didn't have bad position on the coverage, but the throw by Rodgers was perfect and the safety help was a step late.
Edit: Jones did not get the second foot down, and the replay looks like they got the call right. No touchdown.
Chris Houston gets called for more DPIs where the receiver still makes the catch than anyone I can recall. Get your money's worth, Chris!

— Jeff Risdon (@JeffRisdon) October 6, 2013
Detroit goes for it on 4th-and-7 and the Lions turn the ball over deep in Green Bay territory. Kris Durham slipped on the route a play after Tony Scheffler dropped a great rollout throw from Stafford.
Green Bay takes over with the 19-3 lead and 7:01 left in the game. If the Lions don't get a turnover here, this game is over.
Mason Crosby hits his fourth field goal of the day and the Packers push the lead to 19-3 with 10:16 remaining in the fourth quarter.
There was a skirmish after the field goal, but no flags were thrown. The officials have really let the players get after it today. It would not surprise me to see a full-blown fracas before this one is over.
Green Bay has 160 yards rushing, Detroit has 65. The Packers are now up to 6.2 yards per rush and 8.8 yards per pass. Those numbers are up dramatically from the first half.
Clay Matthews comes in untouched off right end for a sack. Can't let anyone, let alone their best pass rusher, do that.

— Dave Birkett (@davebirkett) October 6, 2013
The Lions fail to even try and block Clay Matthews, who easily sacks Matthew Stafford on the last play of the quarter on 3rd-and-9. Riley Reiff never even looked at him.
An injury note for the Packers.
Francois is injured. He took place of injured Brad Jones.

— Mike Vandermause (@MikeVandermause) October 6, 2013
He was hurt on the 12-yard Bush run, a play where Joique Bell threw an exceptional wham block.
With 1:10 to go in the third quarter, it's still 16-3 Packers.
James Jones blows past Chris Houston and easily secures the catch-and-run for an 83-yard touchdown pass. Houston was expecting deep help but Cobb occupied Delmas inside. Excellent play design by the Packers to produce the game's first touchdown.
It's Green Bay 16, Detroit 3 with 3:12 to go in the third quarter.
Detroit needs to get away from the slow-developing runs to Bush. The Packers linebackers are sitting and waiting on them. The Lions need more of a quick-hit rushing offense if they want to pick up some yards and disrupt the defense.
Mason Crosby hits the 31-yard field goal to push the lead to 9-3 Green Bay with 5:04 remaining in the third quarter.
Excellent red-zone stand by the Lions defense. Willie Young pressured Rodgers into a tough pass, and Rashean Mathis had good coverage on Jordy Nelson. Hard to call a hold on Mathis there when Nelson grabbed him too, though it probably was technically a hold.
Packers DL are keeping Lions OL occuppied. Don't see any one of them get into 2nd level. GB is really good against the run

— Beast1530 (@Beast1530) October 6, 2013
I wholeheartedly agree with this assessment. The Packers defensive line is winning the war up front.
The Lions really need to come up with another play on 3rd-and-long besides that inside screen to Reggie Bush. A.J. Hawk was waiting for it and blew it up nicely. We've seen that play a lot this year.
Bad news on the injury front...
Theo Riddick is OUT. Will not return. Head.

— Michael Rothstein (@mikerothstein) October 6, 2013
Well-timed blitz by Tulloch gets picked up, but it freed Ziggy Ansah to get the pressure on Rodgers. The Lions defense forces the throwaway by Rodgers as he rolled away from all his receivers. Ziggy is having quite an impact once again.
It's still 6-3 Green Bay with 12:25 to go in the third quarter.
To add onto the disturbing lack of offense in the first half:
With Calvin Johnson out, Reggie Bush has had almost no room to operate. He has 9 yards on 6 carries and 2 catches for 10 yards at halftime.

— Dave Birkett (@davebirkett) October 6, 2013
Only saw one angle but it looked like a another iffy call on the hold on Reiff. Still, regardless of call, penalties an issue again for Leos

— Chris McCosky (@cmccosky) October 6, 2013
Sadly we have to keep beating the dead horse. Will it ever end?
Terrible spacing on those routes by Fauria and Durham on 3rd-and-15. They were right on top of one another and made for an easy deflection.
David Akers kicks the 53-yard field goal and the Lions close to 6-3 with 15 seconds left in the first half.
This article is
What is the duplicate article?
Why is this article offensive?
Where is this article plagiarized from?
Why is this article poorly edited?