San Diego Chargers vs Oakland Raiders: Live Score, Highlights and Analysis
Final OAK 27 SD 17
The Oakland Raiders protected their house in a late night affair that saw Terrelle Pryor throw for over 200 yards and two scores while Philip Rivers threw for over 400 and three interceptions.
The San Diego Chargers were held scoreless in the first half as Pryor led his team to a 17-0 lead at halftime. Charles Woodson added a fumble recovery returned for a touchdown and the defense prevented a late comeback by a Chargers team that scored twice in the fourth quarter.
Rivers, who had only thrown two interception on the year leading up this game, ended up throwing three against the Raiders and his last of the night was caught by D.J. Hayden to essentially close out the game and seal the win for Oakland.
The Chargers committed five turnovers on the night and the rushing attack was held to just 32 yards. San Diego and Oakland are now 2-3 on the year with San Diego sitting in last place in the AFC West and the Raiders just above the Chargers.
END OF GAME! OAK WINS 27-17
Both teams are now 2-3 on the season and the Raiders have split their games in the AFC West at 1-1 while the Chargers start 0-1 in divisional play.
Good game overall and a real impressive showing by the Raiders in a late game. I don't know about you, but bedtime is calling my name. Good night folks!
INTERCEPTION BY RAIDERS!
That should do it for this one. Woodson with the interception and this game is over. Raiders will now run out the clock.
Hamstring injuries for Chargers OLB Jarret Johnson and Raiders RB Rashad Jennings

— NFL: AroundTheLeague (@NFL_ATL) October 7, 2013
Some injury notes.
INTERCEPTION BY RAIDERS!
D.J. Hayden makes his first NFL interception in the end zone and ends San Diego's comeback. Huge play from the first-round pick and another mistake by Rivers. Not only is that his second INT of the game, but that's his second game-changing interception of the season.
Rivers threw a pick-six in Week 1 against Houston that decided the game.
TWO-MINUTE WARNING! OAK LEADS 27-17
Time running out in Oakland and the Chargers are driving, but they need to punch in a score and follow it with a field goal if they plan on tying things up.
50-YARD FIELD GOAL GOOD BY RAIDERS! 4TH QTR 4:24 OAK LEADS 27-17
Janikowski has no trouble with the long field goal and the Raiders now have a 10-point cushion with less than five minutes to go in the game.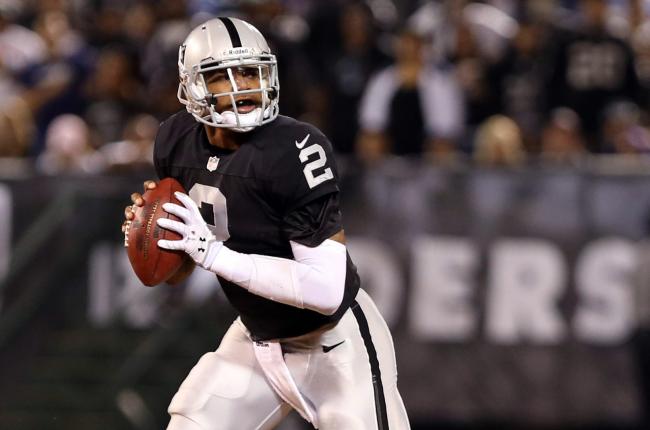 What a play by Pryor to avoid the rush and hit Brice Butler on the run to extend the drive. Great awareness and athleticism. If Oakland wins this game, he deserves a lot of the credit.
Jarret Johnson taken off Chargers field, unable to put any weight on right leg. Awful development for defense without Dwight Freeney.

— Michael Gehlken (@UTgehlken) October 7, 2013
Big blow, especially with the game on the line.
TOUCHDOWN CHARGERS! 4TH QTR 10:17 OAK LEADS 24-17
I smell a comeback. Raiders had this game won after Woodson returned the fumble for a score, but Rivers has gotten his team back in it with another TD pass to Keenan Allen. Still plenty of time left.
So from what I can pull from that last explanation by tonight's official is that Chargers lose out on TD but get a first down.
SACK BY JARRET JOHNSON!
Combination of Johnson and Kendall Reyes on that sack of Pryor, forcing the punt.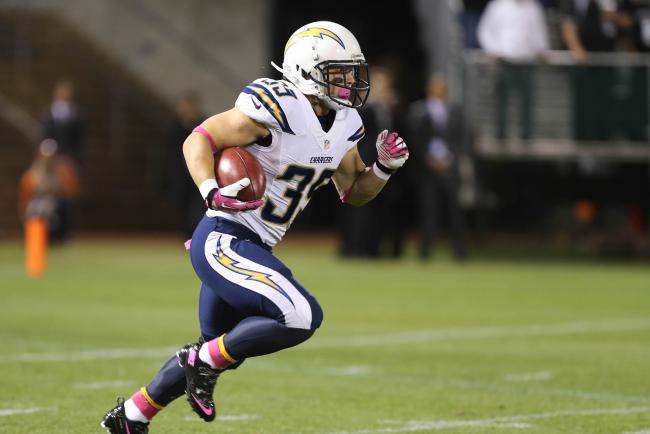 TOUCHDOWN CHARGERS! 14:57 4TH QTR OAK LEADS 24-10
Woodhead had to redeem himself after that last fumble returned for a score and a touchdown of his own definitely helps but Chargers find themselves in a hole (no pun intended) with less than 15 minutes to go.
Chargers are threatening in the red zone after a 51-yard completion by Rivers to Vincent Brown. Third quarter winding down and San Diego has a whole lot of catching up to do.
I might have to see that again as well.
Fluker with the Undertaker-style choke slam of Sio Moore

— Paul Gutierrez (@PGutierrezESPN) October 7, 2013
My thoughts exactly.
D.J. Fluker is penalized for a "body slam" according to ref's call. That's a first.
TOUCHDOWN STANDS! 3RD QTR 2:37 OAK LEADS 24-3
The touchdown stands and Woodson has now tied an NFL record for most defensive touchdowns with 13. Future hall-of-famer for sure.l
TOUCHDOWN RAIDERS!
Woodhead fumbles and Charles Woodson takes it to the house for a score. This one will be reviewed though...
SACK BY SEAN LISSEMORE!
Chargers' defense gets something to cheer about after getting to Pryor for the second time tonight. That's Lissemore's first as a Charger.
35-YARD FIELD GOAL GOOD BY CHARGERS! 3RD QTR 4:51 OAK LEADS 17-3
San Diego was given a gift after blocked field goal resulted in a first down. Tough call after touchdown was called back and the Chargers only get three points out of that drive.
No catch. The call is reversed. Big call.
TOUCHDOWN CHARGERS!
Keenan Allen with a reception in the end zone, but it looks like this one is going to be reviewed...
BLOCKED FIELD GOAL ATTEMPT BY OAKLAND!
Raiders get the block on Nick Novak but Ladarius Green recovers and rumbles forward for the first down. Very lucky break for the Chargers and they now have a chance to cut into this lead. That's the second blocked field goal of the year on Novak.
This article is
What is the duplicate article?
Why is this article offensive?
Where is this article plagiarized from?
Why is this article poorly edited?