Wladimir Klitschko Wins Ugly Unanimous Decision over Povetkin to Retain Title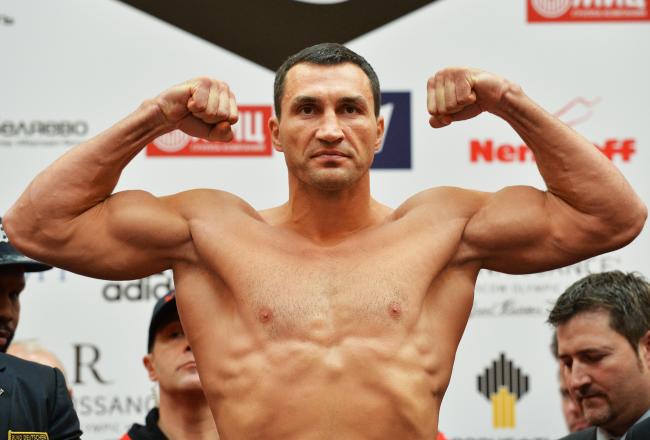 Wlad retained his title, but it wasn't pretty.
Epsilon/Getty Images
Wladimir Klitschko retained his IBF,WBA,WBO and The Ring Magazine Heavyweight Championship's on Saturday night, defeating Alexander Povetkin by wide unanimous decision in Moscow. But it wasn't pretty.
All three judges scored the bout 119-104 for Klitschko, who had a point deducted in the 11th round for excessive pushing.
Klitschko was simply too big for Povetkin, and he utilized his physical advantages to wear down his foe. In addition to pumping his trademark left jab, Klitschko forced his body weight down on top of Povetkin's head and neck every time the Russian was able to get on the inside.
The tactic was—at best—questionably legal and drew frequent protests from the Russian's corner. It culminated in a brutal seventh round, in which Povetkin was dropped three times, and it appeared that two of them had as much to do with Klitschko's mauling and pushing as with landed punches.
Povetkin was dropped four times in the bout, and struggled to land anything clean against the taller, bigger champion.
With the victory, Klitschko improves to 61-3, and Povetkin drops to 26-1.
That'll do it for us tonight fight fans.
Here's your quick recap:
Wladimir Klitschko UD 12 Alexander Povetkin (119-104, 119-104, 119-104)
As always, stay tuned to us here at Bleacher Report for all your post-fight coverage!
Wladimir Klitschko is a great champion, true pro & all-around nice guy. But it's fights like this that keep him from Top 10 all-time.

— Brian Campbell (@BCampbellESPN) October 5, 2013
It's a big problem.
His performance tonight was borderline DQ worthy. Excessive holding, pushing down the head, pushing.
Just very, very disappointing.
All three judges have it 119-104 for Wladimir Klitschko.
Unanimous decision, but I'll tell you this, I have more respect for Povetkin coming out of this fight the loser than I do Wlad as the winner.
Wladimir wins the 12th round and the fight by a wide margin on my card. Had it
118-105 Wlad.
Gave Povetkin two rounds, and Wlad lost a point for pushing/holding in the 11th.
Little drama here.
Wlad flings Povetkin to the mat again...
You could've legitimately made an argument for a DQ in this fight.
This is why Wlad never fights outside of Europe anymore.
His style is wholly unmarketable. He'll win this fight by a large margin, but he'll get very little credit for it.
FINALLY. Luis Pabon FINALLY takes a point from Wlad in round 11. That should have been the 3rd pt and a DQ by now, but whatever.

— Ryan Bivins (@sweetboxing) October 5, 2013
A 9-9 round in the 11th after Luis Pabon finally wakes up and takes a point from Wlad for pushing.
Big left hand there and he actually hurt Povetkin that time.
Wlad throws him to the mat yet again. This is absolutely ridiculous, and referee Luis Pabon FINALLY takes a point away.
Povetkin seemed to bother Klitschko with something there. He landed and Wlad moved across the ring off-balance. Hard to tell if he was hurt or if he was just off-balance.
This is the time in the fight when Emanuel Steward would be screaming at Wlad to finish AP off. Don't think Banks has that in him.

— Chris Mannix (@ChrisMannixSI) October 5, 2013
I don't think Povetkin is really that badly hurt. He's showing a ton of heart and determination in the face of this mess.
Harold Lederman quote on Wlad tonight:
"He gets away with murder."
Says it all.
This fight is a mess.
Wladimir is well ahead, but you gotta feel bad for Povetkin. It's hard enough fighting Wlad, but it's impossible when you're fighting him and the referee.
10-9 for Wlad in the ninth.
89-78.
Klitschko fighting kinda dirty

— Lance Pugmire (@latimespugmire) October 5, 2013
It was kinda dirty five rounds ago..
Povetkin down in the ninth, but the ref rules it a push.
I like that Wlad is roughing him up and trying to end this fight. Nice combos of holding and punching and shoving #boxing #KlitschkoPovetkin

— Douglass Fischer (@dougiefischer) October 5, 2013
Seven rounds to one for Wlad.
79-69.
But not a good, and possibly not even a legal, performance.
Don't be surprised to see Povetkin's team protest this (eventual) loss. Klitschko is getting away with throwdowns being called knockdowns

— Chris Mannix (@ChrisMannixSI) October 5, 2013
Great point.
Two of those three knockdowns were really takedowns.
I don't think Povetkin was really badly hurt in the seventh. A lot of that came from Wlad basically wrestling him on the inside and the referee allowing him free reign.
Klitschko lands a barrage of punches on a hurt Povetkin, although none landed cleanly. Povetkin falls & ref Luis Pabon rules a knockdown

— Francisco A. Salazar (@FSalazarBoxing) October 5, 2013
Disastrous round seven for Povetkin.
Down three times and now impossibly behind on the scorecards.
10-6 round.
Wlad now leads 69-60.
Povetkin down a third time in round seven.
He's exhausted.
Needs to survive 30 seconds.
Wlad going to the knockout here...And Povetkin down for the third time in the fight!
Wlad mauling him now.
And Wlad lands a hard one-two, throws Povetkin to the mat and it's...a knockdown!
I agree with Lamps, Povetkin is starting to look discouraged. Can anyone blame him? #boxing #KlitschkoPovetkin @HBOboxing

— Douglass Fischer (@dougiefischer) October 5, 2013
Five to one for Wlad at the halfway point.
Povetkin is trying to make the fight, but he's not able to land enough.
59-54
Solid right hand lands over the top for Povetkin.
Wlad took it well.
This article is
What is the duplicate article?
Why is this article offensive?
Where is this article plagiarized from?
Why is this article poorly edited?