Final Score: Michigan 42, Minnesota 13
17th-ranked Michigan defeated Minnesota decisively in a mistake-free effort. See below for analysis.
For the full box score, check out NCAA.com.
Michigan Wolverines Game Grades

| | | |
| --- | --- | --- |
| Position Unit | 1st-Half Grade | Final Grade |
| Pass Offense | B | A- |
| Run Offense | B | B+ |
| Pass Defense | B+ | A- |
| Run Defense | B- | B |
| Special Teams | A- | A- |
| Coaching | B | A |
vs. Minnesota October 5, 2013
Game Analysis for the Michigan Wolverines:
Pass Offense
After getting off to a slow start, the passing game really got going at the end of the first half and throughout the second half. Devin Gardner did not turn the ball over and managed the game effectively, going 13-of-17 for 235 yards and a touchdown.
Run Offense
The running game was not entirely consistent but was effective overall and helped take pressure off the passing game. Fitzgerald Toussaint racked up 4.6 yards per carry for 78 yards and two touchdowns. Derrick Green contributed a touchdown as well.
Pass Defense
Receivers ran free at times, but the pass defense stepped up when it mattered most, limiting Minnesota to field goals. The defense was able to put pressure on Leidner in the second half and force errant passes.
Run Defense
The run defense allowed too many conversions on third down and struggled to shed blocks but overall showed solid tackling.
Big plays were allowed on the ground to Leidner, but this was limited in the second half.
Special Teams
The kicker sent a kickoff out of bounds early, but the punter would also later manage to pin Minnesota at the 1-yard line. It was an overall solid special-teams performance.
Coaching
Good plays were called to keep the defense honest and take pressure off the passer. Effective blitzes and coverages were called which confused Leidner and forced him into mistakes.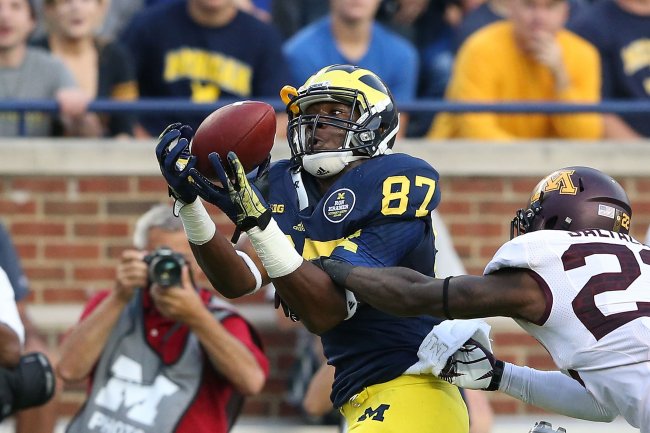 Leon Halip/Getty Images
1st-Half Analysis for the Michigan Wolverines
Pass Offense
In the entire first quarter, Devin Gardner did not throw a single pass. But in the second quarter of the game, Gardner went 7-of-9 for 82 yards and a touchdown with mistake-free short passes.
Run Offense
Fitzgerald Toussaint and the Michigan rushing attack got off to a great start, as Michigan ran the ball the entire first quarter. Toussaint ended the first drive with a touchdown, and he and Derrick Green averaged 4.3 and 4.7 yards per carry, respectively.
Pass Defense
While Michigan allowed a passing touchdown from Maxx Williams in the first quarter, it was a very accurate pass from Mitch Leidner.
For the most part, Michigan has shown good pass rush and coverage, and Leidner resorted more to scrambling as a result.
Run Defense
The tackling has been excellent on Minnesota's running backs, but Leidner found plenty of running room in the first quarter when fleeing the pocket. And Michigan failed frequently on 3rd-and-short, most notably when Minnesota was in a goal-line formation and Michigan was not properly lined up.
Special Teams
The special-teams unit committed a critical penalty to start the game, but in the second quarter, it had a beautiful punt that pinned Minnesota at the 1-yard line.
Coaching
Play-calling seems to have been solid so far offensively, but better plays could be called to better spy the opposing quarterback.
Follow Yueh Ho on Twitter @YuehHo