North Carolina vs. Virginia Tech: Live Score and Highlights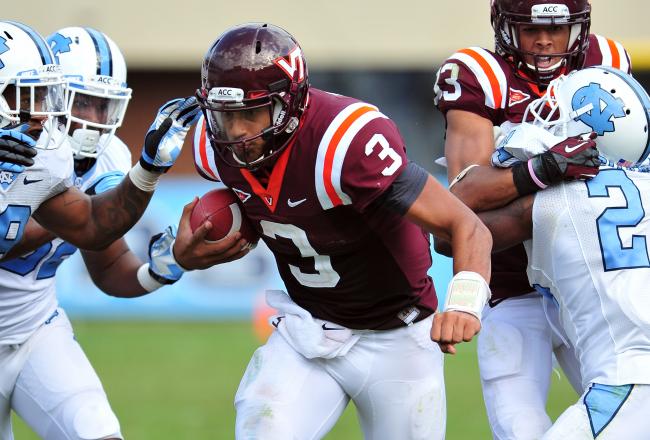 Lance King/Getty Images
The North Carolina Tar Heels (1-3, 0-1 ACC) travel to Blacksburg to take on the Virginia Tech Hokies (4-1, 1-0 ACC) in an ACC showdown at 12:30 p.m. ET. The Tar Heels look to right the ship in today's game, while the Hokies look to remain perfect in conference play.
Stay tuned for live analysis and scoring updates throughout the game.
The game goes final. The Hokies top the Tar Heels by 17 points and move to 5-1 on the season. Tar Heels drop to 1-4.
The Hokies defense played big in their win today with two interceptions and several big stops on third down.
The Tar Heels showed small glimmers of effectiveness on offense, but were far from consistent which hindered them from staying in the game.
Teams stats for the game per ESPN.com:
Team Stats
UNC
VT
First Downs
18
14
Total Plays
75
64
Total Yards
377
341
Passing
277
293
Rushing
100
48
Penalties
11 / 80
5 / 24
Possession
29:22
30:20
Turnovers
3
0
For what it's worth, the Tar Heels pad their stats with a late 24-yard touchdown reception from Quinshad Davis, making the score 27-17 in favor of the Hokies.
The Hokies have the ball with about a minute to play in the game. They will likely take a knee to make it final.
Tons of fans heading for the exits, with 4 minutes left. Tickets are $50. Stay and get your money's worth. Plus, it's a win.

— TechSideline.com (@TechSideline) October 5, 2013
With the game seemingly decided, fans are beginning to head for the exits.
Hokies take advantage of the muffed punt and get a one-yard touchdown rush from Trey Edmunds.
Hokies are in complete control with 4:06 left in the game. They lead, 27-10.
VT chews 6:47 off the clock, then gets the ball back on a fumbled punt.

— TechSideline.com (@TechSideline) October 5, 2013
Tar Heels just watching the clock tick helplessly, down 11.
Tar Heels force the Hokies to punt, but they muff the punt and the Hokies pick up the loose football deep in Tar Heels territory.
Possibly the play of the game. Tar Heels just can't catch a break.
Yea, like that.
Tar Heels sack Coleman for a 15-yard loss.
C'mon D! Create a turnover! #GoHeels

— James Brandon Horne (@JamesBrandon9) October 5, 2013
Tar Heels defense needs to generate a spark in this game if they have any chance of coming back. They remain down 11 with 9:50 left in the game.
Good call by UNC on 4th down. Bad execution by Williams. Great execution by Kyle Fuller.

— TechSideline.com (@TechSideline) October 5, 2013
Yea, that sums it up.
The Hokies defense comes up with their second interception of the game on Williams. Big swing in momentum right there.
Tar Heels need one yard on fourth down at the Hokies' 36-yard line. Biggest play of the game thus far.
Team stats through the third quarter per ESPN.com:
Team Stats
UNC
VT
First Downs
12
10
Total Plays
57
45
Total Yards
253
290
Passing
165
238
Rushing
88
52
Penalties
6 / 55
5 / 24
Possession
24:38
20:22
Turnovers
1
0
Tar Heels end the third quarter with some momentum by moving the football down the field. The Hokies still have the lead, 21-10.
Tar Heels offense picks up a big third down conversion with a 10-yard rush by, you guessed it, Marquise Williams.
#UNC pulls within 21-10. Now they've got two OL starters hurt, their QB hurt and a top backup RB in Romar Morris hurt

— Adam Powell (@HeelIllustrated) October 5, 2013
Amazing their only down 11 points.
The Tar Heels convert a 36-yard field goal and put three more on the board, making the score 21-10 in favor of the Hokies.
On third down and goal from the 10-yard line, the Tar Heels run a reverse play which loses them nine yards. It seems every time the Tar Heels get rolling, something sets them back.
Williams makes a couple plays for the Tar Heels, and brings them in redzone territory. The catalyst to the success of this offense seems to be on the play of Williams this game.
That's the third-straight week a TD has been taken away because of a penalty.

— Carolina Football (@TarHeelFootball) October 5, 2013
It must be a conspiracy.
There is a combined 100 yards of rushing in this game.
In related news: Adrian Peterson is shaking his head somewhere.
In a Tar Heels punt return, Switzer does his best Reggie Bush impersonation and returns the punt 81 yards for a touchdown. Unfortunately, the play was negated by a Tar Heel penalty.
But hey, if you ain't cheatin', you ain't tryin'.
In Logan Thomas' last six quarters, he is 32-45 for 551 yards, 4 TDs, and 0 INTs.

— TechSideline.com (@TechSideline) October 5, 2013
Little known fact: Thomas' alter ego is Peyton Manning.
Tar Heels QB Marquise Williams doesn't look very comfortable sitting in the pocket. Then again, he doesn't really look comfortable out of the pocket either. Hokie defenders are in his face almost every play.
Tar Heels start the second half with the ball at their own 25-yard line.
Ready for the second half? Kickoff just moments away. Stay tuned for continued stats and and analysis of today's game.
This article is
What is the duplicate article?
Why is this article offensive?
Where is this article plagiarized from?
Why is this article poorly edited?