5 Ways Drake Can Help Bring Toronto Raptors Back to NBA Relevance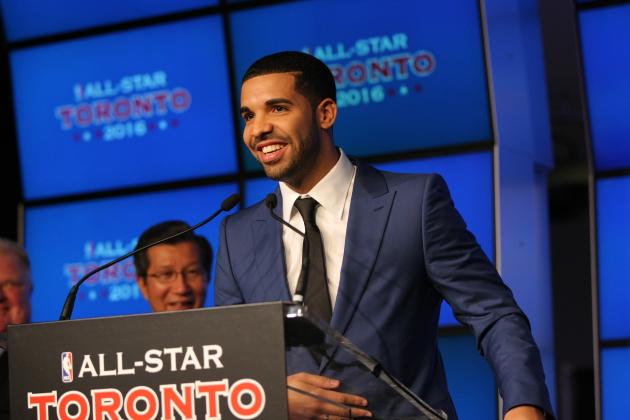 David Sandford/Getty Images

With the signing of rap megastar Drake as the team's global ambassador, the Toronto Raptors are showing the rest of the NBA that they just wanna be Successful.
They started from the bottom, now they're here. Drake is the best they've ever had. This story is making massive Headlines.
Don't worry. The song analogies are now out of my system, but you get the idea.
Whether you enjoy his music or you don't, there's simply no denying Drake has massive mainstream popularity. From his platinum records to his numerous music awards, Drake has turned himself into arguably the biggest act on the planet.
Only good things can come from his association with the franchise. Over the course of the next few seasons, you will slowly begin to see just how much of an impact Drizzy Drake, real name Aubrey Graham, will have.
I'm not sure what exactly being a global ambassador entitles one to do, but with the passion he has for this new role and his undying love for the city of Toronto, this new partnership will undoubtedly lead to amazing things.
Frankly, what do the Raptors have to lose?
YOLO!
Follow Christopher Walder on Twitter @WalderSports
Begin Slideshow

»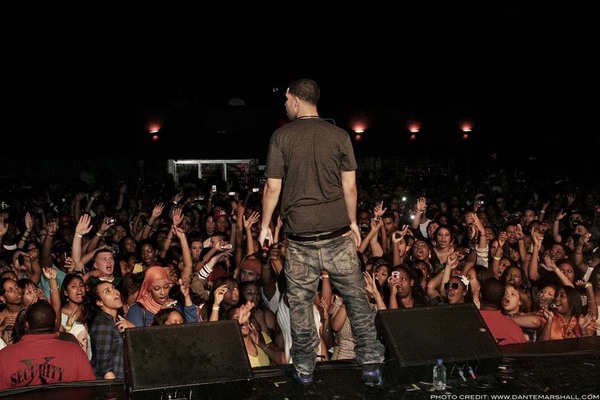 Not everyone in Toronto is a fan of the Raptors. The same can be said for Canadians all over this great country.
Management is doing everything in their power to spread the word that the Raptors are indeed Canada's team, but that's not going to happen overnight.
The sport and the franchise won't appeal to everyone, so maybe a performer like Drake, with his 12,000,000+ followers on Twitter, can help reach a demographic of fans who normally wouldn't give a second look to the team.
It's not out of the realm of possibility to think that certain people may take a newfound interest in the Raptors simply because of the Drake affiliation.
No matter what type of industry you're in, you want as many eyes and ears paying attention to your product as possible. More fans means more buzz, and more buzz means more relevance and importance.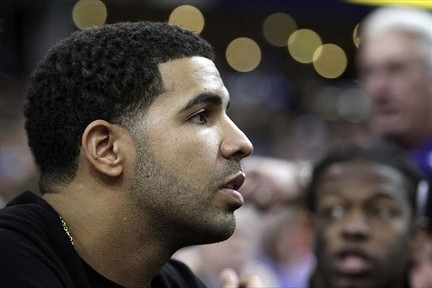 The Los Angeles Lakers have Jack Nicholson. The New York Knicks have Spike Lee. The Los Angeles Clippers have Billy Crystal.
Why can't the Raptors have Drake as their biggest celebrity fan?
It wouldn't be hard. He already attends numerous home games over the course of a season, but he has yet to create an image for himself in the media and around sports circles as the ultimate No. 1 Raptors follower.
His music is obviously his biggest priority, but as the new global ambassador for the franchise, attending more games and sitting in sight of the cameras and surrounding Torontonian's would be a nice gesture.
Inviting some of his more famous acquaintances to join him would also be very welcome.
It's the little things that can go a long way.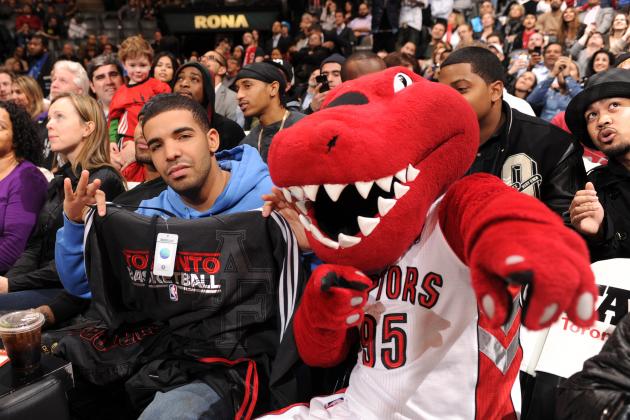 Maple Leaf Sports & Entertainment CEO Tim Leiweke made it clear during media day that Drake will have a great deal of input in the rebranding—everything but the name—of the Toronto Raptors.
This is long overdue.
With the 20th anniversary of the team taking place in 2014-15, the opportunity presented itself to start the process of making cosmetic changes to the look and feel of the organization. Having Drake contribute and throw in his two cents on which changes need to happen can only be beneficial.
Drake was born in Toronto, so he certainly knows what residents of the Greater Toronto Area and Canada as a whole would like to see in this makeover. He's of the people and for the people.
We all saw how well the rebranding went with Jay-Z and his Brooklyn Nets. The new logo and black and white color scheme did wonders for their cool factor.
Surely something similar could take place for the Raptors, if it's handled properly of course.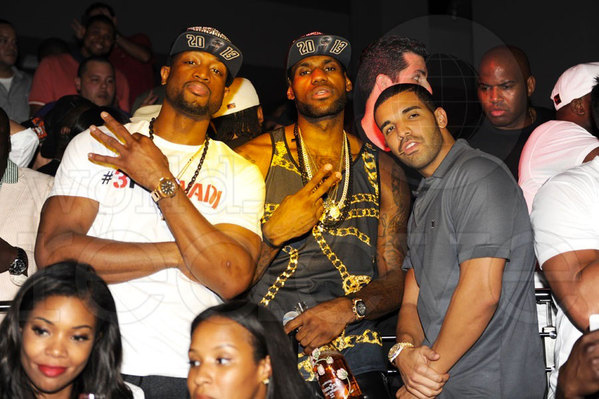 NBA players love them some Drake.
From LeBron James and Kevin Durant to Blake Griffin and Dwyane Wade, Drizzy has formed close bonds and friendships with some of the biggest superstars the league has to offer. This was further brought to light when Drake addressed the media during the 2016 NBA All-Star press conference, per the Toronto Star:
I have very rare and important friendships with a lot of (players). Those are not to be abused. But that said, I believe there is a buzz coursing through this city that ripples far beyond Toronto. I think it gets all the way out to the places some of these guys are at, and I think they want to come see what it's about.
Does this mean that a four-time NBA Most Valuable Player in James or three-time NBA scoring champion in Durant will be calling Toronto their home sometime in the near future?
Absolutely not.
However, when it comes to signing and recruiting big name free agents to come play for the team, having someone like Drake sit in during negotiations or mingle with the players ahead of time in a social environment could help tip the scale in Toronto's favor.
Sometimes, who you know just matters.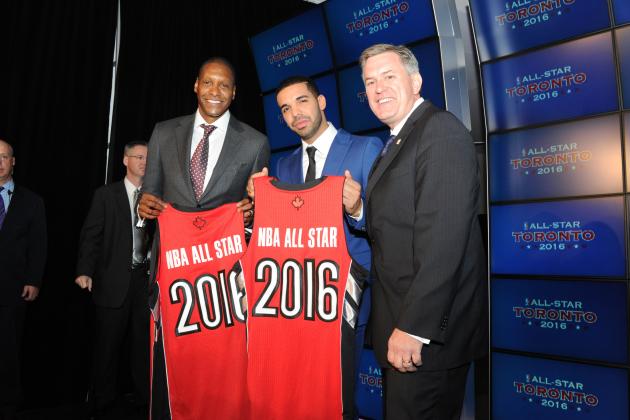 Ron Turenne/Getty Images

This almost goes hand and foot with what was mentioned earlier with the rebranding.
There is no way of truly knowing whether Drake has real longevity as a star in the music industry or not. Artists come and go with the times. Do names like Ja Rule and Fabolous ring a bell?
The front office better pray that Drake still has some hype behind him when the 2016 NBA All-Star game comes to the Air Canada Centre.
However, even when the time comes for Drake to step away from the rap game, perhaps more of a full-time role with the Toronto Raptors is where his future lies.
He's a smart business man with a great deal of knowledge in marketing. Being from Toronto, he will always have some sort of a local following, no matter how big or small.
Of course, Drake can go on to have a legendary career as an on-stage performer, continuing to sell albums for years to come. Maybe he'll become a hip-hop mogul like Jay-Z and create an even larger persona for himself. Who knows. It's all hypothetical.
If the Raptors can lock up his services, whether it be to continue on as a global ambassador or perhaps something greater than that, then that would be perfect.
Drake's an asset and a resource that needs to be milked for all it's worth.