What I Loved and Hated from College Football Week 6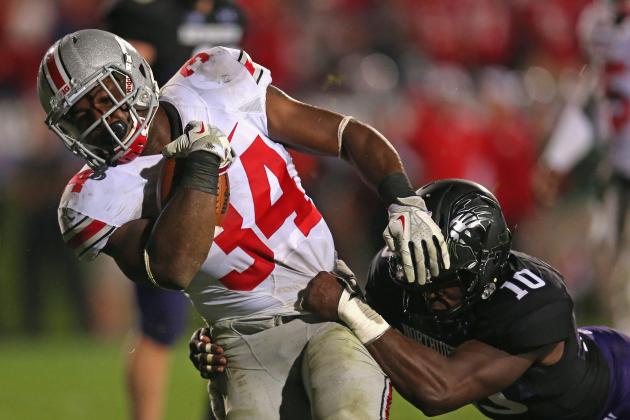 Jonathan Daniel/Getty Images

Week 6 was all about the almost.
Georgia almost lost at Tennessee. Northwestern almost took down Ohio State. Washington almost beat Stanford on the road. Oregon almost lost. (One of these things is not like the other. I'm just making sure you're paying attention.)
These things didn't come to fruition, but the almost provided outstanding entertainment throughout the sixth college football Saturday of the season, a statement that is both hard to read and write.
Where is the time going?
During Week 6, we saw a bit of everything. There were outstanding catches (stressing the plural), a two-point conversion unlike any you've ever seen or may ever see again, a horrendous fake punt call, and a gambling "bad beat" that created quite a stir.
Here's what I loved and hated in Week 6.
Begin Slideshow

»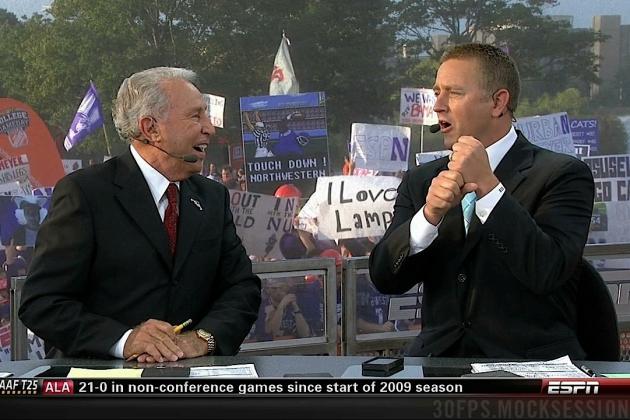 Image via @Bubbaprog
Good show, Northwestern. I mean that.
The Wildcats got ESPN's College GameDay treatment, and the Evanston faithful delivered in a big way. It's a win for the school and the program that has made magnificent strides over the past five years, regardless of the outcome of the game.
Oh, and someone made an amazing Tecmo Bowl-centric sign, which reminds me of my childhood, how amazing/unfair Bo Jackson was, and how magnificent this Nintendo experience was.
There have been more creative attempts at GameDay—with words doing the effort—but Tecmo Bowl has never had a seat at the table as far as I know. It does now, and it has a one-way ticket to my heart.
His team just got hosed on national television in the final minutes against Texas thanks to a bad fumble review, and Iowa State head coach Paul Rhoads wasn't happy about it.
So he ranted, as he should have. He never should have been in a position to do so, but you can't blame him for being angry.
In fact, Paul Rhoads showcased his inner gentleman—and he is a gentleman—even while he vigorously refrained from smashing the podium over a media member in the front row.
My postgame rant in this instance would have included a fair amount of censor sounds, a destroyed microphone, a destroyed podium, maybe a destroyed media member and about 8 billion YouTube hits (out of sheer insanity). Also, probably a new head coaching job.
It's rare when a rant feels just right, but this is that rant.
I'll be honest; I've never seen anything quite like this.
Seriously, what just happened here?
SMU mounted a massive comeback against Rutgers, and it culminated in this absurd two-point conversion.
It looked doomed from the start. SMU quarterback Garrett Gilbert ran around, ran around some more, ran around a bit more to the right side of the field...and then found his wideout in the back of the end zone on the other side of the field.
He threw across his body—a big no-no—and found a wide-open teammate situated somewhere in another state. It worked brilliantly, although I still can't really process it roughly 10 viewings later.
Did you bet on Northwestern (+7)?
If so, you may want to move to the next slide before you begin openly sobbing over a football game (again).
In the final seconds of the Ohio State-Northwestern game, the Wildcats attempted a wild play that had absolutely zero chance of working but one you have to try. The result was an Ohio State touchdown that pushed the final score to 40-30, thus giving the Buckeyes the cover.
There are unfortunate ways to lose in gambling, and then there are moments like this.
I hope you didn't rip up your Northwestern tickets. No, those are the ones you frame and talk about for years, because they are so vomit-inducing that they are almost museum-worthy.
Georgia State was already in a difficult position, situated in Tuscaloosa to take on Alabama as a 54-point underdog. It didn't help that Alabama mustered up a few absurd plays against a team that was grossly overmatched.
From unfair to really unfair.
Wideout DeAndrew White came down with one of the better catches you will see this season, going over a defender and hauling the pass in with one hand. It's early, but save this video. You may not see much better in 2013.
White helped AJ McCarron finish 15-of-16 for the day before he was pulled in the middle of the second quarter. Ah, yes. All according to plan.
Let us take a moment to appreciate the entire Charlie Weis head-coaching catalog. In fact, this failed fake punt should have its own chapter, maybe serve as the cover.
On 4th-and-13 on its own 16-yard line, Kansas called a fake punt against Texas Tech. If it works, it's bold and brilliant. If it doesn't, it's absurd and stupid.
Well, yeah. Let's connect the remaining dots.
Despite the unusual timing of the call, this was nowhere close to working. Weis had the look of someone who was surprised that he just called a fake punt, and we really have that same look.
Nebraska wideout Kenny Bell got in on the one-handed action against Illinois, making a difficult play look entirely too easy.
What makes this catch impressive is the fact that he was able to run for the score, not losing stride in traffic, once he came down with it.
Often the one-handed grabs come in the end zone, and no further physical activity is required. Not here, though, and that's what makes it special.
Speaking of special, let's give an honorable Love/Hate mention to Georgia's Chris Conley and his one-handed touchdown. There were far too many brilliant plays this weekend and limited slides to celebrate.
Now, we aren't certain that Nebraska lineman Robby Painter was, well, "occupied" on the sideline. We do know, however, that Painter had someone on the team covering him with a towel, huddled behind storage units to try and stay concealed.
So, yeah. We've got an idea.
The cameras in this instance tell an interesting story, one that you've perhaps told on the golf course before when left without many options.
When you gotta go, you gotta go.
For the third week in a row, Florida State quarterback Jameis Winston has earned a spot in Love/Hate. It started out as a joke saying, "Get used to seeing him here," and now he's turned this into a reality.
Also, get used to seeing him here if you aren't already.
He's not going anywhere.
Playing against Maryland, Winston again posted huge numbers (393 passing yards, five touchdowns), but it was a play late in the third quarter that provided a reminder of what kind of quarterbacking freak he is.
You know the first 45 minutes leading up to the Heisman presentation? The drawn-out, "Here's what they did" segment that is roughly 42 minutes too long?
Keep this play in mind for that. You might just see it over and over again.
Syracuse coach Scott Shafer likely won't be sending Dabo Swinney a Christmas card. This much we know.
As Clemson and Syracuse approached halftime, the Tigers decided to go for it on fourth down instead of kicking the field goal while already up big. Shafer was not pleased with this development given the score, and he expressed this emotion when his team sacked Tajh Boyd on his dropback.
Well, "emotion" is one way to look at it. You don't have to be an expert lip reader to figure out what's going on here.
I think Shafer makes it quite clear what his message is to the other sideline, although perhaps stopping a team repeatedly would be a more impactful approach. Just a thought.