There have been some fun games to watch so far in the college football season, but nothing is going to compare to Week 6 and the plethora of big-time games to watch for.
There will be not one, not two, but three games this Saturday between Top 25 teams. To make things even better, all three of these games are intra-conference matchups.
There are other big games to watch as well, so here are my predictions for all of Saturday's games involving ranked teams, followed by a look at those three big matchups.
College Football Week 6 Top 25 Predictions

| | | |
| --- | --- | --- |
| Away | Prediction | Home |
| Georgia State | 14-41 | No. 1 Alabama |
| No. 2 Oregon | 53-10 | Colorado |
| No. 3 Clemson | 30-13 | Syracuse |
| No. 4 Ohio State | 38-28 | No. 16 Northwestern |
| No. 15 Washington | 28-24 | No. 5 Stanford |
| No. 6 Georgia | 38-20 | Tennessee |
| No. 7 Louisville | 42-11 | Temple |
| No. 25 Maryland | 21-30 | No. 8 Florida State |
| No. 10 LSU | 24-21 | Mississippi State |
| TCU | 27-40 | No. 11 Oklahoma |
| Kentucky | 13-28 | No. 13 South Carolina |
| Georgia Tech | 14-24 | No 14. Miami (FL) |
| West Virginia | 23-31 | No. 17 Baylor |
| Arkansas | 31-28 | No. 18 Florida |
| Minnesota | 21-20 | No. 19 Michigan |
| No. 20 Texas Tech | 35-10 | Kansas |
| Kansas State | 14-24 | No. 21 Oklahoma State |
| No. 22 Arizona State | 33-20 | Notre Dame |
| No. 23 Fresno State | 45-17 | Idaho |
| No. 24 Ole Miss | 24-21 | Auburn |
Predictions by Tyler Brooke
No. 4 Ohio State (5-0) at No. 16 Northwestern (4-0)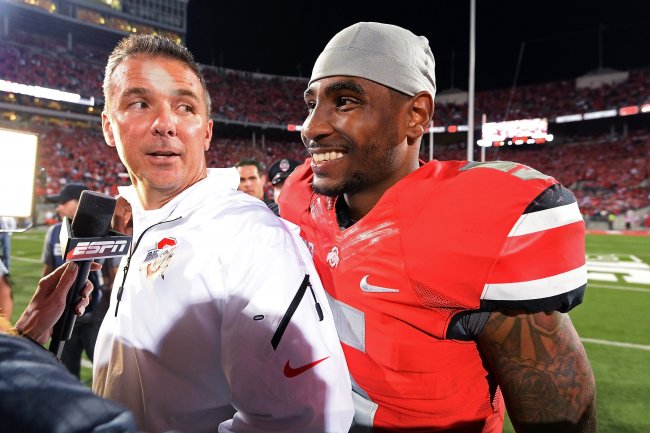 Jamie Sabau/Getty Images
Time: 8:00 p.m. ET
TV: ABC
Prediction: Ohio State 38, Northwestern 28
It' the second big test for the Ohio State Buckeyes, and it's going to be quite a fun one to watch.
In his first game back after suffering a knee injury, Braxton Miller had a great game to get him back on track. He went 17-of-25 through the air with 198 yards and four touchdowns, along with 83 yards on the ground.
The Buckeyes offense seems to be able to put up points in bunches regardless of who is playing under center. OSU is sixth in the nation in scoring, putting up 48.2 points per game. The Buckeyes are also doing a good job on defense, allowing 17 points per game.
The Northwetern Wildcats should begetting some credit as well, even if they haven't played against the most impressive teams. They're scoring 41.3 points per game, led by a terrific ground game that's put up 998 yards and 10 touchdowns in four games. Treyvon Green has been the most explosive running back of the bunch, averaging 7.0 yards per carry, with five touchdowns.
As good as both of these offenses have been so far, you can't bet against Braxton Miller.
Northwestern has yet to be truly tested, and the Wildcats are going to struggle putting up huge numbers against the Buckeyes' top-tier defense.
No. 15 Washington (4-0) at No. 5 Stanford (4-0)
Time: 10:30 p.m. ET
TV: ESPN
Prediction: Washington 28, Stanford 24
Don't look now, but Stanford and Oregon have some legitimate competition in the Pac-12 this season, and Washington is one of those teams that could make some real noise in this conference in 2013.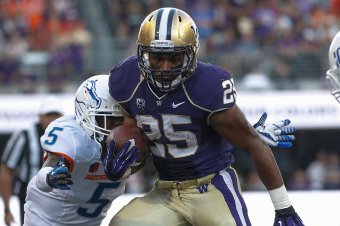 Otto Greule Jr/Getty Images
Keith Price has played great to start his senior season, throwing for 1,044 yards and nine touchdowns with two interceptions and emerging as a potential NFL quarterback prospect. He's helped a lot by Bishop Sankey in the backfield, who might be the most underrated running back in the country. So far, he's averaged 5.8 yards per carry while running for 607 yards and five touchdowns.
The secondary for the Huskies has been the best in the conference so far. In its first game, against Boise State, Washington held Joe Southwick to just 152 passing yards and an interception. In their last game against Arizona, the Huskies completely shut down B.J. Denker, who had just 119 passing yards and two interceptions.
Kevin Hogan will provide a completely different test for the Huskies this week. He's no Andrew Luck, but Hogan has had a nice start to the season, throwing for 832 yards and 10 touchdowns with three interceptions.
The issue with Stanford is that it's yet to have played a complete game. The Cardinal did not look good to start the game against Army, and at times they seem to have issues on both sides of the ball.
I think that the secondary for the Huskies rattles Hogan and the Cardinal offense while Sankey takes over on the ground to give Washington the upset win in this one.
No. 25 Maryland (4-0) at No. 8 Florida State (4-0)
Time: 12:00 p.m. ET
TV: ESPN
Prediction: Florida State 30, Maryland 21
Maryland is on a real hot streak to start the season, and it looked almost unstoppable after dominating in a 37-0 win over West Virginia. The Terrapins currently rank third in the nation, allowing just 10.3 points per game.
Which of these teams has the best chance to pull off the upset?
With three running backs that already have over 100 rushing yards, the Maryland offense has been efficient. C.J. Brown has led the passing attack, throwing for 1,043 yards and seven touchdowns along with only one interception.
Even with the impressive start by the Terrapins, all of the hype in the ACC is going towards Clemson and Florida State, with the Seminoles gaining even more attention thanks to their star quarterback, Jameis Winston.
Famous Jameis has taken the nation by storm, throwing for 1,048 yards and 12 touchdowns to start the year with an incredible 209.5 passer rating. He's quickly forcing his way into the Heisman conversation, despite the fact that he's just a redshirt freshman.
I'm not going against Winston in this one.
He's simply too efficient and can make big plays at any time when the ball is in his hands, which should be the deciding factor in what will be a competitive ballgame.