The Detroit Tigers wrested away home-field advantage from the Oakland Athletics, winning Game 1 of the ALDS, 3-2, on Friday night in the O.co Coliseum.
The Tigers hit the ground running in the top of the first inning.
Austin Jackson led off with a double to right field. The next batter, Torii Hunter, was hit by a pitch from A's starter Bartolo Colon and got a free pass to first base.
The Associated Press' Janie McCauley noted Colon had not hit a batter the entire regular season.
#Tigers Torii Hunter was Bartolo Colon's first hit batsman all season. First time Colon gave up three runs in 1st inning for #Athletics.

— Janie McCauley (@JanieMcCAP) October 5, 2013
Even when you're the home team, you don't want to let the first two batters get on base, and Detroit demonstrated exactly why.
There was no rest for the weary, as Colon was staring at runners on first and second with Miguel Cabrera stepping to the plate. Cabrera singled, which scored Jackson and moved Hunter to third.
Colon was able to get Prince Fielder to ground into a double play, but that allowed Hunter to score. Continuing to labor in the first inning, Colon surrendered a double to Victor Martinez, who scored on an Alex Avila single.
While Colon was responsible for allowing Martinez to get into scoring position, his defense let him down on the hit that got Martinez home.
Ben Jedlovec of Baseball Info Solutions laid a lot of the blame on Daric Barton's doorstep, after the first baseman failed to field the ground ball before it eventually went into right field.
Daric Barton has won a Fielding Bible Award. You expect him to make that play. Cost the #athletics a run there. #Tigers

— Ben Jedlovec (@BenJedlovec) October 5, 2013
Just like that, it was a 3-0 lead for the Tigers, and the A's hadn't even stepped to the plate yet. In addition, they had gotten to a pitcher who had been extremely reliable all season, via the Detroit Free Press.
Colon gave up 2.65 earned runs per nine innings. Tigers get three earned runs in first.

— Freep Tigers (@freeptigers) October 5, 2013
To his credit, Colon settled down after that first inning, but the damage had already been done.
Detroit starter Max Scherzer brought his best stuff. His fastball was moving, and his changeup was devastating. The Arizona Diamondbacks' Brandon McCarthy thought Scherzer was emulating his teammate Justin Verlander, with the way he was working his pitches.
Scherzer's change is taking over right now. Verlander did the same thing last year. Plus stuff with good change is hard to beat

— Brandon McCarthy (@BMcCarthy32) October 5, 2013
The Oakland offense couldn't do anything to get back into the game. When the A's actually did something right, they couldn't take advantage.
Yoenis Cespedes had a triple with one out in the bottom of the second inning. In their best Cleveland Indians impression, the A's left him stranded after Josh Reddick struck out and Stephen Vogt lined out to end the inning.
At least Cespedes was able to make history with the hit, via ESPN Stats and Info.
Yoenis Cespedes is the 1st Cuban-born player with at least 1 hit in each of his 1st 6 career postseason games.

— ESPN Stats & Info (@ESPNStatsInfo) October 5, 2013
The Tigers almost added another run in the sixth inning. With runners on first and second, Omar Infante singled to right. Victor Martinez—the runner on second—tried to score, only to be met at the plate by a fantastic throw from Reddick. Vogt had plenty of time to apply the tag and keep the A's within three runs.
It would prove pivotal an inning-and-a-half later.
Scherzer continued rolling into the seventh inning. However, that's when the cracks started appearing in the foundation. His pitch count was getting up there. The first batter of the inning, Brandon Moss, reached first on an infield single.
Cespedes was the next batter up, and he crushed a Scherzer fastball deep into the left-field seats. The swing and resulting home run were things of beauty.
The distance for the homer was logged at 425 feet, via ESPN Stats and Info.
Yoenis Cespedes hit his 1st career postseason HR. @MikeSobhi correctly guessed that the distance of his HR was 425 feet. #ESPNHRTracker

— ESPN Stats & Info (@ESPNStatsInfo) October 5, 2013
Suddenly, the A's were back in the game. The crowd came alive again, and even with Scherzer setting down the next three in order, you felt the door wasn't completely closed on an Oakland comeback.
Alas, it wasn't to be. Drew Smyly came on in the eighth inning for Scherzer. He pitched 0.2 scoreless innings before Jim Leyland opted for closer Joaquin Benoit.
Benoit was able to put Moss, Cespedes and Reddick down in order in the ninth to end the game.
Player Grades
Max Scherzer, Detroit Tigers: A-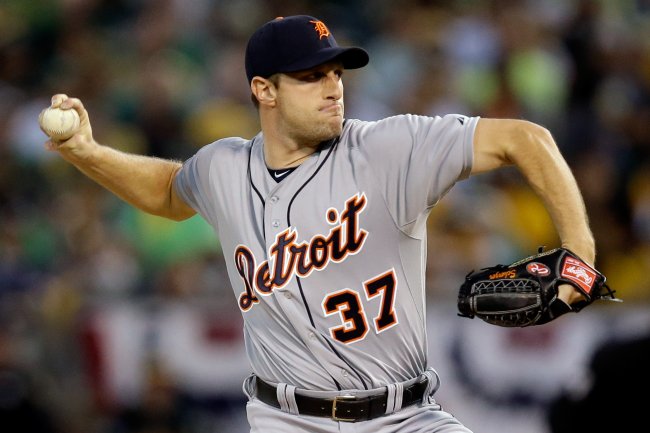 Ezra Shaw/Getty Images
Aside from that seventh inning, Max Scherzer was dealing. The A's couldn't do anything to figure out Scherzer's wicked combination on the mound. Everything was working for him, until that seventh inning.
It just took one swing of the bat for Yoenis Cespedes to almost ruin everything Scherzer had built in those first six innings.
He was taken out after that seventh inning, finishing with 11 strikeouts and walked just two batters.
All in all, it was an impressive performance, and Scherzer did his part to get the Tigers in a position to win in Game 1.
Bartolo Colon, Oakland Athletics: B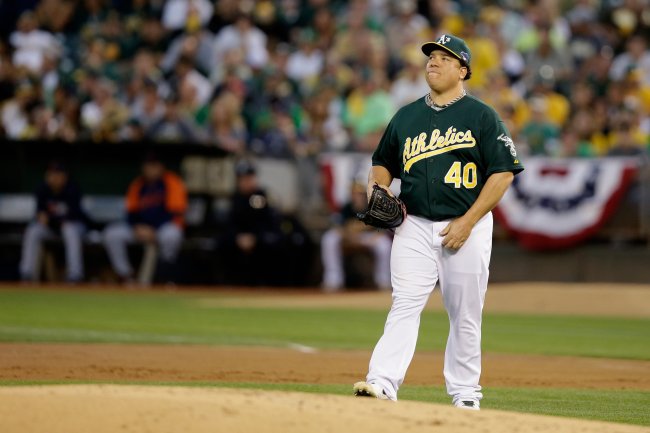 Ezra Shaw/Getty Images
Leave it to Bleacher Report's Zachary D. Rymer to so eloquently sum up Bartolo Colon's performance.
That sound you hear is Bartolo Colon righting the ship. That other sound you hear is him [insert fat joke here].

— Zachary D. Rymer (@zachrymer) October 5, 2013
The veteran starter could have easily fallen off the rails after he gave up three runs in the first inning. Instead, he regained his composure and control.
Colon was finished after the sixth inning. He gave up three runs on 10 hits and struck out four. Considering four of those hits came in the first inning, it was an otherwise solid performance.
In the postseason, though, you can't afford to have even one bad inning, or you'll pay for it a big way. Oakland started off in a big hole as a result of Colon's struggles at the beginning of the game.
Yoenis Cespedes, Oakland Athletics: A-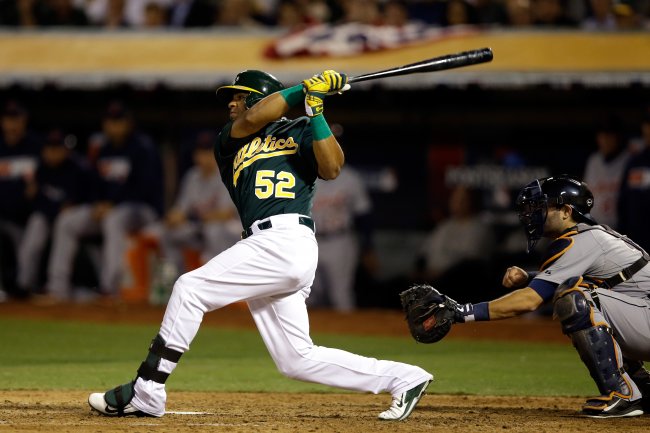 Ezra Shaw/Getty Images
Yoenis Cespedes did just about everything one man could have done to get the Athletics the win on Friday night.
He had the triple in the second inning and then the two-run homer that got Oakland to within a run.
The only reason he's really getting knocked too much is for a boneheaded play he made in the eighth inning. On a Victor Martinez liner, Cespedes got himself in a position to make the catch, only to have the ball get by him and roll all the way to the wall. It could have hurt the A's in a big way.
What's Next?
The teams will stay in Oakland for Game 2 on Saturday. First pitch is scheduled for 9 p.m. ET. Justin Verlander is getting the start for the Tigers, while Sonny Gray is taking the mound for the Athletics.
Watch postseason baseball live on TBS.com or your mobile device.