Presidents Cup 2013 Day 3: Live Scores, Standings and Results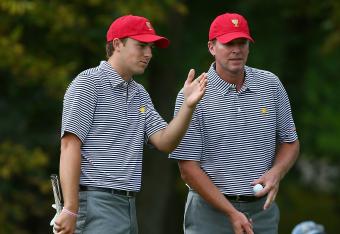 Jordan Spieth (left) and Steve Stricker
Andy Lyons/Getty Images
Darkness has fallen on the Presidents Cup proceedings at Muirfield Village, bringing a long Day 3 to a close.
With four matches still to be completed in Session Four, the United States holds a commanding 11.5 to 6.5 lead in the tournament.
The day started early with the conclusion of Friday's foursomes, where each team each gained three points. The United States team dominated the Saturday fourball session, winning four of five matches, before the Internationals stormed back with a strong start in the afternoon foursome play.
Zach Johnson and Jason Dufner are the only group to have completed that round, picking up another win for the Americans and moving them just six points away from a tournament victory.
The forecast for Sunday is ominous once again, so the golfers will be back on the course early.
The start time for the conclusion of the foursome sessions is 7:35 a.m. ET, while Sunday's scheduled singles matches will get underway at 9.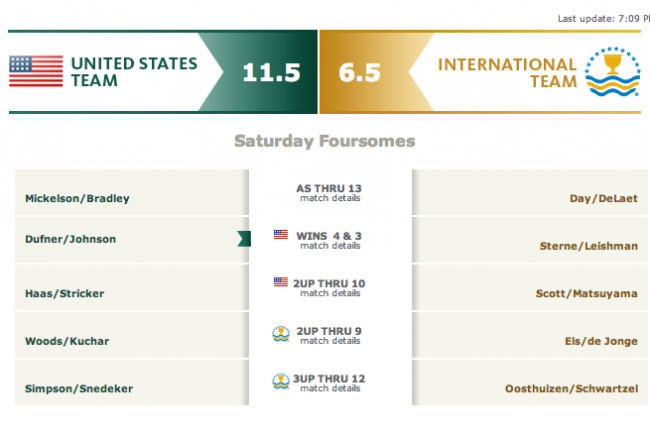 Here's how the scoreboard freezes as play ends on Day 3, courtesy of pgatour.com.
Players in remaining 4 matches in @PresidentsCup have marked their balls and are done for the day. Will resume at 7:35 a.m. Sunday. #prescup

— DispatchGolf (@DispatchGolf) October 5, 2013
Looks like we're just about wrapped for the day. A number of the groups are marking their balls and will pick up where they left off tomorrow.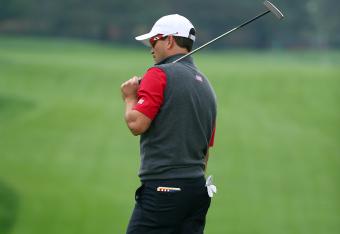 Zach Johnson makes a great shot—from the fairway into the hole.
Sterne and Leishman are close to save the match, but they can't answer back.
Johnson and Dufner win the first match of the session.
Updated score: United States team 11.5 - International team 6.5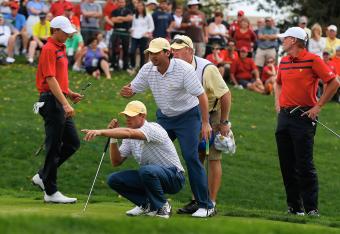 We're all square for Session Four.
A bogey from Day and DeLaet on the 13th allows the United States team to draw even in the match.
Overall, we now have two International leads, two American leads, and one match that's all square. Even steven.
Matsuyama buries a clutch putt on the 10th. That cuts the lead for Haas and Stricker to just two.
Dufner/Johnson could save themselves 90 minutes Sunday morning if they can close out match on 15. Time for one hole. #prescup

— DispatchGolf (@DispatchGolf) October 5, 2013
Good incentive for Dufner and Johnson to find a way to win the 15th hole before the day is called for darkness.
Figure about 15 more minutes here at #PresCup. Starting to run out of daylight.

— Brian Wacker (@pgatour_brianw) October 5, 2013
After losing 2 of the first 6 holes, Zach Johnson & Jason Dufner have stormed back to take a 3 up lead on Sterne/Leishman thru 14. #PresCup

— PGA TOUR (@PGATOUR) October 5, 2013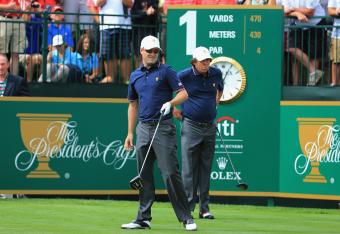 Only four holes to play for Dufner and Johnson. One more win and they'd log the first point of the session for the United States team.
Dufner and Johnson are doing their best to stay level with their strong American counterparts, also staying three up.
Dufner looking for the Death Blow on 14 to go 3 up... got it

— Benjamin Everill (@beneverill) October 5, 2013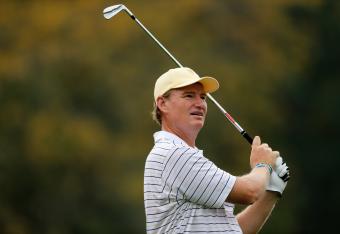 Ernie Els gets one back for the Internationals by draining a 14-foot putt for birdie on the eighth.
He and Brendon de Jonge reclaim their two hole lead over Tiger Woods and Matt Kuchar.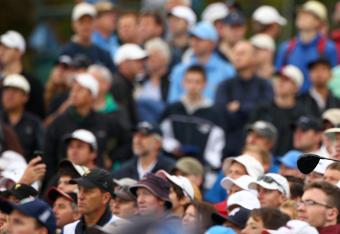 Even the gallery is getting pooped as we enter our 12th hour of golf today at Muirfield Village.
The "U.S.A." chant is now about half-speed as Stricker drains another putt. This group is leading the way for the Americans, three up at the turn over Scott and Matsuyama.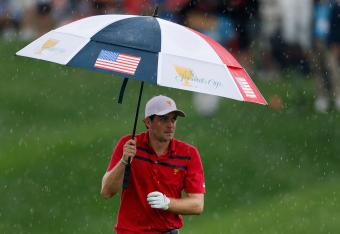 Day and DeLaet are frittering away their lead.
Mickelson and Kuchar make their second birdie of the match on the 11th, so the lead is now cut to just one.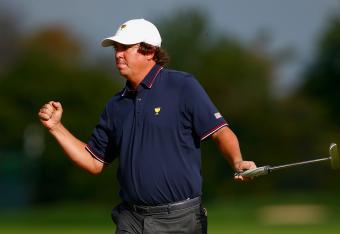 Jason Dufner makes a five-footer on the 13th to move his team two up.
Overall scoring remains the same—the Internationals lead three matches and the United States leads two.
Hey, something good happened! Tiger sinks his short birdie putt on the 7th hole to cut the deficit to 1 down.

— GC Tiger Tracker (@GCTigerTracker) October 5, 2013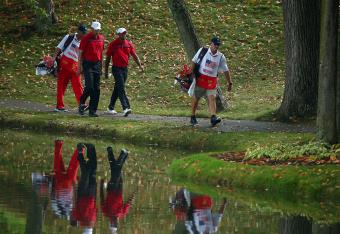 Tiger and Kuchar get their first win of the match on the seventh. That cuts the lead of Ernie Els and Brendon de Jonge to just one hole.
Haas and Stricker make their fourth birdie in eight holes to go two up against Scott and Matsuyama.
Sun @PresidentsCup: R4 resumes at 7:45 am. Captains make Singles (R5)pairings at approx 8 a.m. Conclusion of R4/start of R5 at approx 9 a.m.

— PGA TOUR Media (@PGATOURmedia) October 5, 2013
Here's the official schedule update.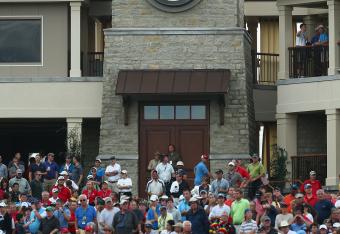 The conclusion of this foursome session will resume tomorrow morning at 7:35 a.m.
With about an hour to go before it gets dark, a couple of the groups might get close to finishing but the certainly all won't.
PGA Tour just announced @PresidentsCup singles session scheduled to start 9 AM Sunday rather than originally scheduled noon start. #prescup

— DispatchGolf (@DispatchGolf) October 5, 2013
Jason Day and Graham DeLaet continue their solid play as they enter the back half of their fourth session.
They remain two up over Mickelson and Bradley.
Here's their interview from the conclusion of their fourball match.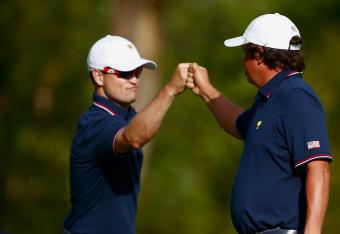 Dufner and Johnson tally their third win in the last four holes to move one up on Sterne and Leishman on the 11th.
That cuts the International team lead to 3-2.
Setback for Tiger and Kuchar.
So-so chip for Kooch, and then Tiger misses a 5-footer for birdie. Now drop 2 down thru 5.

— GC Tiger Tracker (@GCTigerTracker) October 5, 2013
This article is
What is the duplicate article?
Why is this article offensive?
Where is this article plagiarized from?
Why is this article poorly edited?