Detroit Tigers vs. Oakland Athletics Game 1: Live Score and ALDS Highlights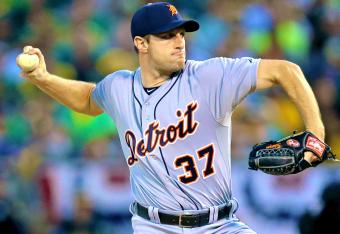 The Tigers traveled to Oakland to take on the A's in Game 1 of this ALDS matchup. The A's sent Bartolo Colon the hill with Max Scherzer on the bump for the Tigers.
The Tigers got to Colon early tonight, striking for three runs in the top half of the first inning. Colon has settled in since then, but three runs could be enough for Max Scherzer and the Tigers.
Those three runs proved to be the deciding factor in tonight's game as Scherzer was on top of his game through seven strong innings. Although he allowed a two-run homer off the bat of Yoenis Cespedes, Scherzer managed to stifle the A's through much of the game, allowing just three hits and two walks while striking out 11.
Colon lost control of his pitch count early on tonight and although he was able to take it down a notch, he still racked up plenty of pitches and the A's elected to relieve him in the seventh, in favor of Dan Otero.
Otero and Sean Doolittle pitched 1.1 and 1.2 innings respectively, in relief of Colon. The two combined to allow zero hits and zero walks, while striking out three over the game's final three innings.
The Tigers' bullpen, a shaky unit in the regular season, matched them stride-for-stride over two solid innings in relief of Scherzer. Drew Smyly turned in 0.2 innings of work allowing no hits and no walks, striking out two.
Joaquin Benoit came in to close the game out and earn a rare four-out save. The 35-year-old closer got his out in the eighth, and then went on to strike out the side in the ninth, earning a save in his first appearance of the 2013 postseason.
The Tigers took it to the A's early, but even with this early display of offense, this one was very much a pitching duel.
That's it for Game 1 of the ALDS here in Oakland, but these two teams will meet again tomorrow at 9:00 p.m. ET. Goodnight everybody!
Final Box Score
DET 3, OAK 2
W: Max Scherzer: 7.0 IP, 2 ER, 3 H, 2 BB, 11 K
L: Bartolo Colon 6.0 IP, 3 ER, 10 H, 0 BB, 4 K
SV: Joaquin Benoit: 1.1 IP, 0 ER, 0 H, 0 BB, 3 K
2B: A. Jackson (1), V. Martinez (1)
3B: Y. Cespedes (1)
HR: Y. Cespedes (1)
Be sure to tweet along with the game so I can get your thoughts integrated into the blog. You can follow me on Twitter at @TylerDuma, and I'll do my best to post them here.
If Twitter's not your thing, leave your thoughts in the comment section below to spark some discussion.
#TIGERS WIN!!!

— Detroit Tigers (@tigers) October 5, 2013
Benoit gets Reddick swinging for the final out of the inning. The 35-year-old recorded three straight strikeouts, all via the change-up, to close out a 3-2 victory for the Tigers!
That's the first time I've seen a K 1-3 in like forever. #Athletics #MLB

— Doug Mead (@Sports_A_Holic) October 5, 2013
That first strikeout of the inning had an odd twist to it.
An outstanding change-up from Joaquin Benoit gets Cespedes swinging for the second out of the inning. The A's have struck out 15 times as a team tonight and are down to their final out as Josh Reddick steps to the plate—P.s. he's struck out twice already tonight.
Cespedes still holds the team's only two extra-base hits of the night.. Nobody in baseball takes harder cuts than this guy, so Benoit will be careful not to hang one here.
Moss strikes out for the third time tonight and the A's are down to their final two outs with Cespedes and Reddick due to follow.
Oakland get loud! #OAKtober pic.twitter.com/fILCqyaOYy

— #OAKtober (@Athletics) October 5, 2013
Moss, Cespedes and Reddick due up here for Oakland in the bottom of the ninth. Couldn't ask for a much better trio of power hitters in a comeback attempt.
The stadium is rocking.
Doolittle pumps one last fastball by Iglesias for his third strikeout of the night. The A's kept the Tigers at bay and will look to win it in their half of the ninth!
Peralta flies out to center for the second out of the inning. That brings Jose Iglesias—his replacement at shortstop after his PED suspension—to the plate with two away in the top of the ninth.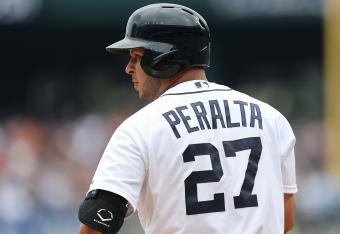 Jhonny Peralta making a pinch-hit appearance here. Met with a resounding chorus of boos.
Could be kept in the game as the left fielder for the final inning. Then again, that could be a disaster.
Doolittle gets Omar Infante singing to start the first. He's been very effective at spotting his fastball here tonight. Through one inning of work he's logged two strikeouts, both coming via the fastball.
Donaldson pops up to end the bottom of the eighth. The Tigers are still clinging to that 3-2 lead now with just six outs remaining in this one.
Donaldson looks like he's about to park one with swings like that.
After striking out Lowrie, Smyly leaves the game in favor of Joaquin Benoit as he looks to get the four-out save. Incidentally, this would be the second multi-inningof the night as the Braves, Craig Kimbrel recorded one earlier tonight in their win over the Dodgers.
Crisp walks, bringing up Jed Lowrie with one away in the eighth. Lowrie was great in the regular season slashing .290/.344/.446 with 15 home runs, 45 doubles and 75 RBI.
Likes to pull the disappearing act in the playoffs though and owns a .194/.316/.226 slash line in 12 postseason games.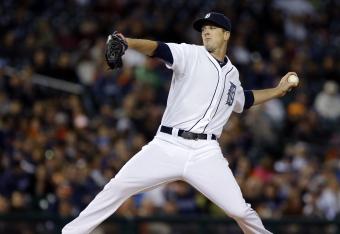 So Drew Smyly is pretty good, but just how good is he? Well, over 76 innings in relief this season, Smyly allowed a 2.37 ERA while averaging 9.6 K/9 to just 2.0 BB/9.
He should make a tremendous starter once he's given the chance, still only 24 years old.
Smyly makes quick work of the pinch hitter Callaspo. Four pitches and he's gone via strikeout. Coco Crisp steps in now with one away in the eighth.
Ramon Santiago replaces Miggy Cabera at 3B in 8th with Tigers clinging to 3-2 lead.

— Scott Miller (@ScottMCBS) October 5, 2013
Drew Smyly replaces Scherzer here in the eighth. But there's a bigger move here in the inning.
Let's go Oakland @Athletics! Late inning rally needed. #Oaktober

— Rep. Eric Swalwell (@RepSwalwell) October 5, 2013
Doolittle does his part in picking up Cespedes after the error by striking out Avila on five pitches. We head to the bottom of the 8th and Oakland still trails 3-2.
Martinez rips another one at Cespedes who completely botches a sure out. Looks like he may have lost it in the lights though by the way he jerked his head.
Martinez stands on second now with two away and Alex Avila up to bat.
Fielder just misses one as Doolittle is able to retire him for the second out of the inning. V-Mart comes back to bat now, he's 2-3 tonight with a double and a run scored.
This article is
What is the duplicate article?
Why is this article offensive?
Where is this article plagiarized from?
Why is this article poorly edited?