Los Angeles Dodgers vs. Atlanta Braves Game 2: Live Score, NLDS Highlights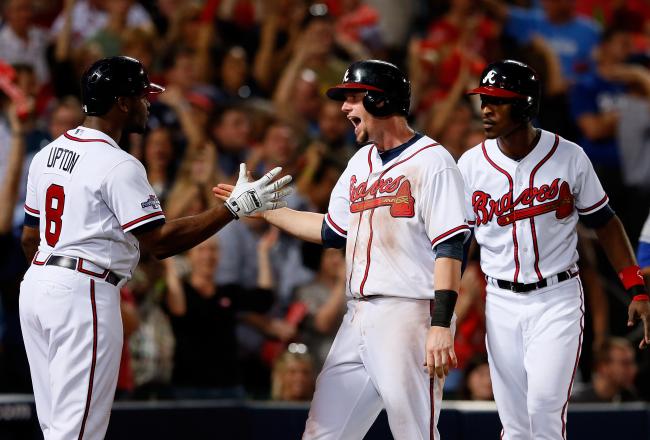 Kevin C. Cox/Getty Images
It was a thriller of an NLDS showdown on Friday between the Los Angeles Dodgers and the Atlanta Braves, and the Braves pulled off a nail-biting victory, 4-3.
Making his postseason debut, Braves lefty Mike Minor out-pitched former Cy Young winner Zack Greinke, who gave the Braves a 2-1 lead upon his exit in the seventh.
Although reliable for most of the season, the Dodgers' bullpen faltered in the bottom of the seventh, when they intentionally loaded the bases for Jason Heyward, who drove in two runs for the Braves with a clutch single.
Down 4-1, Hanley Ramirez brought the Dodgers back into the game in the eighth, when he poked a two-run homer in the left-field bleachers.
However, the Braves' bullpen proved too strong and held onto the 4-3 lead to secure a Game 2 victory for Atlanta.
Scroll through below to relive the thrilling game.
Final Score: Atlanta Braves 4 - 3 Los Angeles Dodgers
Thanks for following along tonight! Conversation's heading to Twitter now.
The series heads to La La Land for Game 3. Two young starters will take the mound in their first postseason starts. South Korean rookie lefty Hyun-Jin Ryu aims to replicate his regular-season success at home and secure a crucial victory for the Dodgers over the Braves, who will send 22-year-old Colombian righty Julio Teheran to the rubber in hopes of snagging an all-important W in Dodger Stadium.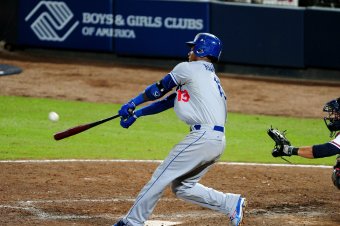 Scott Cunningham/Getty Images
Player of the game for the Dodgers is an obvious one as well: Hanley Ramirez. He went 3-for-4 and drove in all three of the Dodgers' runs. His eighth-inning home run was extremely clutch, but unfortunately not enough for the Blue Crew.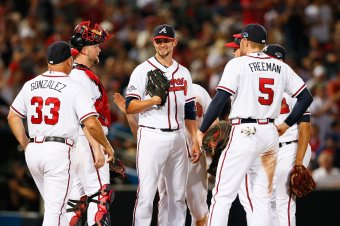 Kevin C. Cox/Getty Images
Player of the game for the Braves is without a doubt Mike Minor. He held the Dodgers, rife with heavy slugger, to one run. That's an outstanding postseason debut for him, and better yet, a great win for the Braves.
That was undoubtedly the most thrilling game of the postseason so far. In case you didn't know, it's October. Very intense, well-played game on both sides.
Braves fans roaring like they just won the series...but this now surely forces Kershaw to pitch on 3 days rest, so who knows?

— Bill Plaschke (@BillPlaschke) October 5, 2013
Braves fans roaring like they just won the series...but this now surely forces Kershaw to pitch on 3 days rest, so who knows?

— Bill Plaschke (@BillPlaschke) October 5, 2013
Saves aren't automatic. Craig Kimbrel is the next best thing.

— ESPN (@espn) October 5, 2013
The game was reduced to seventh inning. Braves rallied and Dodgers relievers faltered. Big decision for Mattingly to intentionally walk Reed Johnson to face Jason Heyward with the bases loaded.
Kimbrel fans Crawford. It's all over. The Braves hold on to Game 2. Series tied 1-1.
Ethier draws the walk. No time for the Dodgers to sulk about the missed call. Crawford up with Ethier on first and two outs.
Instant replay would have come in handy for the Dodgers there. Very handy.
Oof, Dee Gordon was pretty darn safe right there.

— Ramona Shelburne (@ramonashelburne) October 5, 2013
Mattingly opts to send Gordon on the first pitch. He's called out. Replay blatantly shows he's safe. Very controversial call.
Ellis draws the walk with some excellent plate discipline. Speedster Dee Gordon in to pinch run. Ethier up.
Andre Ethier on deck to pinch hit for Brian Wilson.

— Dylan Hernandez (@dylanohernandez) October 5, 2013
Kimbrel is on-point. He can't be touched tonight. Ellis and pinch hitter will have the last chances for the Dodgers.
A 1-2-3 inning for Wilson. The Dodgers will now have to face Kimbrel for three outs in the ninth. It's going to be an uphill climb.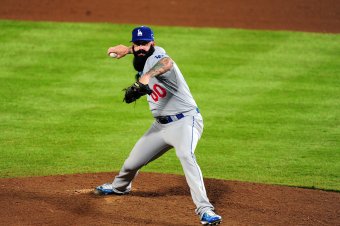 Scott Cunningham/Getty Images
Dodgers bring in the Bearded One for the eighth. His career postseason ERA: 0.00
Kimbrel's last pitch, on which Uribe grounded out to second to close out the inning, registered at 101 on the gun. Wowza!
Puig has now struck out four times in this NLDS series against the Braves. Looks like he's trying to do too much at the plate.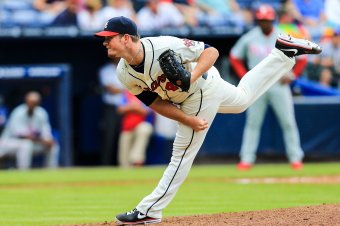 Daniel Shirey/Getty Images
Craig Kimbrel has entered the ballgame. It'll be very tough for the Dodgers to squeeze out another run. He's dynamite.
Ramirez's home run is followed by back-to-back strikeouts from David Carpenter. A-Gon and Puig retired.
This article is
What is the duplicate article?
Why is this article offensive?
Where is this article plagiarized from?
Why is this article poorly edited?