The Georgia Bulldogs have their eyes set on a national championship while the Tennessee Volunteers simply want to right the ship in SEC play.
Tennessee will have such an opportunity on Saturday, as well as a chance to put a permanent end to the Bulldogs' title hopes.
It will take a gigantic effort from Tennessee, a team that has struggled to put points on the board but clutches a 3-2 record. Georgia has no such issue at 3-1 behind the seemingly unstoppable force that is the No. 6-ranked offense in the country.
To simply write off the Vols in this matchup would be unwise. Tennessee is more than capable of pulling off the upset, but the following must occur.
Learn From Last Year's Mistakes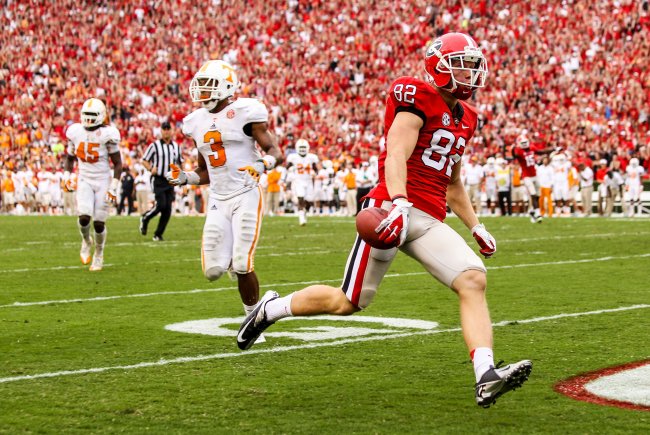 Daniel Shirey-USA TODAY Sports
Last year, Tennessee nearly upset the Bulldogs at home before Georgia was able to pull away for a 51-44 victory.
The loss provides plenty of lessons for Tennessee this year. For one, the Vols cannot afford to turn the ball over a ridiculous three times in the final six minutes of the game. Last year, Tennessee did just that en route to four total, nullifying the three turnovers Georgia committed.
Tennessee's defense managed to hold Georgia quarterback Aaron Murray in check but allowed the running back combo of Keith Marshall and Todd Gurley to rush for 294 yards and five touchdowns.
It sounds simple, but taking care of the football and stopping the run will give the Vols a serious shot at the upset.
Capitalize on Georgia's Injury Woes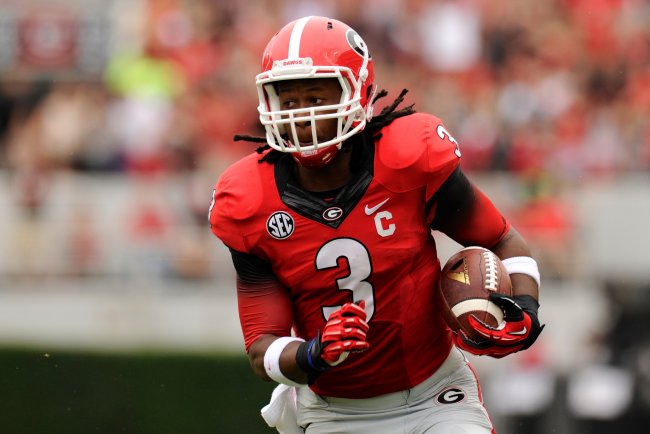 Dale Zanine-USA TODAY Sports
Georgia's star back Gurley is questionable for the contest after he sprained his ankle last week. As the SEC's Twitter account points out, he recently failed to participate in practice leading up to the game:
"He tried a little bit today in the [indoor practice room] and he couldn't go today." --Mark Richt on RB Todd Gurley http://t.co/TwZ2xgZ3dw

— SEC Network (@SECNetwork) October 3, 2013
It sounds as if Gurley will see a reduced load, if he sees the field at all. Not being able to take a number of reps leading up to the game may force Georgia to rely more on Marshall.
While Marshall is no slouch (and he did torch the Vols last year for 164 yards on 10 carries) who is more than capable of carrying the load, it's a much preferred option rather than having Gurley in the game.
The Vols' defense needs a break, and Gurley's injury is just that.
Discover an Offense Quickly
Georgia posts 554 yards and 41.3 points per game.
Tennessee will be forced to match this stunning output by the Bulldogs in a hurry, as Georgia will get out to an early lead and force the Vols to become one-dimensional in their offensive approach.
Will Tennessee upset Georgia?
The Vols were able to find 44 points last year against Tennessee behind the arm of Tyler Bray, but now Justin Worley and his 56 percent completion rate will be tasked with producing those kind of numbers.
Running is not a problem for the Vols as the offense averages over 215 yards per game on the ground, good for the No. 32 rank in the country, but it will do little good if Tennessee finds itself playing from behind.
Georgia's defense is nothing to write home about as it gives up over 32 points per game, so now would be the time for the Vols to explode offensively.
Follow B/R's Chris Roling on Twitter for more news and analysis @Chris_Roling