Illinois vs. Nebraska: Live Score and Highlights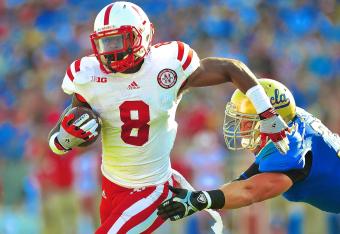 Nebraska 39, Illinois 19—Final
From the very start, Nebraska imposed its will on Illinois in front of a sold-out crowd at Memorial Stadium, jumping out to an early lead and never looking back.
In a matchup of two teams which were 3-1 entering Week 6, Nebraska had the upper hand all game long, despite the absence of senior quarterback Taylor Martinez, who was sidelined with a turf-toe injury. Instead, it was Tommy Armstrong and Ron Kellogg III splitting the quarterback duties.
But the spotlight belonged to Ameer Abdullah.
The junior tailback had a career day, rushing 20 times for 225 yards and two touchdowns as the Cornhuskers simply had their way with the Illinois front seven. Wide receiver Kenny Bell will also make headlines for his highlight-reel one-handed grab, which resulted in a touchdown to help put the game away.
It was a complete game for the Cornhuskers, a team in desperate need of putting it all together from start to finish. For Illinois, quarterback Nathan Scheelhaase sure didn't look like the Big Ten's leading passer, as he only completed 50 percent of his passes, for 134 yards on the day.
Thank you for following along with us this afternoon.
And here it is—the ten things we learned from the Cornhuskers' victory over Illinois to begin conference play.
TOUCHDOWN Illinois! Ferguson finally has something to show for his efforts and jams it in from one yard out. Too little too late for the Fighting Illini, however.
Nebraska 39, Illinois 19—0:57 Remaining in 4th Quarter
Not exactly how Nathan Scheelhaase, the Big Ten's leading passer entering the game, wanted to begin conference play. He only managed to complete 50 percent of his passes for 134 yards to go along with an interception.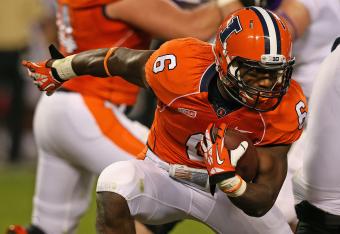 What Josh Ferguson has done for Illinois in a losing effort also needs to be commended. He leads the team in rushing (113 yards) and receiving (43 yards), just as he has all season.
Just an insane day for Ameer Abdullah—20 carries for 225 yards and two touchdowns. Considering the margin, he's likely done for the day.
Smith gets a little confidence booster and chips in a 32-yard field goal.
Nebraska 39, Illinois 12—5:16 Remaining in 4th Quarter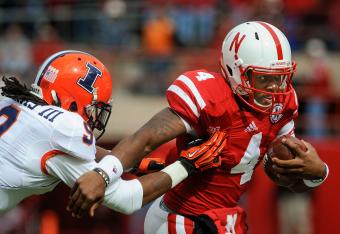 That being said, Armstrong just made something out of nothing and ran it inside the Illinois 10-yard line. Nebraska fans have a right to be excited about the future.
As great as Nebraska has looked on offense, it would be even better with Taylor Martinez back under center. Too hard for either Armstrong or Kellogg III to get into a rhythm when alternating.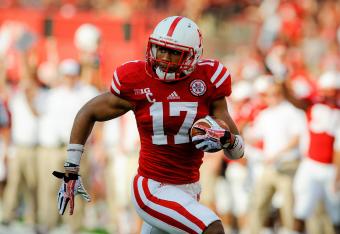 The defense holds once again, bailing Cross out. It's been a truly inspired performance from this defense against a team that was averaging over 40 points per game coming in.
Nebraska needs to finish this one strong. It's been the Cornhuskers' best performance of the season, and it's not even close.
Fumble by Cross after 12-yard run. Illini recover. D back out and fails to get even close to ready for snap. Illegal substitution called.

— Mitch Sherman (@mitchsherman) October 5, 2013
Not an ideal time for Imani Cross to cough up the football.
You can understand why Bo Pelini opted to go for it—his place kicker has missed two extra points on the day. Illinois goes three and out anyways, and this game is all but over.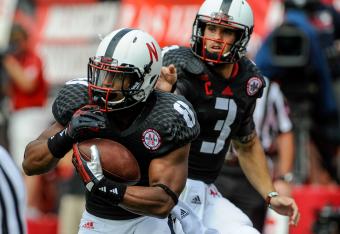 That failed connection resulted in a turnover on downs for Nebraska, but on the bright side, the Huskers are up by 24 in the fourth quarter, and Ameer Abdullah topped 200 yards rushing on the drive.
Fitting that a song with lyrics saying "you've gotta go higher" plays into commercial while replay shows Armstrong just barely overthrowing Trey Foster in the end zone.
GIF form of Bell's one-handed snatch. He did happen to get a personal foul for taunting, i.e. shushing his own crowd.
We've entered the final quarter, and while you're obviously still trying to get over that catch like I am, Ameer Abdullah is having some kind of game. The junior tailback has 16 carries for 181 yards and two touchdowns through three quarters.
DA-DA-DA! Wow! An unbelievable one-handed grab up the middle by Kenny Bell, and he runs it in for the 37-yard touchdown. You'll be seeing that one replayed all over the place.
Nebraska 36, Illinois 12—2:44 Remaining in 3rd Quarter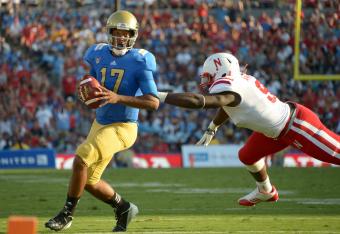 Once again, Evans comes on the blitz and forces an interception! It's picked off by Jason Ankrah, who is having a whale of a game. Nebraska takes over with great field position.
Some kid at Memorial Stadium walking around in a T-shirt that was half Nebraska and half Illinois. Really?
Josh Ferguson is one shifty dude.
Although it's not a flawless concept. Mitch isn't kidding about the game not being over, by the way.
RK3 out of sync there. That's the risk you run by rotating QBs. Huskers punting for the first time today. Up 18, this game isn't over.

— Mitch Sherman (@mitchsherman) October 5, 2013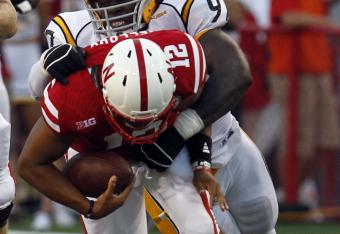 The two-quarterback approach is working like a charm for the Cornhuskers. Both Armstrong and Kellogg III have been efficient and done a good job of managing the offense, although Kellogg just went three and out, leading to Nebraska's first punt of the day.
Illinois scored a touchdown but took 7:04 off the clock. My guess is Nebraska will take that.

— Brian Rosenthal (@HuskerExtraBR) October 5, 2013
This article is
What is the duplicate article?
Why is this article offensive?
Where is this article plagiarized from?
Why is this article poorly edited?